The Hendricks County Senior Center is currently closed but that has not stopped them from stepping up to help our residents with virtual events and other needed resources. Senior Services helps older adults and Baby Boomers, those over 60 years old, who live in Hendricks County.
They are offering these virtual activities on their Facebook Page, Monday through Thursday. It's a great way for everyone to "be together" even when we have to be apart. Do not worry though. If you miss one, you can always go back and watch it later.
After learning more about their programs, I have found several of their activities are good for all ages, and there are ways for families to incorporate some of these activities.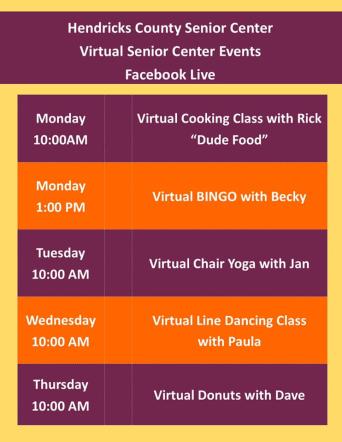 They kick off their Mondays at 10 a.m. with Rick the "Food Dude." Rick said his goal is to help those who don't feel comfortable in the kitchen. He goes back to the basics because everyone can be a cook.
These virtual cooking classes are also great for all ages. Kids can learn from these basics as well. Think of it as a great home economics class.
On Mondays at 1 p.m., join Becky, the activities coordinator, for a fun game of Virtual Bingo. The best part of this bingo is everyone is a winner.
You can find a card on their Facebook page each week and print it off at home. Don't have a printer or want to get creative? Create your own card with a piece of paper and pen or get fancy with colorful pencils and markers.
These low-impact workout classes take place on Tuesdays at 10 a.m. Jan switches each week between Chair Yoga and CSF workouts. Even if you can not do all the moves, it's just about being as active as you can. Why not give it a try!?!
Grandchildren could join in on the workouts too while their grandparents are also at home taking the class. This would give them something fun to talk about after each class.
Paula teaches line dancing on Wednesdays at 10 a.m. She teaches you each step, puts them together and then adds in the music. You may think of line dancing as solely being Country, but she does a great job of using a wide variety of music.
Miss a step? Don't worry. It's all about keeping yourself moving, plus you are learning in the comfort of your own home.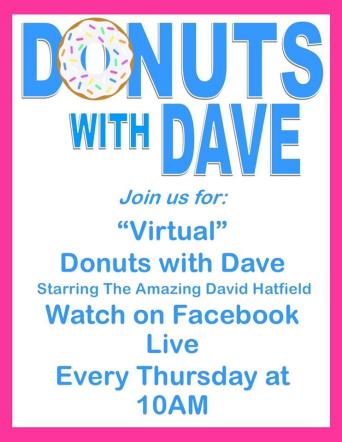 Dave is the music director for Harmony Baptist Church and is playing gospel music live on Thursdays at 10 a.m. He normally hosts Donuts with Dave once a month so now he's taking it virtual.
Watching streamed music has been one of my favorite activities since the stay-at-home order was put in place. If you also have a love for music, make sure you seize this opportunity to listen to this talented musician.
Do you have a senior in your life who does not have Facebook or the internet? This is where you can get creative. Live stream it yourself from Facebook and give them a call so they can also hear the music.
Although the Hendricks County Senior Center is closed, they continue essential services that include transportation, their food pantry and in-home services. They have memberships for just $55 a year but you do not have to be a member to utilize their services.
Senior Services has always offered a food pantry to the community and continues to do so during this pandemic. They have just made slight changes to make it a drive-thru, no-contact experience. You must make an appointment, be over 60 and live in Hendricks County. To make your appointment, call 317-745-4303.
They also need help stocking the food pantry, and they currently are collecting donations to buy food in bulk from Gleaners Food Bank since people cannot donate food as much due to quantity limits at stores.
Learn more about Hendricks County Senior Services on their website.