The men and women who are in uniform actively fighting for our freedom deserve all the respect that can be given. Often times, the family members of the soldiers who are also sacrificing for our freedom are forgotten, feeling isolated and alone.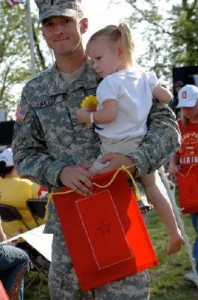 Out of this truth was born the Blue Star Event to not only honor military heroes but their families as well. What started in Avon in 2006 by American Legion Post 145 as a small local recognition event for military members and their families has turned into a statewide event and one of the largest of its kind in the country. And this year it will again be here in
Hendricks County
! The 
Blue Star Salute
 will entertain guests and honor military families on Saturday, June 15 at Lucas Oil Raceway in Brownsburg as part of an exciting partnership with the 
Slamology Automotive and Music Festival
. Slamology, in its 10th year, is an automotive and musical extravaganza. We will have more information on that event in a post tomorrow right here on All Access Hendricks County. The Blue Star Salute program will take place at noon as Slamology devotes all of its attention to the military families in attendance. "(The Blue Star Salute) began at the height of the conflicts in Iraq and Afghanistan when so many of our Hoosier men and women were experiencing an unprecedented amount of multiple deployments overseas," said Duane Mercier, Deputy Director of Public Relations for The American Legion. "The purpose of the event is to recognize that the families of these military personnel are deeply affected when their loved ones are sent into harm's way. The Blue Star Salute is our way of recognizing and thanking those family members, and making sure they know that we support them." There are several special activities for guests of the Blue Star Salute. The annual Ride For the Salute Motorcycle Ride, which starts at IndyWest Harley Davidson in Plainfield will arrive during this ceremony.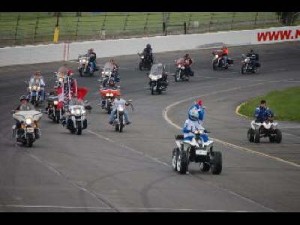 This is an impressive display to behold as hundreds of motorcycles are involved as well as an escort by Huey 563 from Indiana Search and Rescue. The roaring sound is something else! Topping off the presentation will be skydivers from Air Indiana Skydiving Center with the presentation of the American flag, POW/MIA flag and a Blue Star family flag. Scheduled speakers include Indiana Department Commander of The American Legion Richard Jewell, Brig. Gen. Brian Copes and Indiana National Guard and Secretary of State Connie Lawson, who will receive the annual Blue Star award for her continued support of the event and of military families. Along with the ceremony, the event will also feature several vendor booths relating to military families, Indianapolis Colts Cheerleaders, mascots from all four Central Indiana sports franchises (Blue, Boomer, Rowdie and Big-E-Foot) and more! This event is open to all military families, including Hendricks County visitors. If you are a member of a military family and wish to attend, please register in advance by clicking
here
. Military families will receive free parking and attendance to Lucas Oil Raceway for the Slamology event for the day. The general public also is invited to attend the festivities for the cost of admission to the Slamology event. ($10 for one-day admission, $15 for two-day admission)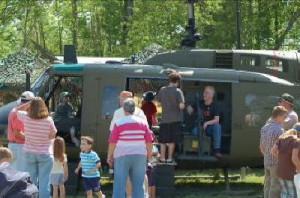 I have had the great opportunity of attending this event before and can say that whether you have a military connection or not, this is a must-see event! Let's be sure to remind ourselves and our kids of the sacrifices past and present by many for the freedoms we enjoy!