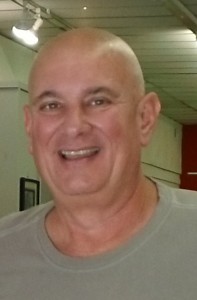 Editor's Note: Today's post features guest blogger Mark Bellucci of Sellersburg, Indiana. He is the second of three winners of our Win & Grin summer contest to submit a post about his trip. What follows is his personal account of his Hendricks County Arts & Culture Getaway, which included his wife, sister and her best friend. All the pictures were taken with the Sony Bloggie camera he won as part of the contest.
  Our visit to
Hendricks County
started as a beautiful, unusually cool August day. We traveled from southern Indiana to the town of Danville, Ind. as winners of the
Win & Grin Contest
and were immediately presented with a gift basket from area entrepreneurs that included wine, bread, candy, cutting board and a Sony Bloggie camera to document our experience. I had entered the contest several months ago as I was surfing the Internet for places of interest to visit in Indiana. We had recently moved to southern Indiana, and my wife Jan and I like to take off and explore areas as a hobby. We were accompanied on this trip by my sister, Mary Ann Davis, and her best friend, Karen Pumphrey. Our experience began at the Hendricks County Courthouse Square as we were lucky enough to arrive during Danville's weekly farmers market. Fresh produce, honey, crafts and baked goods were in abundance. We could have spent more time at the farmers market but we had an appointment to meet and were very anxious to get to that destination. A short drive through the country led us to
Hot Blown Glass, LTD
. We were met by the owner of the studio, Lisa Pelo, and her assistant Clayton Benefiel.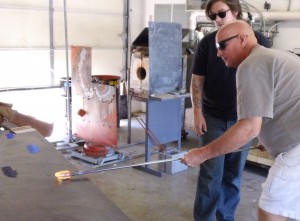 Each of us experienced gathering molten glass and learned to shape the glass using several tools at the studio. We each made different colored paperweights as part of our class. I would recommend this to anyone and will say that Lisa and Clayton were excellent teachers of the craft. They were very patient and very thorough in explaining their trade and the handling of the tools and hot glass. As a side note, Lisa does very commendable work in rescuing dogs and finding good homes for those that are adoptable. After our class, we headed back to Danville for a step back in time at the Mayberry Café. It was comfort food at its best as you watched reruns of the famous show starring Andy Griffith. We next stopped at
Carla's Creations & Gifts
. Carla was very friendly and informative about the area and events. Old time candies and gifts reminded me of my childhood. Speaking of candy, we also stopped in
Confection Delights
and met Pamela Powell-Warden and experienced some of her excellent custom gourmet chocolates. As part of our Win & Grin experience, we then attended another class presented by another Danville artisan. It was a "Jewelry from Junk" class by Joan King Kisner of Kisner Creations at the Gallery on the Square.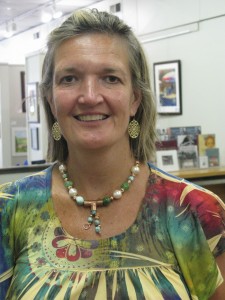 Joan showed us several of her creations from everyday items, and we proceeded to make necklaces and earrings. Joan provided many ideas and items to help us complete our works. After checking into our hotel to freshen up and relax a bit, we headed over to the
Black Swan Brewpub
in Plainfield, Ind. We enjoyed appetizers of pretzels and fried pickles. Our main courses consisted of chili rubbed sirloin, pork chops and salmon. We also indulged in several of their crafted brews. The food and drinks were very good, and the server did a fine job in attending to our requests. With our day complete, we retired to our room at the
Fairfield Inn and Suites by Marriott
in Avon. The room was accommodating, comfortable and clean which is very important to us when we travel. Breakfast the next morning was very good and put us on our way back home. We would like to thank Hendricks County and those that represented the county well in allowing us to enjoy a very interesting and memorable trip. We will look forward to visiting again and hope our paths cross with some of the very fine people mentioned above.