Eighteen seconds is all it took to discover one of the best indoor winter activities in Hendricks County. Eighteen seconds of pure joy, unadulterated thrills, sudden turns and tummy-tickling fun. Eighteen seconds of giddy shrieking, wide smiling, free-fall sliding and a suspenseful ending.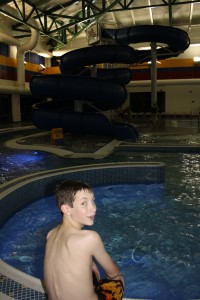 The waterslide at Splash Island Indoor Aquatic Center in Plainfield sure got my heart beating in a hurry. As a first-time visitor to the indoor portion of the Plainfield Recreation and Aquatic Center, I didn't know what to expect. The reputation of the 3.1-acre outdoor Splash Island Family Waterpark next door is well known. But it's January. Outdoors was out of the question. My 12-year-old son and I entered the massive building -- passing the impressive basketball courts, running/walking track and fitness center -- to set our sights on the 20,000-square-foot indoor aquatic center.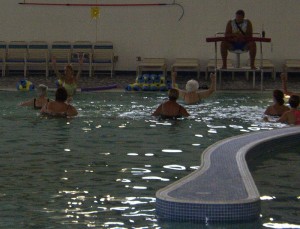 Usually reserved for water aerobics, swim classes and other programming, I soon discovered reservations can be made for birthday parties, and what better place for a winter party than this! The two-story, navy blue waterslide stood out like a beacon, but there were so many more amenities in the 5,742-square-foot leisure pool. We couldn't wait to try them, so we quickly changed into swim trunks in the nearby locker room. At zero-depth entry, we dipped into the warm water and headed toward a half-dozen fountains, which shot water at different angles like rhythmic rain beads against our heads and bodies. Some included a time-lapse feature that kept us guessing in mild trepidation. Basketball beckoned us, but not the hardwood variety. A large, floating basketball hoop was stationed nearby, so my son and I engaged in a few splash-filled games of horse. In the process of losing every game, I noticed a squadron of lifeguards. Impressively, they patrolled every inch of the perimeter, always in movement while peering into the pool. Needless to say, I felt safe. After swimming in the three lap lanes, we relaxed in the gentle winding river, letting the currents take us away. The river was therapeutic and liberating; my mind and body felt free. I gave my body more king treatment by luxuriating in the pulsating vortex before leaving the pool to rest on a lounge chair while my son kept swimming. I'm glad I saved up the energy, because it was high time to try the waterslide. An easy climb to the second-platform brought us to a lifeguard, who instructed each individual when to slide. As I accelerated down straightaways and five slippery loops, feelings of giddiness, happiness and boldness encompassed me all at once. I felt liberated from life's worries, unbridled from life's demands. I felt 12 years old again. The spontaneous derring-do was just what I needed to escape this wintry day. The twists and turns meant that I couldn't see the finish coming. With heavy anticipation, I plugged my nose for the inevitable. Sure enough, I zoomed off the slide, into the air and -- plop -- down into the water. My son plunged into the water seconds later. We hooted, hollered and high-fived. And, of course, we headed right back to do it again. And again. And again.