As a child, one of my absolute favorite pastimes was bouncing along atop a tractor at my grandma's farm. We could be tilling, pulling a wagon loaded with hay or taking a ride down to empty the blackberry bushes and wade through the creek bed; it was all fun to me!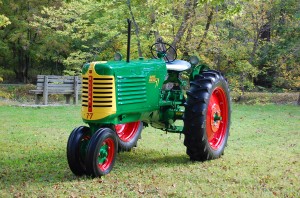 Appreciation for tractors grows when you can walk up close and see how big (and beautiful) the machines are in real life. The rows of restored antique tractors glisten in hues of red, yellow, blue and green, and the restorers are eager to talk about them. Coming up this weekend,
June 2 & 3,
you have the opportunity to get close to antique and newer tractors at the 2012 Spring Gas Up hosted by the Hendricks County Antique Tractor and Machinery Association at the
Hendricks County 4-H Fairgrounds
, 1900 E. Main St., Danville, Ind. The annual
Hendricks County
tractor show is open to the public and admission is free. Saturday begins with breakfast at 7 a.m. in the 4-H Café. Freewill donations will be accepted toward the
Cartlidge Barn Preservation project
.  The barn, built in the 1830s, stood on the Cartlidge family farm in Avon where the Hendricks Regional YMCA now stands. The family donated the historical structure. It was dismantled and is waiting in storage while funds are collected for its re-construction on the fairgrounds campus.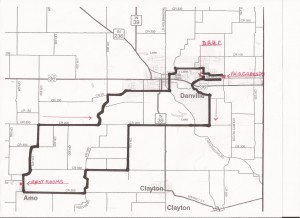 A new feature to the show is a parade of antique tractors in a 24-mile Tractor Drive starting at 10 a.m. on Saturday, complete with a police escort. The route runs a loop from the Fairgrounds in Danville down county roads to Amo and back. Back at the Hendricks County Fairgrounds all day activities on Saturday and Sunday include field demonstrations of an antique Baker Fan and a more current Tractor Dynamometer to measure horsepower and corn shelling machinery. There also will be a flea market and carnival food available. No tractor show is complete without competitions. The tractor games start at 1 p.m. Saturday and include a lawn mower drive for youth and a trailer and wagon backing contest. There's even talk of an egg drop competition between tractor riders! Saturday will come to a close with a bonfire and roasting of marshmallows and wienies (weather permitting). The antique Tractor Pull begins at 3 p.m. Sunday, followed immediately with professional pullers, the Indiana Tuggers. If you've never seen a tractor pull, you've missed something pretty special. This is your chance to see what these mighty machines can do. At the Spring Gas Up you can walk among rows and rows of the mechanical workhorses from the lawn tractors to the machines where the wheels are taller than a man. All in all, it really is pretty amazing – and fun!
Quick tip:
The tractors on display and most of the events will be on the "carnival field," which is on the far eastside of the Fairgrounds campus. Enter off County Road 200 East north of the Conference Center entrance.