I will never forget the first time I looked through the eyepiece on a telescope and saw the rings of Saturn with my own two eyes. Sure, I'd been learning about our solar system for years in science class at school, but truly grasping the existence of other planets and celestial bodies can only go so far when you're learning from a textbook. Seeing for yourself  the rings of Saturn, the Great Red Spot of Jupiter, and multiple moons orbiting these planets makes it all real. It's something everyone should experience, no matter whether they're 8 years old or 88, and
Hendricks County's
own
McCloud Nature Park is making it possible
. One Saturday evening each month, from April through October, the Indiana Astronomy Society hosts sky seminars and viewings at McCloud Nature Park. The program is free for everyone — all you need to bring is yourself. Telescopes large and small are set up for you to use, and expert sky watchers will be on hand to help you find and identify objects in the sky.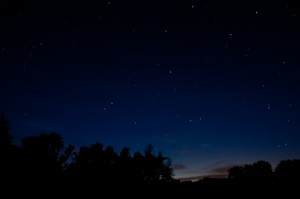 McCloud Nature Park is an ideal spot for night-sky viewing due to its rural location far from city lights that pollute the darkness. The park hosted a special astronomy program this past Saturday on the peak night for the annual
Perseid Meteor Shower
. My mom and I joined more than 100 other stargazers at dusk and set up our chairs facing northeast. People of all ages were there, including many families with young children who were thrilled to be seeing their first real shooting stars. At its peak time, we expected to see up to 60 meteors per hour. With every meteor we spotted, the crowd collectively oohed and aahed over the spectacle. We really enjoyed ourselves and were reluctant to pack up and head home, for fear of missing the next great one. Leaving was our choice, though. Since the peak hours were between midnight and dawn, park naturalists invited everyone to stay as long as they liked even sleeping out under the stars, if they chose. And it would have been the perfect night to do just that. Check out the final two
astronomy programs
this year at McCloud Nature Park at 7:10 p.m. on Sept. 22  and 6:30 p.m. Oct. 20. The program — and chance to make life-long memories — are absolutely free.
Tips for your trip:
The events are weather-dependent. Check the forecast before you head out, and call the Nature Center if you're unsure.
You don't need any special gear, but I'd recommend taking bug spray, a blanket and/or lawn chair, and a small flashlight.
If you have an iPhone, download the SkyView Free app, which will help you find and identify stars, planets, constellations, and satellites.