What started as an online boutique in 2018, has grown into an adorable storefront. Sugar Pine Boutique has found a place to call home, right in Downtown Plainfield. 
Owner, Jill Duke, resides in Avon, but decided to open her store front boutique in Plainfield in December of 2019. "I love the small town feel of Main Street shopping areas and when I decided to take the leap from online only to brick and mortar, I looked into the corner space at Center and Main. I'm not quite in the corner, but close and hopefully one of these days I will be at that corner spot."
Jill chose to name her store off the street name of where she lives with her 3 sons and husband, Jared. "I wanted the name to represent the things I love most - my family, and the home and life we've built together."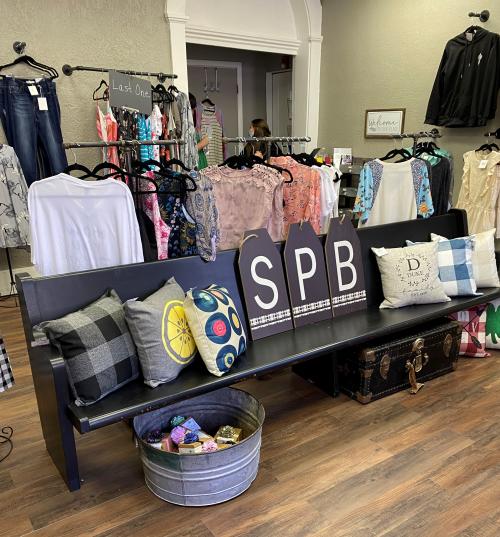 The boutique features cute, comfortable, and affordable women's clothing with sizes that range from XS to 3X. You can also find an assortment of accessories, home decor, gifts, custom made graphic tees, and even children's clothing. Items are not normally restocked unless there is an overwhelming demand to get the items back. "I work with a variety of new items so shoppers can feel like they are getting something unique and not something everyone else is wearing."
Many of the boutiques in Hendricks County have something about their shop that make them unique. Sugar Pine Boutique is no different. When you visit their website, you can find a 'shirt shop' and custom order options. This gives you the opportunity to customize made-to-order items for gifts, and other special occasions. 
That is not the only thing that makes this boutique unique. Jill has created a Sugar Pine Peeps private Facebook group. Members of the group are the first to see new arrivals and claim them before they go into the shop. You can also catch live sales bi-weekly. What really grabbed my attention about this group are the daily auctions. Each day, Jill will post an item up for bid starting at $5. The highest bidder at 9 p.m. each night wins the item. Jill thought this would be a fun way for customers to interact and snag great items for great prices. 
When you shop online, be sure to sign up for the rewards program. You will earn one point for dollar you spend, then you can redeem your points to get money off future purchases. There is not currently a reward program for in-person shopping but Jill hopes to change that soon.  
Jill is doing some great things! I look forward to seeing this shop at the corner of Center and Main Street in the future. Go visit Jill and stock up on all the graphic tees and comfortable attire for the colder days ahead! 
Sugar Pine Boutique 
Address: 110 S. Center Street, Plainfield, IN 46168
Hours: 11 a.m. - 4 p.m. Tuesday, Friday and Saturday
Phone: (317)979-4912
Website: SugarPineBoutique.com