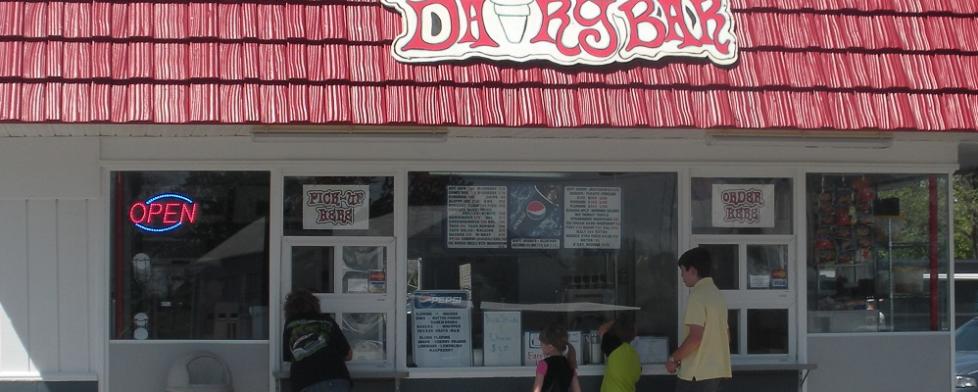 How is your summer? Are there still a few things you want to accomplish?
I've got my summer checklist out (it's a long list), and I just marked off two places to visit in Hendricks County. I decided a Saturday day trip was in order, but I wanted to go a bit off the beaten path to the northwest side of the county and found the Pittsboro Farmers Market and Lizton Dairy Bar.
I'm a fan of taking a Saturday drive and Pittsboro and Lizton are only a handful of miles apart. It makes perfect sense to visit both places on the same day!
Pittsboro is located just a few miles west of Brownsburg (via U.S. 136), and its farmers market is open from 9-11 a.m. every Saturday in Scamahorn Park.
On my recent visit to the market, there were about six vendors –though that number increases as we get later in the summer as I was told Indiana corn and tomatoes are expected to arrive this week — selling locally grown produce, plants and herbs, handmade items (crocheted pot holders, shawls, quilts) and locally made honey and made-to-order breakfast sandwiches.
I recommend taking time to walk around the market to chat with the vendors. I purchased a few pounds of green beans (just picked the night before), potatoes, beets, onions, a large parsley plant and lime basil. Everything was so reasonably priced. One of the vendors even provided me with a few suggestions on how to cook the green beans and beets.
I was a bit hungry after all of that produce shopping, so I ordered a breakfast sandwich (around $3) that included eggs and bacon served on a croissant. Delicious! The croissant was warm and the egg and bacon were both perfectly cooked.
If you're looking for a Saturday morning farmers market (there is also one in Danville), you won't be disappointed with the Pittsboro Farmers Market. It's now one of my favorite farmers markets in Hendricks County.
Saturdays, 9-11 a.m.
Scamahorn Park
52 E. Main St., Pittsboro
What I purchased: A lot of inexpensive, fresh and locally grown produce including: green beans, potatoes, onions, parsley, lime basil and a tasty breakfast sandwich.
*Plenty of parking and there's a playground at the park for kids and green space for walking dogs.
After my visit to Pittsboro, I was ready for some ice cream and I couldn't wait to arrive at a local landmark, the Lizton Dairy Bar. Lizton is located less than five miles west of Pittsboro (via U.S. 136). It's super easy to find, even if you're directionally challenged like me!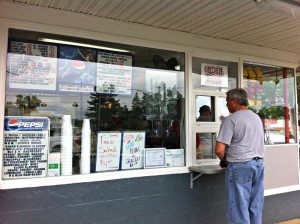 Remember the small town ice cream shop you may have visited as a kid? Well, the Lizton Dairy Bar is living proof that they still exist. What I love about small town ice cream shops is the great quality of the food and the friendliness of the staff.
The Dairy Bar is known for both their food and ice cream treats. Savory menu items include, coney dogs, sloppy joes, and tenderloin sandwiches.You'll also find ice cream cones, blizzards, shakes, and sundaes. There are lots of choices so take your time while you're waiting in line. It took me a few minutes to decide... So many tempting choices!
I decided to go all out and order a walking taco (a taco in a bowl, with corn chips, taco meat, cheese, lettuce, tomatoes and sour cream) and strawberry shortcake (strawberries, pieces of sponge cake filled with cream, vanilla ice cream, and whipped cream). Go big or go home, right? It's summer, after all. And, time to indulge!
And, the food? The walking taco (available in mild or spicy) was one of the best I've tried and was packaged nicely if I wanted to take it to go or eat in the car. I love walking tacos and this was one of my faves.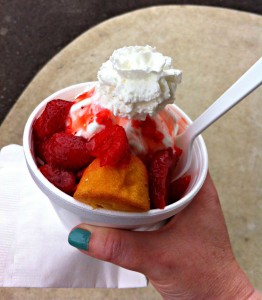 The strawberry shortcake was super decadent with ice cream, pieces of cream filled sponge cake, strawberries and whipped cream. It's a large serving, and I couldn't finish it all. I wanted to, but I couldn't!
While I was at the Dairy Bar, there was a steady stream of visitors. It's a busy place! I'm looking forward to visiting soon with family and trying more of the menu...Maybe next time a coney dog and one of their famous blizzards!
Lizton Dairy Bar
102 W. Main St., Lizton, (317) 994-5399
Open 7 days a week (during the summer season). Call to confirm hours.

Isn't it time you visited the Pittsboro Farmers Market & Lizton Dairy Bar and marked them off your summer checklist?