In this slower economy, running -- which requires no gym membership or special equipment -- has become all the rage as a fitness option (not that an exercise as basic as running and walking ever goes "out" of style, but you get the point).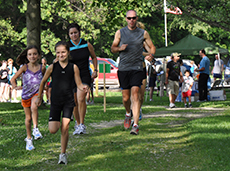 As the weather warms up, even more folks lace up their sneakers and get in on the walk/run action. Hendricks County Parks are offering a variety of summer runs, starting with these family-friendly fun runs:
June 4 -- Ellis Park, Danville
June 11 -- McCloud Nature Park, North Salem
June 18 -- Arbuckle Acres, Brownsburg
June 25 -- HRH/YMCA, Avon
July 9 -- Vandalia Trail
July 16 -- Williams Park, Brownsburg
July 23 -- Al and Jan Barker Sports Complex, Plainfield
July 30 -- Hummel Park, Plainfield
Aug. 6 -- Avon Town Hall Park
Aug. 13 -- Plainfield Aquatic and Rec Center
Aug. 20 -- HRH/YMCA, Avon
Aug. 27 -- McCloud Nature Park, North Salem
Some special incentives are a part of this fun run series. Runs are free and all ages are welcome to participate. Fun runs include both 1-mile and 5K courses,
and
runners who complete at least 9 of the 12 offered races will get a free T-shirt. These free,
untimed
(see the "fun" in fun run) race events start anytime between 6 and 7 p.m., when the air is cooling off. Maps for each event, and additional information can be found
online
.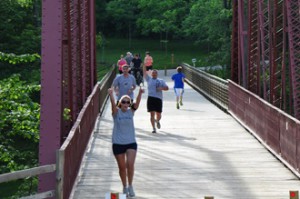 In addition to fun runs, all county parks are offering the 7th Annual Race Across Hendricks County on July 12, which includes a variety of categories and team options. Registration for this event can be found at this
website
, and the deadline is July 1. Plainfield Parks and Recreation is already in the midst of it's 2014 Walk/Run/Triathalon Series, but a few events are still upcoming:
June 7 -- Kick It Triathlon
June 14 -- Park 2 Park Relay (details forthcoming in another post)
July 23 -- Al and Jan Barker Fun Run
Sept. 6 -- Harvest Hustle
Brownsburg specifically, and Hendricks County in general, both offer Run Clubs this year as well. If you have the itch to run throughout the season, and not just for special races and events, this is the way to go. Run Club information can be found
here
 or on
Facebook
. There are groups running every Saturday of the season, and all are welcome. Whether running to get fit, lose weight, have some fun with the family, or blow off steam, the opportunities to run in a host of beautiful settings abound this summer. There's no excuse to avoid lacing up those shoes!