With the
Indianapolis Super Bowl
just days away, we're all busy getting ready for the hundreds of New England and New York fans to arrive here in Central Indiana. We're putting our best foot forward, including at our
Super Celebration Site
in Plainfield, Ind., and making sure we've got our Super Scarves ready, but it wasn't too long ago that we were all sporting pink feathers in our hair. Our Super Feathers campaign lasted the month of October, and we're pleased to announce that with the help of our partner salons and you, we made our goal and donated $5,000 to
Indy's Super Cure
. That included $4,200 in sales of the pink feathers and donated service fees, sales from the pink booties here in our office and $800 from an anonymous donor to help us match our goal.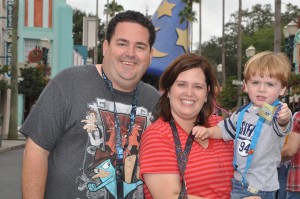 Sometimes I miss my pink Super Feathers. I wore them on vacation (we're Disney fools) so I have all kinds of photos of me and my pink feathers with my 2-year-old son and Mickey Mouse. I've got my pink feathers in photos with Cinderella. I also have photos with my cousin, Wendi, who is an almost 4-year breast cancer survivor, and her two girls. I have photos of my son with his BFF – Addison – who at just 4 years old had two Super Feathers in her hair. I have photos with Mary Beth, Joe, Elizabeth, Katie, Chris, Abbie, Rusty, Ben, Emmett and Brianna who had just lost their mother/grandmother/mother-in-law to this terrible disease. During that month, we had to find a new home for a family member's dog – Rocky – and one of his potential suitors showed up with pink feathers in her hair. I'll admit, it was pretty fun to have pink feathers in my hair. I wasn't as ambitious as a friend of the
Hendricks County Convention and Visitors Bureau
who dyed her hair blue to raise money for a cause. But I hope that those that supported the fundraiser got some enjoyment from the pink feathers and were able to share their story of why breast cancer needs money for research. The stories we heard were so touching. One of my favorites was on the day of our Super Feathers event at
Metropolis
.  I had a lady get some feathers for her daughter, and I suggested she get some, too! She shook her head no, but a few minutes later she was back with her own feathers. I asked what changed her mind. "Just two years ago, I couldn't have got these feathers because I didn't have any hair from my chemo," she said. "I decided if I'm lucky enough to have hair, why not?" Yep, I teared up. But it wasn't my first – or last – tear I shed through the whole campaign. The first?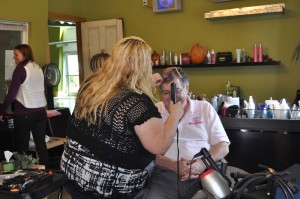 At Salon Noveate in Plainfield, Christen was helping the HCCVB staff get their feathers. Our Executive Director, Emory, came to check it out. We all joked he should get pink feathers. I've worked with the guy for 10 years and never thought he'd do it. Next thing I know, he's in the chair. It was for Sandy. Three feathers, right in front, for everyone to see how much he loved his wife, and how much this disease affected him, his family and his community. And that is why we offered pink feathers and we're thrilled with your support. Hopefully, we just might reach a day when this disease will no longer affect any of us, and the next tears we shed will be happy tears for survivors and for a cure.