"Have a Super Day!" is a phrase Hendricks County folks should get used to hearing over the next few months as the countdown to Super Bowl XLVI's arrival in Central Indiana ticks closer. Those four words served as the cornerstone of a special in-person 'Super Service' training session I was fortunate enough to be a part of this week.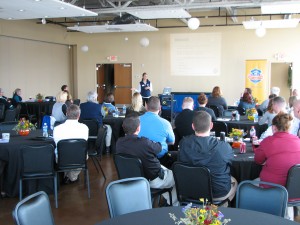 Hendricks County became the first Super Celebration site to offer in-person Super Service training to provide hospitality tips to its service providers in preparation for the hundreds of thousands of expected guests. Our Super Celebration site,
Metropolis Shopping Center
in Plainfield, will be one of several locations around the state to support the Super Bowl festivities by providing a central hub of activity, information and even transportation for the big event. The 45-minute Super Service session, which received extensive
media coverage
, proved to be an eye-opener for me as I began to comprehend the sheer magnitude of what hosting the Super Bowl is going to mean for all of us. Our
hotels
will be full, and visitors will be looking for
places to eat
,
things to do
and the type of hospitality that we, as Hoosiers, specialize in providing. Despite the strengths of our front-line service providers, everyone in the room came away with some interesting nuggets from Wednesday's Super Service training. Here are just a few:
Have a Super Day – As I mentioned above, this will be the catch phrase as it pertains to our hospitality industry during the Super Bowl. The Super Bowl Host Committee wants this consistent greeting to be used by every hospitality associate in the state to leave a lasting impression on our visitors.
The 20-12 rule - First impressions truly mean everything, so the Super Service trainers recommend making eye contact and smiling at a visitor within 20 feet and greeting them when they are within 12 feet.
You're welcome? – Well, maybe not. It is better to tell a guest who you have just helped, "My pleasure" instead of more commonly used phrases such as "You're welcome" or "No problem."
LEARN – When faced with a difficult situation involving a guest, service providers and volunteers were coached to remember the acronym LEARN to remind them to Listen, Empathize, Apologize, React and Notify.
We must be on our game because, in many respects, it's scary to think about what the days leading up to Super Sunday will be like. Key figureheads who will determine whether this region is a viable location for future conventions and other attractions will be among the throngs of visitors arriving here. Traffic and parking, especially Downtown, will be brutal. Organizers estimate it will take more than 8,000 volunteers to pull this all off, which makes the Super Service training even more important. It is truly going to take a village with a lot of patience and preparation to do this right; and if we succeed, everyone will reap the benefits. But to collectively put our best foot forward, it begins right here right now. If you are in the service industry or interact with the public in any way and you missed or were unable to attend this week's in-person training, I would highly encourage you to participate in the free online session by going to the Super Service website. That 45-minute investment will be time well spent. And, of course, have a Super Day!