When a shop opens selling my two favorite things…ice cream and coffee…you better believe I am there. I paid a visit to Flossiemae's Ice Cream & Coffee shop in Pittsboro, Indiana, last week, and I was not disappointed.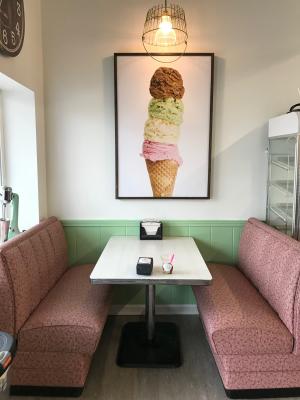 Flossiemae's Ice Cream & Coffee features specialty coffees and hand-scooped ice cream. I took one step inside and was immediately charmed by the smells of ice cream and espresso, a donut case, a counter case of 16 flavors of ice cream and the warm smiles of mother-daughter duo, Diane Fleece and Kaylee Proctor.
Diane always wanted to run her own business. She decided to take her two very favorite things, ice cream and coffee, and offer the absolute best product she could. She opened Flossiemae's in September right in the center of Pittsboro in the oldest building in town. She even has old photos of the building in her shop, one photo dating back to the 1800s.
The shop is inviting and reminiscent of an old-time ice cream shop that serves as a type of "watering hole" for the community.
Ice Cream
Diane offers 36 flavors of hand-scooped ice cream, displaying 16 of them at a time and rotating them regularly, making sure there are always kids' flavors, peanut butter flavors, coffee flavors and of course basics like vanilla.
There are eight flavors of soft serve ice cream, and she can make you just about anything you want.
Coffee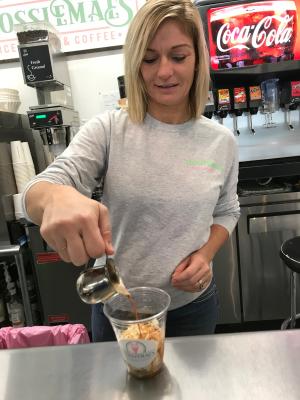 But that's only the half of it! She takes great care in her product and purchases her coffee beans from Julian Coffee Roasters in Zionsville. In all her research, they were the absolute best she could find, and her customers tell her so all the time.
She doesn't just offer drip coffee either. She can craft any specialty coffee such as lattes, iced coffees and even shakes and smoothies.
A new favorite item on the menu is the espresso shake, consisting of any flavor shake, ice cream and two shots of espresso (instead of milk), and then she blends it like a milkshake. It you want an explosion of sugar and caffeine, this would be a good option for you. It's the new favorite of her staff.
My Experience
Of course, I had to try something, and I wanted to get something out of the ordinary. I ordered the affogato, which is hand-scooped ice cream (any flavor you want; I chose vanilla), a shot of espresso drizzled over the top and hot fudge dribbled on top of that (other options are caramel and white chocolate drizzle).
The perfect touch was the color changing spoon she gave me for my ice cream. It was the most delicious combination I have had in awhile. It's a great item to order on the menu if you are wanting to try out Flossiemae's.
Diane's favorite aspect of the shop is simply offering a place for the community and visitors to gather. She loves watching the older gentlemen coming in to have coffee and to chat, the young moms bringing their little ones in for donuts and the teenagers hanging out in booths and taking selfies together.
She has two favorite products. One is the espresso shake, and the other is the Turtle Ice Cream Sundae, which is offered as a special every week on Turtle Tuesday, of course.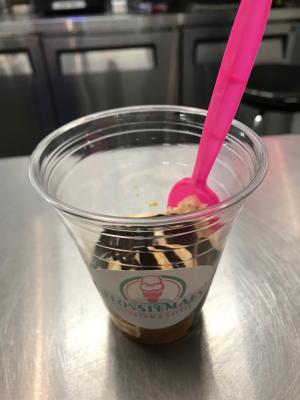 Her top priorities are obvious when you walk into her shop. Cleanliness is at the top of her list, and she cleans all her equipment at least once a week by pulling everything apart to the nuts and bolts and cleaning and sanitizing all of it.
She also puts a high value on friendly staff, which right now is her family, and on her excellent products. Her daughter Kaylee is always trying to come up with new combinations and creations to add to the menu.
Flossiemae?
The name Flossiemae was a nickname her aunt gave her from the day she was born. She's been known as that all her life.
From now on, she'll also be known for her delicious ice cream and coffee. You will know why the first time you visit. Take it from me, you must try it out.
Diane is running a special for December and January so make sure you take advantage of this great deal. Get 25 percent off pints and quarts of her hand-scooped ice cream.
Stop on the way home from work or school or while you're visiting and enjoy with the family.
Details
Flossiemae's Ice Cream & Coffee
91 N. Maple St., Pittsboro, Indiana
(317) 892-0431