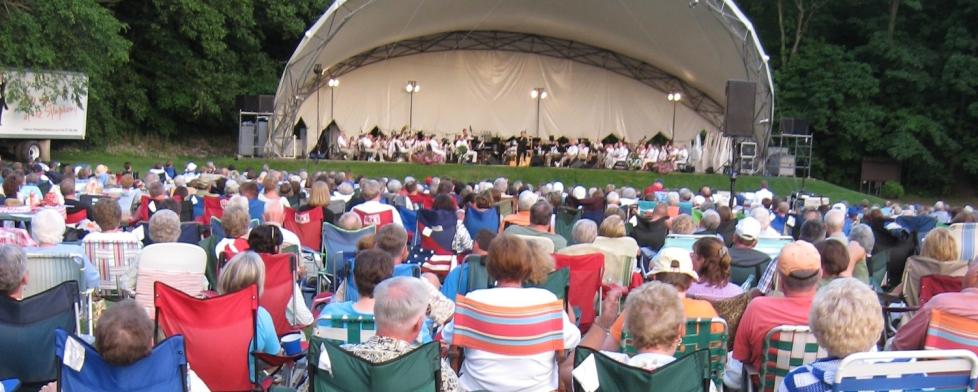 We're heading into the Fourth of July weekend, but the celebration of our country's independence doesn't have to end on July 4. Visit Hendricks County on Thursday, July 9 for the Symphony in Ellis Park and experience the Indianapolis Symphony Orchestra playing patriotic music from some of America's favorite composers.
The Symphony in Ellis Park is a popular annual tradition in Danville where music lovers can bring the entire family to Martin Amphitheatre and enjoy an evening of food, fun and music by the Indianapolis Symphony Orchestra (ISO). This year's concert is presented by the Greater Danville Chamber of Commerce and Hendricks Regional Health and sponsored by Danville Chiropractic, the Hendricks County Flyer and Visit Hendricks County.
Thursday's concert is an Americana and patriotic theme featuring music composed by George Gershwin, Aaron Copland, Leonard Bernstein and other great Americans.
The ISO will be conducted by Christopher James Lees, who has conducted the Los Angeles Philharmonic, the London Philharmonic Orchestra, the Orchestre de Chambre de Paris, and a multitude of additional symphonies and orchestras from around the U.S. and world. He is also an accomplished pianist in his own right. 
Tucked into the north end of Ellis Park, away from traffic noise, Martin Amphitheatre provides concert-goers with a beautiful backdrop of trees, a large flat lawn that is perfect for lawn chairs and for letting the kids stretch their legs, and the bandshell that envelops listeners in the sweet sounds of the ISO. It's a perfect escape from the hubbub and chaos of the real world.
So how does a person secure a spot at the Symphony in Ellis Park to hear ISO's rendition of such patriotic compositions as America the Beautiful, Yankee Doodle and American Salute (When Johnny Comes Marching Home)?
From the convenience of your desktop, you can order tickets online through the Greater Danville Chamber of Commerce by clicking here. Tickets will be held for you at Will Call on the night of the event.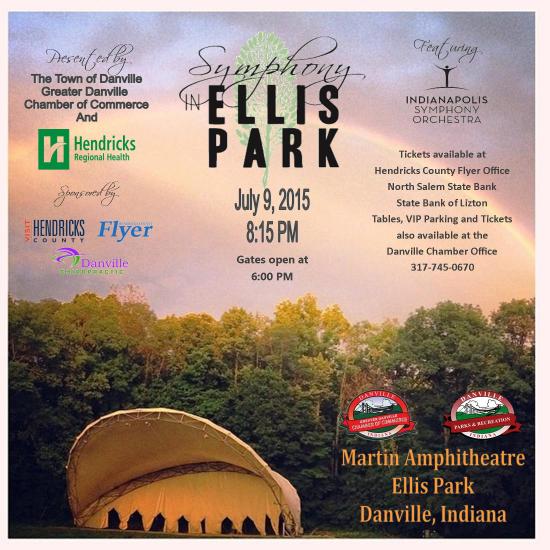 If you're in the Hendricks County area, you can also purchase tickets in advance at the Hendricks County Flyer office in Avon, any North Salem State Bank location, and the State Bank of Lizton locations in Brownsburg, Lizton, Pittsboro, Plainfield and Prestwick.
Additionally, you can stop by the Greater Danville Chamber of Commerce office for tickets, VIP parking passes and guest tables.
Tickets for the Symphony in Ellis Park are $18 a piece in advance or $20 at the gate for adults. Children ages 3-12 can get in for a mere $8 in advance or $10 at the gate, and kids 2 and under are free.
Families of four can save some coin, too, by purchasing a family pass for $45 that allows entry to two adults and two children.
VIP parking is available for $10, and guest tables that seat eight (but do not include tickets) can be had for $50.
Otherwise, bring lawn chairs and claim your spot beginning at 6 p.m. when the gates open. The concert begins at 8:15 p.m. and will last until about 10 p.m., just in time for a terrific fireworks display that is the perfect end to a night of patriotic music.
Need more information? Click here, give the Greater Danville Chamber of Commerce a call at (317) 745-0670 or e-mail jana@danvillechamber.org. 
Extend your Independence Day celebration to Thursday, July 9 with a patriotic concert by the Indianapolis Symphony Orchestra at the Symphony in Ellis Park.
We'll see you there!