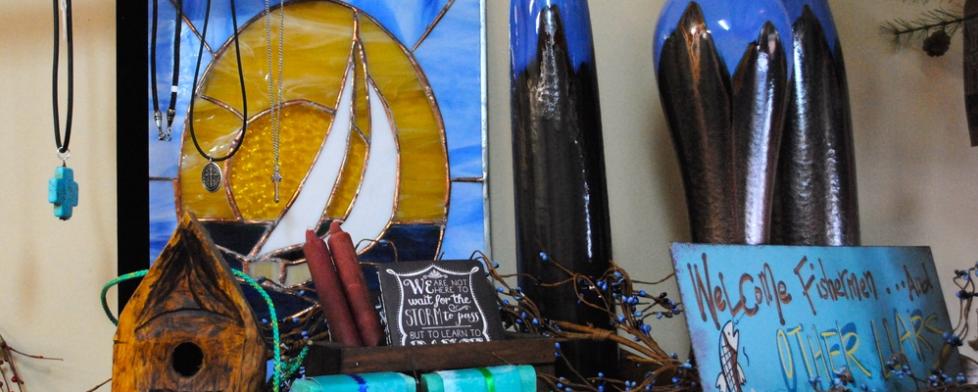 The more I discover about Coatesville, Ind., the more impressed I am with this little town right off Ind. 75 in southwestern Hendricks County. My most recent discovery is the Enchanted Journey artisan marketplace, and it comes with a neat story to go along with its many hidden treasures.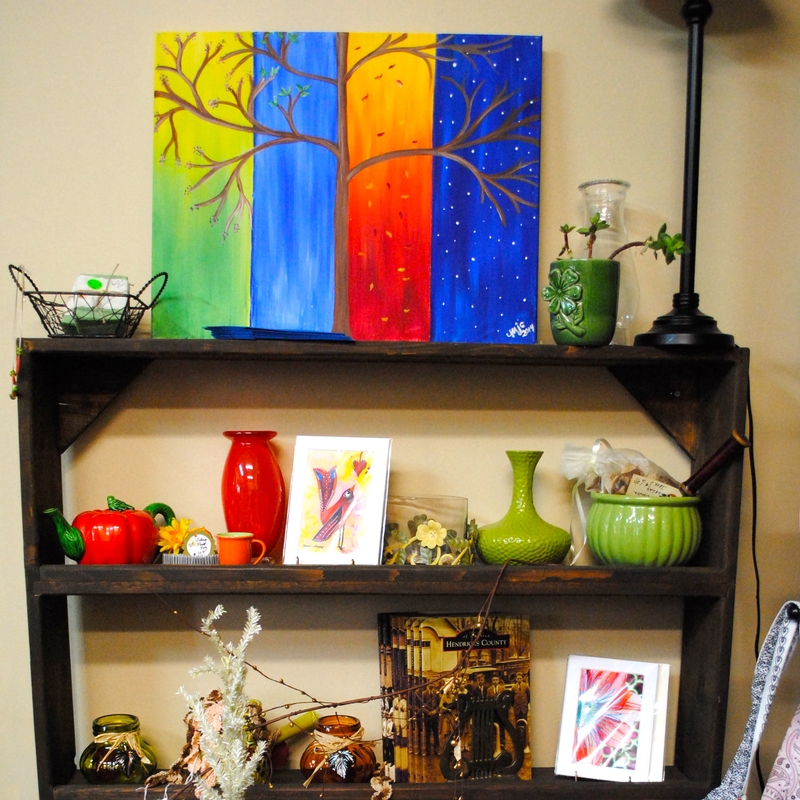 Enchanted Journey is owned by Lorri Knapp and is located at 8022 Main St. in downtown Coatesville. Patrons of the Mayberry Cafe in Danville probably will likely recognize Lorri, since she works at the restaurant part-time, too. 
Lorri is a very gifted artist who specializes in stained glass and handmade jewelry. She was also good friends with the former owner of the Red Horse Livery, Nikki Valorani, who passed away last summer and the Red Horse Livery closed. 
I explored the Red Horse Livery in May of 2014 and loved all of the art and crafts created by artisans who were predominantly local. Nikki gave the artisans a place to display and sell their works and gave shoppers a place to find unique and affordable gifts, decorations and furniture.
Since Lorri had a stained glass shop inside the store, she helped with the closing of the Red Horse Livery after Nikki's passing and wound up with a lot of the store's inventory. When a space became available in downtown Coatesville recently, Lorri saw a way to continue Nikki's legacy and to display and sell her own works of art, too with Enchanted Journey.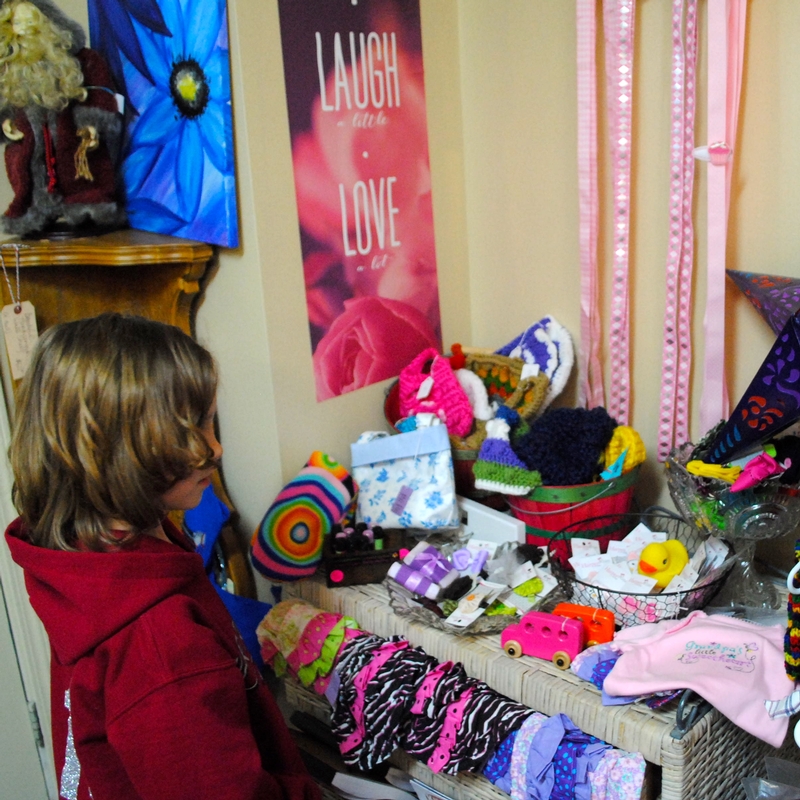 Enchanted Journey opened in October 2014 and is chock full of unique items that are handcrafted by local artisans. Lorri kept many of the same artisans that had items in the Red Horse Livery so that these folks can continue to impress people with their talents.
There is literally something in Enchanted Journey for everyone.
My daughters immediately found the kids' corner that includes, among many other items, handcrafted clothes for American Girl dolls. Parents of little girls know that these dolls are anything but inexpensive, and their outfits are downright highway robbery.
To find unique hand-sewn outfits for these dolls at a very reasonable price at Enchanted Journey is a miracle sent from parenting heaven.
My girls also loved the wooden toys there -- especially a train that is so well-made that you could easily pass it down from generation to generation.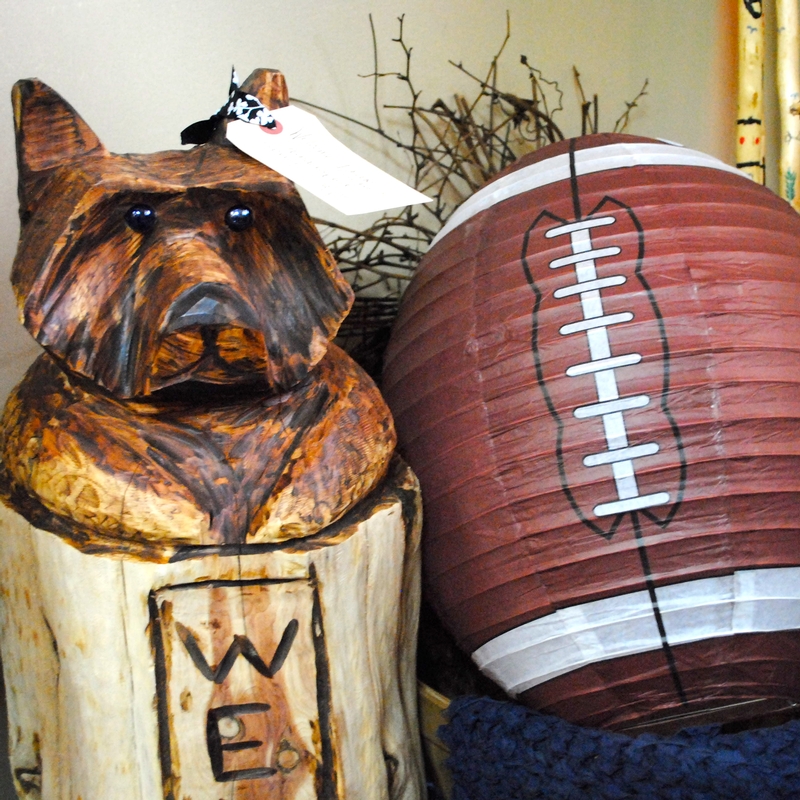 I was immediately drawn to the men's corner of Enchanted Journey that features a hand-carved welcome sign topped with a bear's head. Not only is it a super cool home decoration, the price is amazingly reasonable, especially when you think about the time and effort that the artisan put into this piece.
Enchanted Journey is also full of artwork, knick-knacks, antiques, soaps, decorations, rare books and countless other items that are too plentiful to list here.
And, of course, Lorri's work is sprinkled throughout the store. Not only does she make stained glass items and jewelry, she does custom work, too.
Got a member of the military in your family? Lorri can make a custom stained glass piece that's designed just for the soldier in your life.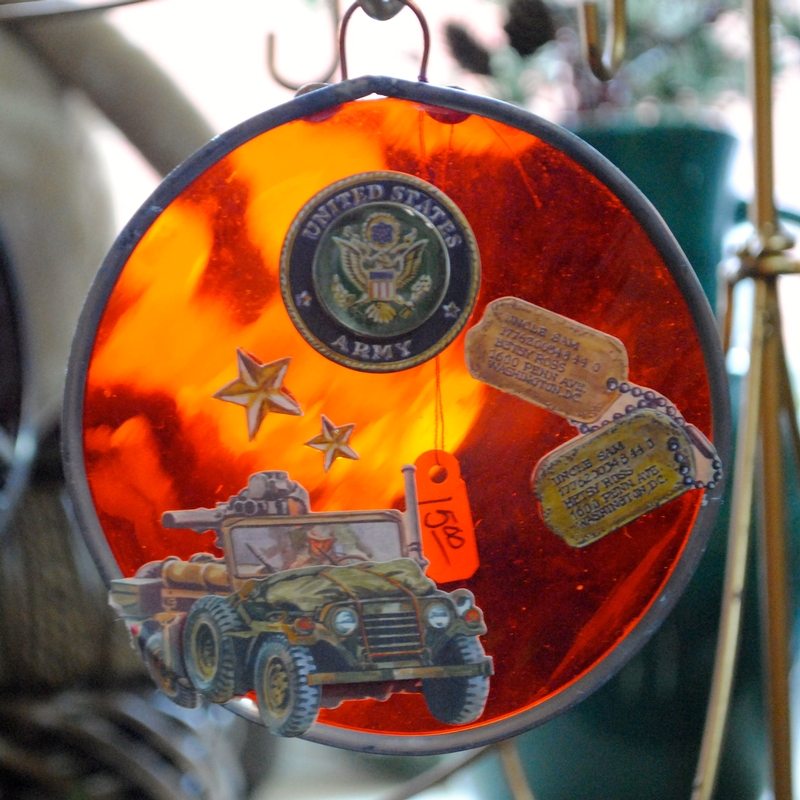 Guys:  I know that we're all focused on Christmas right now, but the bane of our male existence -- Valentine's Day -- is closer than you might think. If you need a special something for your special someone for Valentine's Day, go see Lorri at Enchanted Journey.
She can fix you up with a piece of custom-made jewelry that is as unique as the love of your life, and it won't break the bank. If you're like me and don't know the first thing about jewelry, just tell Lorri some of your significant other's likes, and then let her create.
She can make earrings, bracelets, necklaces and whatever other kind of jewelry women wear (as you can probably tell, I'm going to need Lorri's help, too).
She keeps her prices low, and if anything breaks or needs to be replaced on the jewelry, she can take care of it right there in her shop. 
Insider tip:  Guys, after you visit Enchanted Journey and commission that unique piece of handcrafted jewelry, go right next door to Fleurs de Beausoleil and let shop owner Koren Bousley hook you up with a floral arrangement that is sure to impress.
If you love local artisans' crafts, I know you're already making a beeline to Enchanted Journey. But guys? You need to head there, too. You'll be glad you did when Lorri helps you rock Valentine's Day, birthdays, anniversaries, I'm-sorry-I-screwed-up occasions, and any other event where you need a meaningful gift. 
As I was perusing Enchanted Journey, I noticed some bright colorful paintings that jumped out at me. A closer inspection of the artist's initials in the bottom corner of the pieces revealed a familiar name to me:  Melissa Cain of the new and very popular Melissa Cain Art Studio in Danville.
As it turns out, some of Melissa's artwork is available at Enchanted Journey, and some of Lorri's work is available at Melissa Cain Art Studio! I love the collaboration!
Nikki Valorani is smiling down on Enchanted Journey from her art studio in the sky, I'm sure.
Enchanted Journey 
8022 Main St., Coatesville, Ind. 46121
(765) 209-1663
Hours:  Thursdays, noon to 5 p.m.; Fridays, 11 a.m. to 6 p.m.; Saturdays, 10 a.m. to 3 p.m.