My favorite time of the year is right around the corner. I love the month of July, and even though the fireworks shows are being postponed, it means my favorite event of the year is just days away. The 9
th
Annual Taste of Hendricks County returns from 5 to 8 p.m. July 12 at
Primo West by Five-Star Catering
, and this year more than 25 vendors will be handing out samples of their favorite dishes. You can click
here
to purchase tickets online! The showcase brings together our local favorites and some brand-name staples.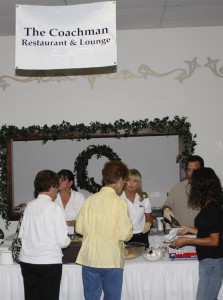 My first stop is always the
Coachman Restaurant and Lounge
, where I know I will get a delicious prime rib sandwich, and I get to stop and chat with the owner, Larry. Next, I make a beeline to the
Boulder Creek
station and pick up some bread pudding. This has been my plan for the last eight years, and it's yet to fail me. I have to get my faves before they run out, and these two locally-owned establishments have been supporters of the event since the beginning. The venue is wide open, with parking all around. When you get into the banquet hall you'll need to assess the landscape. More than 25 food vendors will line the outside walls, and the interior area will be full of tables and chairs, standing cocktail areas and of course many friends and neighbors. Since the event benefits
Leadership Hendricks County
and the
Hendricks County Community Foundation
, you get a great meal and support local organizations, too. This year, the event welcomes some new establishments, and a few are returning after a short hiatus.
Dawson's Too Sticks & Stones
recently opened a second location in Brownsburg, Indiana, after years of success in Speedway, Indiana, and they will join the showcase for the first time, as will a couple of other new restaurants since last year's event, Corkey's Fabulous 50's and Teddy's Burger Joint.
Frank & Mary's Tavern (FMT)
is returning with new owners, and a new dish. If you want a sneak peek, be sure to check out
our previous post
about a recent visit. My favorite part of the event is the 'deal'.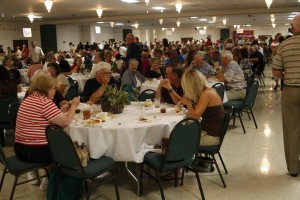 For just $25 in advance, you get to dine at your favorites and try new-to-you restaurants. The event brings a crowd, so get there early, be patient and have fun! The Taste is where I had my first bite of chicken salad from the
Bread Basket Bakery & Café
, learned I liked red wine from
Chateau Thomas Winery
and the Vineyard Room, and that there is more on Applebee's menu than burgers and chicken. Other vendors for the 2012 show include: Nawlins Creole Cafe, The Porch, Firehouse Subs, McAllister's Deli, Confection Delights, Black Swan Brewpub, Bellacino's, Charbonos, Stone Creek Dining Company, Piezanos Pizza, Chick-fil-A, Texas Roadhouse, Sweetheart Cupcakes and Three Pints Brewpub. To purchase tickets, visit the
online link to purchase with a credit card
, or visit the
Hendricks County Convention and Visitors Bureau
offices in Danville, or the
Hendricks County Flyer
office in Avon.
TIP: If sitting as a group is important to you, get there early. However, be prepared to share your seats as this event is free-flow, so most guests grab a plate or two, sit and taste, then move to grab a few more plates, then taste. I always enjoy hearing other people's opinions of the food, so don't be surprised if you find me sitting next to you.