When pondering great artists, who do you think of? Picasso? Matisse? Warhol? How about Amy Nicoletto, Jose "Inkfather" Sanchez, or Timothy Boor?
Never heard of those last three? That may be because they don't use a traditional canvas for their artistry. They use skin, instead.
Nicoletto, Sanchez, and Boor are just some of the elite tattoo artists from around the country who will be at Primo West by Five Star Catering in Plainfield, Indiana, from Sept. 28-30 for the second annual Tattoo City Underground (TCU).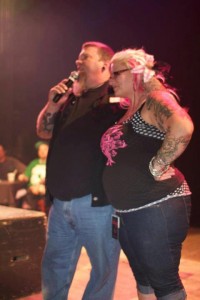 Founded in 2011 by Rick Hansen and Dave Sloan -- owners of Steel Rod Tattoo in Brownsburg, Indiana -- as well as Bill Levin, TCU is an event that unites more than 100 tattoo artists, piercers, and vendors from all over Indiana, Chicago, Virginia, Oklahoma, Georgia, and as far away as Hollywood. These folks converge on Hendricks County to show off their artwork, share ideas, gain more information about the industry by way of seminars, enjoy live entertainment and have fun.
Hansen said that he anticipates between 5,000 and 6,000 visitors over the course of the weekend and that guests have already completely booked two hotels in Plainfield and nearly filled a third for the event.
TCU is about celebrating individualism, embracing differences and shattering the stigma of tattoos and piercings because tattoos aren't just for outlaws, inmates and sailors anymore, nor are they administered in dark, dirty back alleys.
One of the fastest-growing industries in the United States -- even in a recession -- tattooing has established a firm foothold in mainstream society. Television shows like Miami Ink and LA Ink -- which showcased Nicoletto in Seasons 3 and 4 -- are increasingly popular. Even mainstream agencies and businesses -- such as the Hendricks County Convention & Visitors Bureau, The Coachman, and Black Swan Brewpub -- are helping sponsor this event.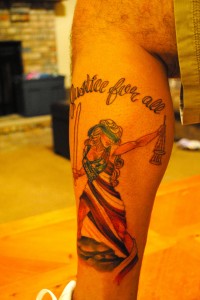 The tattoo and piercing industry has evolved to feature clean shops, sterile equipment, a professional environment, and amazing art. Licensed tattoo professionals tolerate nothing less than the absolute best, so no "scratchers" -- amateurs -- are permitted to have booths at TCU.
Featured entertainment includes the sideshow performers -- or, more accurately, the ShowDevils -- The Enigma and Serana Rose, a full suspension display by Shawn O'Hare, and The Deuce from X-103, who will be presiding over the Miss Tattoo City contest on Saturday, Sept. 29, from 1 to 4 p.m.
The event will also feature a number of tattoo contests in a variety of categories, awarding unique hand-crafted prizes for first place while allowing visitors to enjoy some of the finest ink art around.
And, of course, patrons can shop for tattoos and piercings while they're there from any of the 92 tattoo artists or 14 piercers.
"Our guests will have 92 opportunities to find an artist and a style they like in order to get a beautiful tattoo," said Hansen.
Entry into the event is just $10 a day or $25 for a three-day pass. Kids 12 and under are admitted free. A family-friendly setting is one of the primary goals of TCU, so no nudity is allowed and several attractions, such as face painting, will be there for kids to enjoy.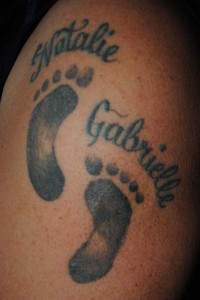 "We're big on charity, and we're big on family," Hansen told me.
So where does the charity come in to play? Proceeds from TCU are donated to Sheltering Wings -- an agency Hansen became familiar with several years ago through his involvement with the Indy Hi-Winders car club at the Hendricks County 4-H Fair.
The Central Indiana chapter of Zombie Squad ZSC:043 will also collect canned goods and other non-perishable food items to be donated to local food pantries. Bring some of those items to contribute to the food drive, and you'll receive $1 off your entrance fee.
Come down to Primo West during Tattoo City Underground from Sept. 28-30, support a vital Hendricks County agency, take a look around and enjoy the artwork you see.  You just might discover the next idea for your first -- or next -- tattoo or piercing.