If I had been asked a year ago to patronize a sushi restaurant and write about the experience, I would have politely declined. Recently, my husband, who loves sushi and wanted to add it to our dining options, convinced me to try it. Turns out, I really enjoy the numerous flavors and textures of sushi rolls!
We heard very positive reviews about Tegry Bistro, but had not yet taken the opportunity to dine at this sushi bar Asian cuisine establishment. We were excited about my assigned blog post and planned a date night!
Tegry Bistro, 1521 N. Green St. #A, Brownsburg, is conveniently located on Ind. 267 near the I-74 Exit in a strip mall in front of Boulder Creek Dining Company. We planned our visit on a Tuesday evening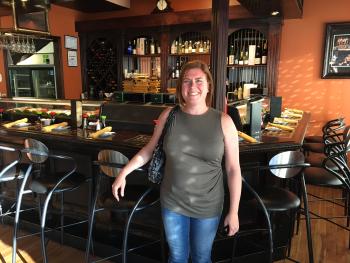 figuring parking and seating would be readily available. We soon found that even on a busier time/day, parking wouldn't be an issue as plenty of parking surrounds the restaurant.
Upon entering, we were welcomed by a friendly host and immediately seated in a booth in the dining room. Other options include an outdoor patio area and a small bar where you can watch the chef prepare meals. 
A server greeted our table quickly and took our drink orders. I had a glass of their house Chardonnay, William Hill. The wine selection consists of a variety of reds and whites at reasonable prices. Beer offerings include domestics, imports and crafts. Four beers are available from Fat Heads Brewery, a popular brewing company out of Portland, Ore. The Saki selection also comprises domestics and imports. Non-alcoholic drinks include Coke products, iced tea, Voss water, Ramune Japanese soda and hot green tea. 
Typically we order edamame as an appetizer at sushi restaurants. However, we decided to change up the routine and partake in a different appetizer. Many of the options sounded quite tasty but we decided on the Shrimp Shumai, steamed shrimp dumplings with a special house sauce. The five good-sized dumplings were flavorful and the perfect texture. The soy sauce based special sauce complemented the dumplings quite well.
You don't have to be a sushi eater though to enjoy Tegry Bistro as dinner options include bento boxes, stir fry dishes with a choice of meat, salad with a choice of meat, Japanese style curry dishes and a variety of traditional entrees in addition to the sushi menu. Entree selections include teriyaki chicken breast, sea scallops, New York strip steak, Atlantic salmon steak and more.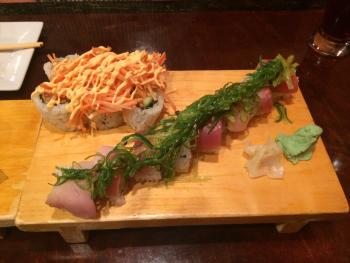 But since we had our hearts and stomachs set on sushi rolls, we ordered from the sushi menu. Tegry Bistro offers numerous choices on the sushi roll menu. We choose the Brooklyn and Emperor rolls.
The Brooklyn roll consists of avocado, cucumber, spicy salmon and inari topped with spicy crabstick. Both of us loved the crabstick, which is basically thin sticks of crab meat with a creamy, spicy sauce spread on top. This roll had a wonderful spicy "kick" without overpowering the other delectable flavors.
The Emperor roll contained salmon and avocado topped with yellowtail fish, tuna, and seaweed salad. The eye-pleasing presentation was fabulous as well as the various tastes and textures. I would certainly recommend these particular sushi rolls and can't wait to taste the numerous varieties!
My husband enjoys nigiri and sashimi (both are fresh raw fish sliced in thin pieces but nigiri is served with vinegared rice). So, he selected red tuna and sea bass. It took some convincing but, yes, I tasted it. The fish pieces are placed on top of rice and a small portion of wasabi is included. The combination of the three flavors and textures was pleasant to the palate. I'm glad I can now add nigiri to my sushi options!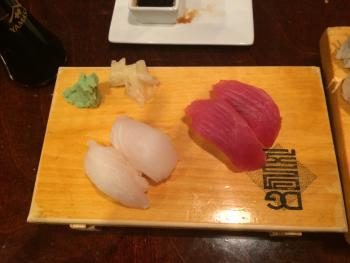 My husband and I are happy we can put Tegry Bistro on our list of Hendricks County eateries. The Goodrich Brownsburg 8 GDX theater is within walking distance if it's a "dinner and movie" type evening.
Next time you get that craving for sushi or Asian cuisine, visit Tegry Bistro for excellent food, service and atmosphere!
Tegry Bistro
Phone: 317-858-9505
More Information
Kids Menu:
Kids are welcome but there is no kids menu.