One of my favorite things to do is to try new restaurants, and I was pleased to learn about two Thai restaurants in 
Hendricks County
 that I hadn't been to before: 
Thai Orchid
 in Plainfield and 
Thai Thai
 in Avon. So, I decided to have a Thai restaurant showdown. Remember 
Eric's hot dog showdown
? Same concept. We already profiled the other Thai restaurant in the county,
Thai Lanna
in Avon previously so that is why I focused on these two restaurants.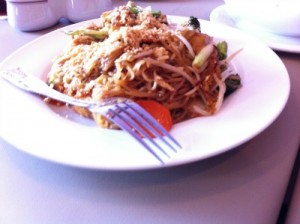 The challenge: Try dinner at both Thai restaurants and determine a winner. Easy, right? One of my favorite cuisines is Thai food, and I knew it was going to be hard to pick a winner, but I was ready for the challenge. I decided to enlist two of my favorite dining companions (my parents) to help me with this challenge. Let's talk Thai food! Thai food includes salads, rolls (spring rolls or the soft rolls in rice paper), soups, stir fry noodle dishes and plenty of curry dishes. I enjoy the mix of spices and variety in Thai cooking.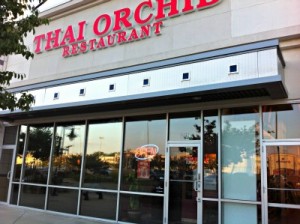 Located at 2683 E. Main St. in Plainfield, I had heard good things about Thai Orchid online and from a few friends. It was easy to find (next door to Pier One Imports).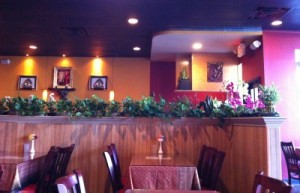 Step inside and you'll find a warm environment with plenty of tables and booths. Our hostess and server were both extremely pleasant and provided a handful of recommendations. It took us a while to look over the menu (which is several pages), and my parents and I had fun discussing the variety of dishes on the menu.
Appetizers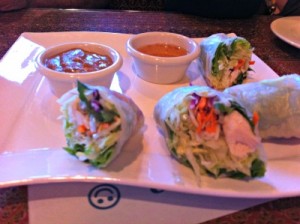 You'll find loads of appetizers on the menu from chicken satay (grilled chicken on skewers) to crab rangoon (fried wontons stuffed with cream cheese). While they were all tempting, we decided to go with the Thai salad roll, which is made of soft rice paper and stuffed with vegetables, chicken and served with sweet sauce and peanut sauce. The fresh rolls hit the spot. They're a perfect summer appetizer -- a bit of salad wrapped up in a roll. Our server brought us each a complimentary Thai salad (a coleslaw with a sweet and spicy sauce), which we all enjoyed.
Dinner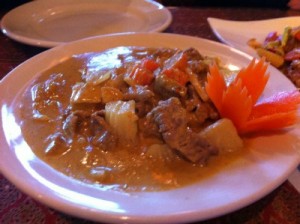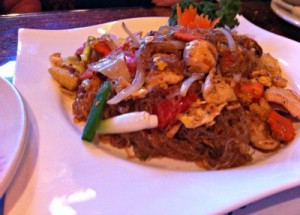 We had a hard time deciding what to order, but we finally selected the yellow curry with beef (made with coconut milk, potatoes, carrots and onion), served with white rice and the pad woon sen with chicken (a stir fry noodle dish made with silver noodles, cabbage, egg, carrots, tomato, mushroom and onion). We prefer spicy dishes and ordered both dishes "medium spicy." Thai Orchid is happy to tailor the dish from mild to Thai hot. I was afraid to try the Thai hot, but may try it next time. Many of the entrees are available with chicken, beef, shrimp, or vegetarian. We were too full to order dessert, but the menu has plenty of sweet treats like Thai tapioca pudding and fried banana with honey.
What we enjoyed:
 The definite standout dish for me was the pad woon sen with chicken. I love stir-fried noodles with chicken and vegetables and these had just a kick of spice. I was happy to have some leftover for lunch the next day.
*Thai Orchid is open for lunch (Monday-Friday) and dinner (Monday-Sunday), serves beer and wine and is family friendly. There are lots of shopping options nearby, so grab a bite at Thai Orchid and do some shopping afterward.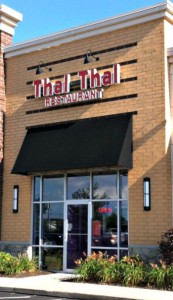 This brand new addition to the Rockville Station shopping center is located at 9269 U.S. 36 in Avon. The interior is colorful with light purple and blue walls and tasteful decor. Again, we were warmly greeted upon walking in and our server was there to answer any questions. She checked in with us throughout the meal, which I always appreciate.
Appetizers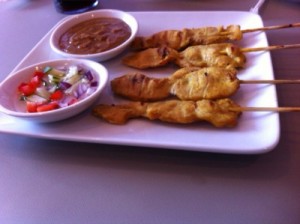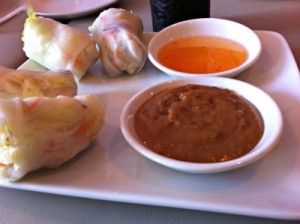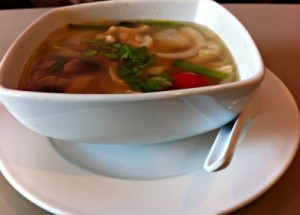 We decided to change things up a bit and order a few appetizers. We settled on Chicken satay (grilled chicken on skewers), summer rolls and Tom Yum (lemongrass soup with mushrooms, tomatoes and onions).
Dinner
After looking over the menu for a while, we decided to try another curry dish and a noodle dish. We settled on Massaman curry with chicken, served with rice (with coconut milk, zucchini, potatoes, pineapple, and peanuts-- almost a peanut butter-ish sauce) and pad thai with chicken (Thailand's most popular noodle dish, stir fried and made with rice noodles, peanuts, tofu, bean sprouts, egg, and scallions in a light sauce). We ordered these "medium spicy" and our server brought us a couple of side dishes of hot chili sauce and dried chillies, in case we wanted our dishes spicier. I did add a bit of chili sauce to my pad thai and it added a couple of kicks of spice to the dish, but be careful, because the chili sauce is hot! We didn't try dessert but there's lots of tempting ones, so we will go back to try them.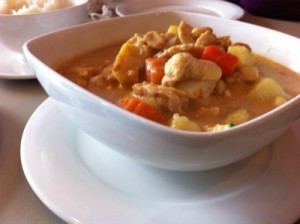 What we enjoyed: 
This time our standouts were the summer rolls and Massaman Curry with chicken.
*Thai Thai is open for lunch (Monday-Friday) and dinner (Monday-Sunday). They do not serve alcohol, but recently applied for a beer and wine license. It is also family friendly and like Thai Orchid, there is plenty of shopping nearby. I always like to do some shopping before or after dinner!
And the winner is:  A TIE! 
We could not decide. We really enjoyed both Thai Orchid and Thai Thai. You can't go wrong with either restaurant, serving good, fresh food with helpful and friendly staffs.