Most everyone will agree that fresh food enhances the taste and quality of a meal. Purchasing locally grown and produced food certainly promises freshness. I was happy to hear about a new business in Hendricks County that provides a convenient and easy way to access local products.
The Hayloft, a farm-to-table gourmet grocery store, opened in Brownsburg just over a month ago. 
This new business works directly with local farmers, distributors and Indiana artisan companies to provide a variety of items including fruit, vegetables, herbs, free-range eggs, grass-fed beef, meats, cheeses, raw honey, coffee, preserves, salsas, clean ingredient bakery items and cupcakes made in house.
I recently visited The Hayloft and enjoyed my shopping experience. I'll provide more details regarding my visit and delicious purchases later in this post, but first I'd like to introduce the owner, Sarah Adams.
Sarah is originally from Terre Haute and attended Indiana State University. During college, she interned for Don Schumacher Racing. That led to a PR and Marketing position with John Force Racing in Brownsburg, where she resided for six years. Since she traveled to and from tracks virtually every week during the race season, she was gone from home 140 days out of the year and felt she was missing out on a lot.
That's when she decided to start her own business. Last August, she left John Force Racing to open a wedding barn, winery and farm-to-table store in Terre Haute. Unfortunately, the owner of the property took it off the market. After some contemplation regarding "what and where" for her own business, Sarah thought Brownsburg and surrounding areas needed a farm-to-table store, and The Hayloft was born.
The store's early success has pleased Sarah and it only takes one visit to see why it's doing so well. 
I noticed the wide variety of products first, and even though she has a lot in a small space I wasn't overwhelmed because of the organization. It's obvious that Sarah put a lot of effort into the aesthetics and ambiance with how she set up the products combined with a simple, attractive decor. The customer service was first rate....friendly, knowledgeable of products and offered useful information. 
I did have a mental list of items we needed at home and intended to stick to it. This proved difficult, but I only bought a few extra items.
I read a raving review on The Hayloft's Facebook page about a jalapeno and cheddar smoked bratwurst. I located them easily along with another Fisher Premium Smoked Meat product, a jalapeno and cheese summer sausage. As much as I love some spice in my food, sometimes it overpowers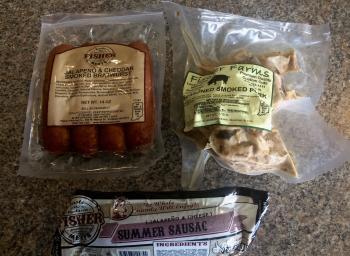 the taste, but not with these products. 
With just a hint of jalapeno, the summer sausage was one of the best I've ever tasted. My husband and I devoured it in 2 days. The bratwurst certainly had a "kick" to it but blended perfect with the cheese and quality meat.
The Hayloft offers a variety of Fermenti Artisan kraut that would be a wonderful addition to bratwurst and other dishes. Other local, fresh meats include Fischer Farms Natural Foods ground pork, chorizo, sausage, ribeyes, sirloins and filets. Call the store or message via Facebook to check availability of specific products. 
Cheese was not on my list because there was plenty in our refrigerator. However, I just couldn't resist fresh, quality, full-flavored cheese. I opted for Steckler Grassfed Meadow Gold Organic Monterey Jack Cheese, which is made with 100% grass-fed raw milk. The texture was soft and creamy, and it was certainly full of flavor. The Hayloft offers a variety of cheeses from local sources, such as Traders Point Creamery, Riverhouse Provisions, Tulip Tree and Caprini Creamery. 
I viewed a photo on The Hayloft's Facebook page of a sriracha horseradish sauce made by Terrapin Ridge Farms. This was definitely my must-have item. It tastes amazing due to the perfect blend of the two flavors. So far I've added it to sandwiches, chicken and even pork chops. The store carries other Terrapin Ridge Farms products, including clean and healthy salad dressings, marinades and jams (i.e. hot pepper bacon and balsamic garlic herb).
My husband bought a pesto aioli that I'm sure will be a fantastic addition to many meals. The Hayloft also sells varieties of Sechler's salsas and Local Folks Food barbecue sauces. Be sure to peruse their entire selection of these types of products.
I was thrilled to discover fresh asparagus available, which Sarah picked herself the evening before at a local farm. My family ate it for dinner that evening and realized just how much better fresh vegetables taste. The selection of fresh produce varies depending on the season. While preparing this blog, I saw they received sugar snap peas, tomatoes, yellow squash, strawberries (which are very popular and sell quickly), apples and cucumbers. Again, check their Facebook page or call for availability of new produce.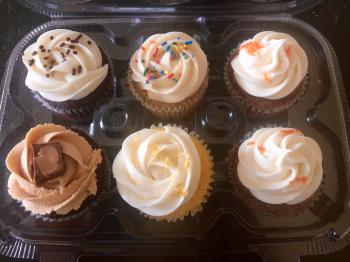 My kiddos are cupcake connoisseurs and were more than happy to try ones from somewhere different. Sarah makes cupcakes and icing in house with several varieties to choose from. I picked carrot cake, birthday cake, lemon, peanut butter and chocolate.
Hands down, my kiddos and I decided this is the new cupcake go-to store. All of the varieties were superb....I really love a good peanut butter/chocolate blend, so that one was my favorite. She makes even more varieties that I'm confident are delectable as well. 
I have a few more recommendations. If you brew your coffee with whole beans, I would suggest a variety from the Liberation Roasting Company. Along with that coffee, how about an omelette using farm fresh eggs? Sounds like a perfect combination! The dozen I bought were only packaged a week before, a much shorter time than eggs at large grocery chains. And oh my, what an obvious difference in taste and quality due to that freshness.
By purchasing fresh, quality products from The Hayloft, you are not just supporting a local business but local farms, distributors and artisan companies as well.  The Hayloft is open every day from 10 a.m. to 7 p.m. It is conveniently located at 1016 E. Main St. in the same complex as Sal's Famous Pizzeria.
A large parking lot allows for plenty of available spaces. Stop in the store, check out all the products offered and ask questions as you are sure to get a friendly, knowledgeable response.
The Hayloft A Farm-to-Table Store
Open every day from 10 a.m. to 7 p.m.

Website - Join their mailing list to receive info regarding sales, new products, etc.

Phone: 317-939-2957