Are you looking for the perfect facility for your wedding reception, a corporate event or big conference that is conveniently located next to numerous hotels, dining and I-70 and is within minutes of the Indianapolis International Airport? One of the best kept secrets in
Hendricks County
, Primo West in Plainfield recently had a bit of a makeover with both physical improvements and a name change that should only enhance what it has meant to this community since it opened in 2000.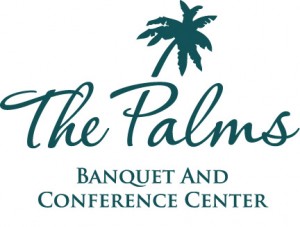 Primo West officially became
The Palms Banquet and Conference Center
at the end of August. Owners Gus and Maryann Rojas, who acquired the facility in June of '09 to expand their Five Star Catering business, said it was a change they wanted to make for a few years. However, because of Primo's name recognition when they purchased the facility they delayed changing the name until this summer. While The Palms name may have been a little common in say Florida, it stands out in Indiana. Maryann said they felt changing the name would help eliminate confusion and set this facility apart as the new name is short and appealing and conveys both relaxation and elegance. In addition to the name and logo change, Gus and Maryann decided to invest in some interior updates including fresh paint and décor, new lighting, beautiful new water walls in the lobby that have already become conversation starters and some new flooring. But I wanted to personally use this news as a springboard to tell Hendricks County residents and visitors a little about this wonderful amenity that often gets overlooked and underused. The Palms Banquet and Conference Center truly is the only viable location in Hendricks County with full-service catering built in that can be suited to host as few as 50 people or as many as 1,100 for social gatherings, corporate events and conferences. The 18,400-square-foot ballroom can be used as one large room or can be divided into as many as five separate rooms. The 5,500-square-foot lobby provides a perfect buffer from the outside and is often used as a location for vendors and exhibitors. And unlike many of its Downtown Indianapolis competitors, The Palms has FREE, ample parking.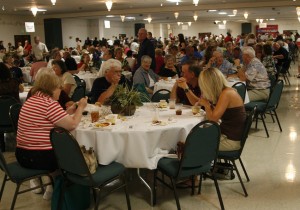 The Palms hosts annual gatherings such as the Taste of Hendricks County, Hendricks County Artisan Marketplace and the Breakfast of Champions. Corporations use the facility for seminars, banquets and trade shows. The Palms even hosts many private gatherings including testing for the bar exam, wedding receptions, birthday parties and so much more. The Palms can tailor their menus based upon the needs of the organization or the event and provide custom decorating and lighting; and as I alluded to earlier, it is literally within walking distance of numerous hotels and dining options and just minutes from the airport. They even offer full-service, off-site catering if you already have a facility, but need fine dining brought to you. Check out The Palms in person at 2353 E. Perry Road in Plainfield or online by clicking
here
.