Editor's Note: This is the third in a series of posts this summer following local couple JinAyla Sexton and her fiance Jason Bollman as they prepare for their wedding on June 23. The couple wanted to keep everything local and utilize the free resources we have available at the Hendricks County Convention and Visitors Bureau to plan their wedding. They are an example of how we can help future brides and grooms prepare for their big day.
Well, here we are! In just one month, I will be saying my vows and beginning this new journey in life. This season of engagement has been an irreplaceable time, and I have learned so much.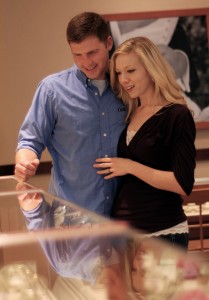 I have learned the blessing of gaining a whole new family.
I have learned to accept the fact that it might rain that day, and if so, nothing will work out as I have planned except for the very best thing: I will marry Jason.
I have learned to shower a bride with love and generosity because others in my life have humbled me with their kindness.
I have learned to adjust my expectations of the perfect wedding day to something that is manageable and meaningful. I must admit it differs from the wedding I planned as a girl with Barbie as bride and Ken as her groom, driving into the sunset in their pink convertible.
Lastly, I have learned greater patience and time management...quite a valuable asset, as I have to accomplish my entire "to do" list in the next 30 days!
Luckily, I will have plenty of  help with this list from my bridal party. Two of my bridesmaids are my former college roommates who took jobs on opposite ends of the country. These women are dear friends, and the three of us haven't been together for over two years. Soon, they will fly in to stand as witnesses as I marry my very best friend, and I just can't wait to see them.
I know wedding week is going to be crazy with preparation, but there is going to be so much going on in
Hendricks County
that week that we'll have to find a way to sneak off to some of these 
fun activities
. I'm excited to give my friends just a taste of what makes this county so special to me. Very soon indeed I will wear my white dress, be surrounded by my family and  friends, and will have a man who is way more handsome than Ken waiting for me at the end of the aisle. Oh my, what a wonderful month this will be!