Editor's Note: This is the second in a series of posts this summer following local couple JinAyla Sexton and her fiance Jason Bollman as they prepare for their wedding on June 23. The couple wanted to keep everything local and utilize the free resources we have available at the Hendricks County Convention and Visitors Bureau to plan their wedding. They are an example of how we can help future brides and grooms prepare for their big day.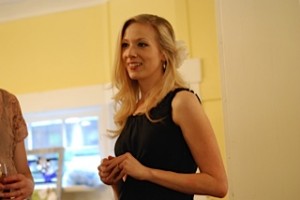 After several months of engagement, Jason and I have been through many exciting and tedious things, such as sharing our story with friends (and complete strangers who'll lend us an ear)…registering for the items we'll feather our nest with…working on our ever-expanding guest list…figuring out how to decorate for such a large event on a budget…even searching for the first apartment we'll share as husband and wife. As wonderful as it all is, I have to admit that much of the time I feel like I've taken on a part-time job. Being so busy, it's been easy to be distracted from the significance of this season in my life. And I am thankful to be reminded of it from time to time, as I was this past weekend. I've always known that I was blessed to be surrounded by amazing women, but that truly came into focus at my bridal shower, hosted by my mom and bridesmaids at our
Bread Basket Café and Bakery
in Danville, Ind. The hours before the party were abuzz with activity as my mom, aunts and dear friends cooked, decorated and rearranged furniture.  It was a sight to behold! And I must say that I was so touched to see these incredible ladies who have been my example in life busy celebrating our marriage. As the guests began to arrive, it struck me that our wedding season is now in full swing; this thing I've been imagining since I was little is actually happening, and it is as exciting and special as I'd hoped.
I was thrilled when I saw several of my college friends walk in, as most of them are scattered across the Midwest and we all get together only a couple times a year anymore. It was quite humbling to be surrounded by such support and love. The entire night was a joy! From the delicious food (enchiladas, guacamole, mango salsa, rhubarb tea cakes, flourless chocolate cake…I could go on and on!) to the company and even the décor, everything was perfect. Kathy Stamper, from Stamper Farms & Gardens, brought us bouquets of beautiful snapdragons (my favorite flower as a child because I could make them "talk"). My bridesmaids had put such attention into the details that they even etched our initials into the glass bottles for the flowers. I was almost surprised that the only time I got teary-eyed was when I opened one gift. My aunt heard my wedding party would be wearing vintage pins, and in addition to several lovely things, she gave me a pin that had belonged to my grandmother to wear on my wedding day. It was such a wonderful evening, and I now I think I understand the term, "bridal shower," because I felt completely showered with love. Yes, I may sound corny, but that's alright with me. I am marrying the love of my life and getting to celebrate that with those I care about most. I am truly blessed.