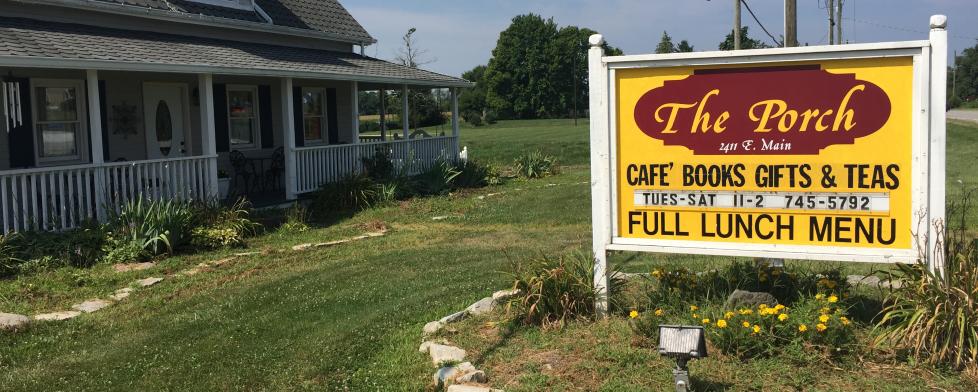 We have some really unique small businesses here in Hendricks County. The Porch -- a quaint cafe, tea room and gift shop -- is certainly one of them.
I stopped in and spoke to owner, JoAnn Masterson, the other day and couldn't wait to share my experience. The Porch, 2411 E. Main St., Danville, is open for lunch 11 a.m.-2 p.m., Tuesday-Saturday. JoAnn graciously took a break from weeding and landscaping work to sit and chat with me for a while. She scooped up her toddling granddaughter while we talked, so that her daughter could continue to serve their guests.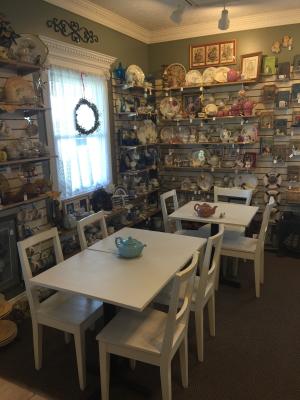 After discussing what teas I typically prefer, she introduced me to their jasmine green tea. I took it sweetened and iced. It was perfect.
A small group of ladies were gathered in one of the three rooms, while another guest was enjoying a quiet lunch alone in another room. The pace and atmosphere at The Porch is one that encourages its guests to relax and enjoy the meal and company.
Originally, JoAnn opened as a small bookstore and cafe, but quickly learned that "everyone eats, but not everyone reads." She also realized that her customers were often calling and visiting for her selection of tea. 
Now, The Porch boasts a fresh lunch menu, a wide selection of teas and an "always something new" gift shop. Additionally, The Porch is available for after-hours gatherings and events.
The lunch menu includes sandwiches -- turkey, egg salad, ham, tuna salad -- on a variety of breads. One lunch guest, visiting from Lizton, stopped to tell me that the chicken salad is delicious. Noting that she is "particular" about her chicken salad.
Salads, quiche and chicken pot pie are also on the menu, as well as a variety of delicious soups and desserts. You can view the entire menu here.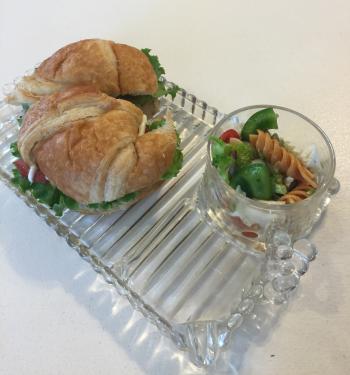 It was a tough decision, but I settled on a turkey croissant and pasta salad. 
There is something very distinct about freshly prepared food. This sandwich was no exception -- light, yet filling. The slice of garden tomato on my sandwich was sprinkled with freshly ground black pepper; a detail one seldom finds served at busy chain restaurants and one that I appreciate.
In addition to their amazing lunch menu, The Porch offers over 50 different varieties of teas including loose leaf and bags. Ginger peach is a popular choice. Loose leaf tea shops have become quite trendy, but they often come with a hefty price tag.
This was the perfect opportunity for me to pick up a tea infuser and try some loose leaf teas, as I had been wanting to do so for awhile. I purchased an infuser basket, five loose leaf tea samples and a tea cup and saucer for $20. I found that JoAnn has the teas and gift shop items very reasonably priced.
The selection of teas include black, green, white and herbal. Flavors run the gamut from traditional to organic fruit-infused blends. The smaller sample-sized bags of loose leaf that I purchased are a great way to try different flavors for only a dollar or two. These also make great gifts.
She is also extremely knowledgeable, kindly explaining how long to steep each of the teas that I purchased and what ratios to use for hot and iced brews. It's a friendly service that I consider priceless.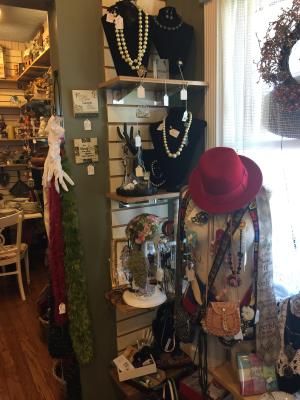 The gift shop includes strands of pearls, feather boas, tea cups -- both old and new -- in every color and hand-painted print imaginable, inspirational gift items and unique trinkets. I would be remiss if I didn't mention that The Porch is one of the stops on the Rural Routes to Main Street Cultural Trail, which is a self-directed driving tour through Hendricks and Morgan counties.
As I sat there chatting it up with JoAnn, I couldn't help but think of how perfect The Porch would be for a book club, a small group meeting, tea and dessert with a friend or a quiet lunch with the husband. Of course, there are few places that offer the opportunity to make a little girl's dream of a real-life tea party come true.
But guess what? They do all those things. JoAnn explained that they love hosting private gatherings, tea parties and special events. Call (317) 745-5792 for more details about reservations during regular hours or speak with JoAnn about hosting an after-hours event or party. 
Did You Know?
The menu at The Porch includes organic, vegetarian and gluten-free options.
A variety of 50 kinds of teas are served and sold at The Porch and can also be shipped for a flat-rate of $3.95 (no matter how much you order).
Lunch is served from 11 a.m.-2 p.m., Tuesday - Saturday, but The Porch is also the perfect place to host an after-hours special event or gathering.
High Tea is offered at The Porch for just $14.95 a person and includes a variety of tea, finger foods and desserts. Two-day notice is required.
The Porch hosts a Euchre Night and a Paint and Party once a month. Be sure to check their website for upcoming dates.
You can make a reservation, place a to-go order, or ask that they begin preparing an order (if you're crunched for time) by calling (317) 745-5792.
I'm so glad I got the chance to stop in and visit this gem in Danville right across the street from Beasley's Orchard. The food and tea were absolutely delicious, the service exceptional and the shopping was unique and fun. I really enjoyed my afternoon at The Porch. Stop in soon, I'm sure you will, too.