Having gone through an ownership change and about to move to a bigger location since the last time we checked in, I felt it was time to highlight The Real Food Shoppe in Plainfield, Indiana.
Both visitors and residents will love this popular natural health food and supplement store that offers health food, vitamins, minerals, essential oils, supplements and more. The shop itself is nestled between other local vendors along Plainfield's Main Street.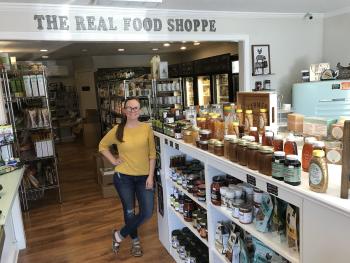 When I popped in for a short visit last week, owner Tabatha Starr greeted me enthusiastically while unpacking boxes. The quaint shop's shelves are filled with enticing healthy snacks, local honey, tons of oils, coolers of preservative-free meats and foods and even glass jars for water bottles or for homemade items, such as beauty products, customers may want to create with products on her shelves.
Tabatha and her husband Aaron have owned the shop for three years and know firsthand the struggle of trying to live a healthier lifestyle. When they had a child with food sensitivities, their journey began.  With a background in the medical field, Tabatha knew how certain popular products on the market cause health problems such as eczema, behavioral issues or sensory concerns.
She and her husband slowly began introducing natural products into their family's lifestyle while also researching food supply documentaries. What began as a personal passion turned into a mission to offer natural products to Hendricks County.
While their store doesn't carry exclusively organic products, Tabatha said that's not always the most important thing, though they are available on her shelves. Many families come through her doors at their whit's end, looking for gluten-free or dairy-free options and trying to find solutions to their constant health problems. She is also proud to say no products in her store contain high fructose corn syrup or red dyes.
The Real Food Shoppe has now moved to a bigger location at 211 W. Main St., Plainfield. They have tripled their square footage and doubled their inventory. The move couldn't have come at a better time. The Real Food Shoppe was busting at the seams with literally no more shelf space for more products, and Plainfield is going through a redevelopment that was bumping them to another location.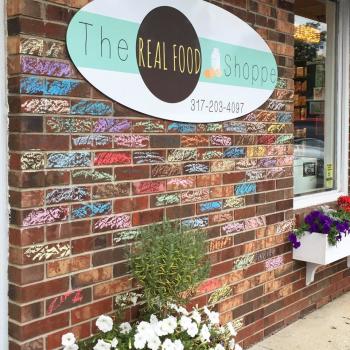 The shop will double their supplement line as well as add more merchandise by expanding their retail side with things such as kitchen and home goods. They've met with some buyers for retailers downtown, such as Silver In The City, to add to their expanding retail.
With natural food and products becoming more of the norm, Tabatha insists the Real Food Shoppe is different because they aim to educate people. She happily greets anyone who walks in the door, asking if she can help them find anything.
She encourages people to be their own health advocate, and she always aims to find better options for customers. The education aspect and community feel of her customer base make this local gem an essential part of Hendricks County.
The Real Food Shoppe is open Tuesday through Friday from 10 a.m. to 6 p.m. and Saturdays from 10 a.m. to 4 p.m. and closed Sundays and Mondays.
To stay up to date on events, you can follow them on Facebook and Instagram.