There is a new shop on the historic Hendricks County Courthouse Square in Danville that parents, grandparents, expectant mothers, and consignors should all have on their radar: The Watermelon Patch.
Located at 71 S. Washington Street, on the southeast side of the Courthouse Square, The Watermelon Patch opened in early March and carries new, gently used, handmade and vintage children's clothing, maternity clothing, toys, accessories and more.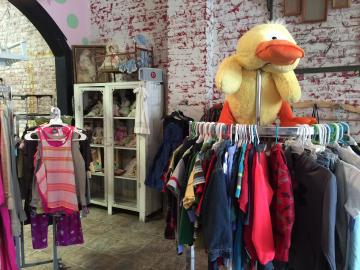 Shop owner Gidget Vickers moved to Hendricks County a little over a year ago from South Carolina when her husband's employer relocated them to Indiana. Gidget and her family lived in a tiny South Carolina town -- one that makes Danville look like downtown Indianapolis, she said -- where she owned and operated a children's and maternity clothing store for several years.
After arriving in Indiana, the Vickers family fell in love with Danville and moved to town. Shortly thereafter, space became available on the Courthouse Square, and Gidget jumped at the opportunity to get back into business.
She named her shop The Watermelon Patch as an homage to her southern roots, and she is now proud to carry a wide selection of clothing and other items geared toward expectant mothers and children from newborn (including preemie sizes) through size 16.
For sizes larger than that, Gidget refers customers around the corner to Jane's On the Square, located at 65 W. Marion Street, on the south side of the Courthouse Square. Shop owner Jane Bailey carries new and gently used women's clothing and accessories there.
In fact, Gidget and Jane frequently refer customers and consignors to each other, making the two consignment shops on the Square a partnership, rather than a competition. Gidget says that all of the small business owners around the Square have been very supportive of The Watermelon Patch and have referred people to her on a regular basis.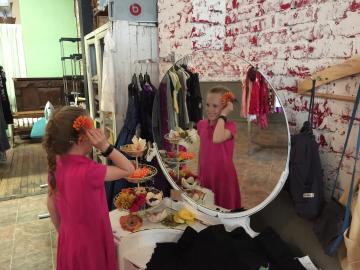 While my 10-year-old daughter and I looked around The Watermelon Patch, we found toys, stuffed animals, furniture, hair bands, hair bows, jewelry, afghans, blankets, home decor, and all sorts of things in addition to clothing.
My daughter was particularly smitten with some formal dresses that she says would be perfect for a daddy-daughter dance, as well as some head bands, hair bows and jewelry. Gidget encouraged us to come back frequently because her inventory changes regularly, and she rearranges her shop a lot, too.
For example, she showed me a box of vintage children's clothing that just came in from a woman who was cleaning out the attic of her 99-year-old mother and found the items. Gidget is excited to get the items sorted, cleaned, pressed, and on her clothing racks soon. 
Gidget targets local artisans for her inventory of handmade items, and she pointed out several displays of items made by people in Danville, Avon, Plainfield and other local communities.
She said that consignors are always welcome to stop by The Watermelon Patch with their homemade or gently used items. In particular, she is currently looking for people who do smocking. If you are or know someone who crafts children's or maternity clothing with smocking, Gidget wants to hear from you!
For the rest of us parents and expectant mothers, The Watermelon Patch is a can't-miss treasure trove. Make a point to stop in and check it out!
The Watermelon Patch
(317) 518-2980
Open Tuesdays through Saturdays, 11 a.m. to 5 p.m.
Credit cards accepted