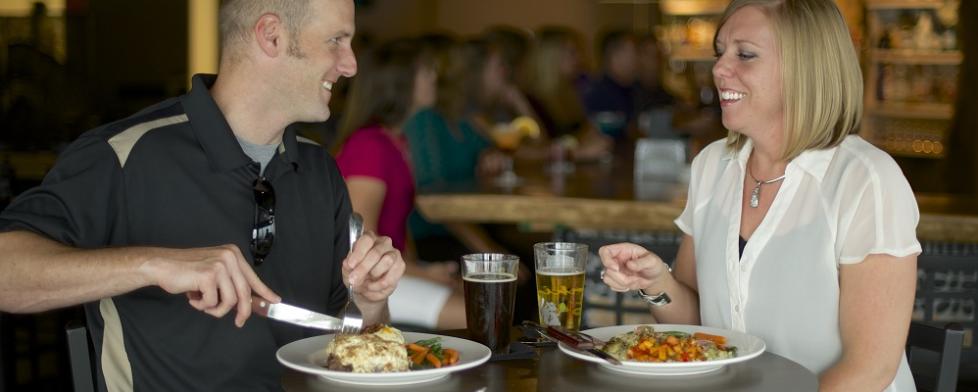 More than four years after opening its doors, Dawson's Too! - Sticks & Stones has established itself as a popular dining destination in Brownsburg for lunch and dinner, and as a well-respected caterer throughout Central Indiana. 
Building on the success achieved with its first restaurant - Dawson's On Main in nearby Speedway - co-owners Tony and Kris Hill and Chris and Diane Hill joined with their friends, Greg and Jen Rose to create a place known as much for its well-aged steaks, fresh seafood and friendly atmosphere as it is for its hand-pattied hamburgers and stone pizzas at 773 E. Main St.
Anytime I'm there with my family or friends, I'm always impressed by the fact that one of the owners is readily available. That makes me feel good about the place as a genuinely locally owned and operated restaurant. And, the food always tastes great. 
With that in mind, I have 10 insider tips to share with you that will come in handy the next time you visit Dawson's Too. Special thanks to Tony Hill for taking time to talk with me on an otherwise very busy day.
Steaks - The steaks served at Dawson's Too are prepared with Certified Angus Beef (Top 1 percent quality...) and aged 45 days. The result is an unmistakable flavor and consistency you'll appreciate. Even the junior steak they serve on their kids' menu is one of their most popular items -- among those 12 and younger -- features the same well-aged beef.
One restaurant, two kitchens - Whether you're looking for a place to enjoy a meal with your whole family (...and I mean, your whole family), a date night table for two or a place to get together with a group of friends, Dawson's Too operates two separate kitchens, including one specifically for its guests in their banquet room. With this kind of setup, there's no added wait for your food even at some of the busiest times.
Pizza - One of the things that surprised me about Dawson's Too is their pizza. They serve five varieties of what they call their stone pizzas. Or, you can choose up to three toppings and create your own to dine in or carry out.
Specials - Speaking of pizza, one of their best specials is the deal they offer on Monday nights. You get a large pizza and 2 salads for $16. Not surprisingly, it's one of their most popular offers and it's easy to see why. Be sure to check their Facebook page for all of their specials, including some late night deals and more about their Prime Rib on Friday and Saturday nights.
Lunch That's Right On Time -- What's great about Dawson's Too is their lunch. And, as much as I love their food, it's even better that I always have time to enjoy it. In just 10 minutes, they can have anything from their menu delivered to your table - hot and fresh. If you have a group order for lunch, and you can't make it to the restaurant, you can call them and they'll deliver.
Family-friendly service - The welcome mat is always out at Dawson's Too and whether you're out there with your family or just visiting, everyone on their staff greets you with a smile. They seem to pride themselves on taking care of you and requests are not only welcome, but encouraged. And, if you're a regular, they take the time to remember everything from your favorite drink to getting your usual ready when you walk through the door.
Seafood: a "hidden gem" - The pride Dawson's has for its steaks extends to their seafood. Calling it the hidden gem of the food they serve, their seafood is fresh with a variety that includes everything from sea bass, shrimp and walleye to a Scottish salmon that's nice and fat - in a good way - and is line caught.
Catering and Banquets -- Within the past year or two, the catering and banquet business at Dawson's Too has taken off. They are available for weddings and other special events/outings around Central Indiana at various venues including the Cardinal Room at the Golf Club of Indiana and West Chase Golf Course in Brownsburg. Why so popular? They have worked hard to duplicate the quality of their food to the point that it is every bit as good, hot and delicious as when you're inside the restaurant. And, as someone who has enjoyed their food at an event, that's not easy to do.
Reservations? Not a problem - OK, even when you don't have anything to do, no one likes waiting. At Dawson's Too, you can go to their website and make a reservation.
Locally Owned and Operated - All but one of the owners grew up in Brownsburg. And, as I said, having one (or more) of them working a shift every day is unique. They're not just greeting guests though. They are working in the kitchen or the bar and doing whatever is needed. 
Dawson's Too! - Sticks & Stones
773 E. Main St., BrownsburgOpen 11 a.m.-10 p.m. Mondays through Thursdays; 11 a.m.-1 a.m. Fridays and Saturdays and 11 a.m.-9 p.m. on Sundays.