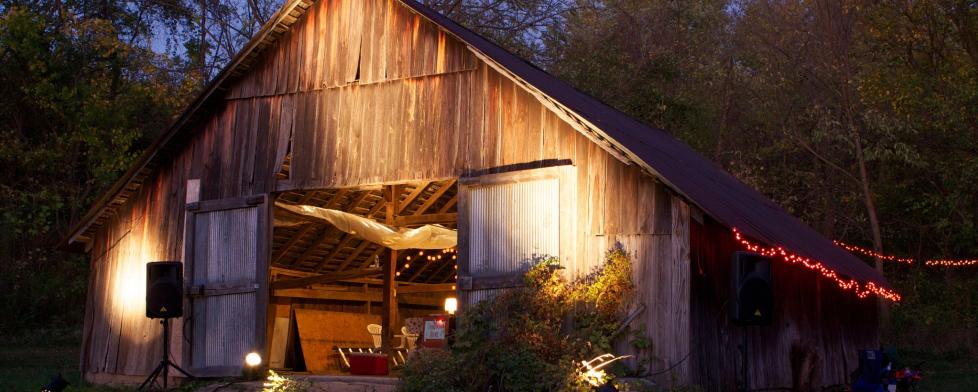 Autumn is my favorite season of the year, and Hendricks County is loaded with fun family-friendly fall festivals and events that will envelop you in the brilliant colors, wonderful smells, scrumptious foods and community excitement that comes with the season.
The next few months are packed with stuff to do in Hendricks County, but here are 10 events that are on my calendar.
St. Malachy's 2016 Country Fair
I'm cheating a little bit with this one because the official start to autumn hasn't quite arrived yet when St. Malachy's 2016 Country Fair takes place in Brownsburg Sept. 16-17, but when it comes to roast pork, it's hard to beat the Country Fair. I don't know what they do to it to make it so tender and delicious, but you definitely must try a pork burger there.
Oh, they have other stuff to do there besides eat, but the pork burger is utterly tremendous. They have midway rides, kids' games, bingo, live music, a casino, a beer garden, a wine tent, the Indiana Pacers Fan Van, a silent auction and more. It's a total blast. You'll love it; the kids will love it; you just need to go.
For more details, including a full schedule and ticket information, click here. And don't forget to try the pork burger.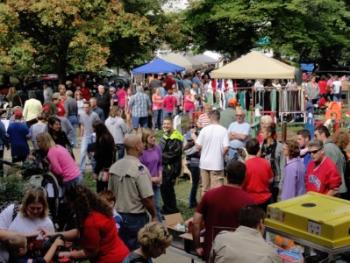 Plainfield Quaker Day Festival
Alright, I'm cheating again, but the Plainfield Quaker Day Festival is such an institution in Hendricks County that you won't want to miss it on Sept. 17 -- even though fall doesn't officially begin until a few days later.
Plainfield is steeped in Quaker history and influence, and for decades, they've been celebrating their heritage with a parade, crafts and community vendors, a car show, and excellent food. New this year is a photography contest that will feature photos of the people of Plainfield, the history of Plainfield and the natural Plainfield.
For more information, click here.
Hendricks County Bicentennial Torch Relay
Indiana turns 200 years old in 2016, and part of the statewide celebration is a Bicentennial Torch that will travel in relay-fashion throughout every Hoosier county. The Bicentennial Torch Relay comes through Hendricks County on Sept. 23, and it is not to be missed.
The torch arrives for the Hendricks County Bicentennial Torch Relay presented by Duke Energy at 9 a.m. at Lucas Oil Raceway in Brownsburg and then travels through Avon, Danville and Plainfield and includes a number of celebratory events throughout the county during its morning-long journey (9 a.m.-1 p.m.), including a ceremony on the historic Hendricks County Courthouse Square in Danville beginning around 10:15 a.m.
For more information, including the Hendricks County route for the Bicentennial Torch Relay, click here.
Beasley's Heartland Apple Festival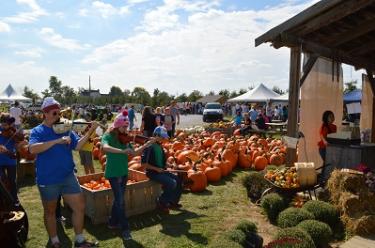 Beasley's Heartland Apple Festival is a Hendricks County tradition and one of the largest events around. We'll preview this outstanding family festival in a future blog post, but if you haven't been to Beasley's Orchard in Danville for this event in the past, you need to check out the weekends of Oct. 1-2 and Oct. 8-9.
Food, games, fresh produce, hayrides, pumpkin patch, an 8-acre corn maze, live music...Beasley's Orchard has it all during the Heartland Apple Festival.
To learn more, click here.
Danville Scarecrow Display
This event is a personal favorite of mine. In a nutshell, local businesses, groups, clubs, and individuals put together their most creative scarecrow and enter it in the Scarecrow Display. These masterpieces are then displayed around the historic Hendricks County Courthouse Square in Danville 24 hours a day throughout the entire month of October, beginning Oct. 1.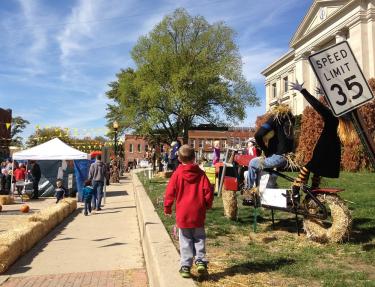 Every year, I think I've seen it all, but then the next year, the creativity reaches an entirely new level. It's really incredible to see what folks come up with! Pick any of the beautiful October days and bring your camera to Danville for some fun fall photos.
Indiana Short Film Festival
Speaking of creativity and Danville, mark Oct. 7-9 on your calendar for the Indiana Short Film Festival at the Royal Theater in Danville. This is a superb event for movie buffs, as artists from all over the world submit their short films to this festival. The films are shown throughout eight sessions over the course of three days in the restored historic theater.
If you're interested in getting into the Halloween mood, I suggest the Fright Night screening on Oct. 8.
For the entire slate of short films and when they'll be showing, click here.
Fall Harvest Days
One of Hendricks County's hidden treasures is the Nehemiah Ranch in Avon. Tucked into a little-known section of town, the 34-acre Nehemiah Ranch hosts its annual Fall Harvest Days on Oct. 8, 15 and 22 from 6 to 10 p.m. each night.
Fall Harvest Days are family-friendly fall evenings full of bonfires, hayrides, a pumpkin patch, live music, s'mores, hot dogs and friendship. And the entire thing is FREE to attend! (Click here to read about my family's experience there last year.)
Haunted Hargrave Hall
Do you like scary stuff, especially just before Halloween? I have a spot for you. Currently used as the Danville Town Hall is a building that has a long history, including serving as Central Normal College and as Danville Community Middle School over the years.
What isn't widely known is that Hargrave Hall -- a portion of this old historic building -- is haunted. Scoff if you want, but I've seen more than one shadowy figure in that place, and it will make the hair on the back of your neck stand up.
On Oct. 22 and 29, experience it for yourself, as the Town of Danville opens up Haunted Hargrave Hall for anyone with the courage to explore.
Don't say I didn't warn you.
Fall Colors Run / Fall Colors Festival
McCloud Nature Park, just outside of North Salem, is an outstanding venue for autumn foliage. The large variety of tree species so close together make for a unique explosion of fall colors, and a great way to experience it is to participate in the Fall Colors Run on Oct. 22.
This event offers one-mile, 5K and 10K courses through the 232 acres and 6.5 miles of trails throughout McCloud Nature Park, including alongside Big Walnut Creek.
Immediately following the Fall Colors Run, the Fall Colors Festival will take place from 10 a.m. to 4 p.m. with games, crafts, an apple cider press, archery, s'mores around a campfire, a turtle-themed prairie maze and more. For more information, click here. 
(Insider tip: you do not need to participate in the Fall Colors Run to enjoy the Fall Colors Festival, so bring the whole family out!)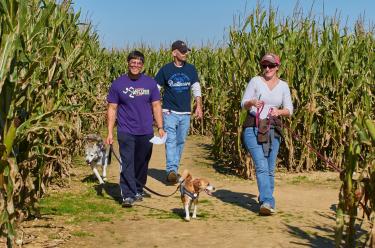 Dog Daze at the Maze
Canine aficionados, unite! Bring those adorable pooches out to Beasley's Orchard in Danville Oct. 29-30 to celebrate Dog Daze at the Maze. There will be rescue agencies there with adoptable pets, games, food, a costume contest, face painting, hayrides and the the ability to take Fido or Spot through the 8-acre corn maze.
For more information, click here.
Don't just limit yourself to my 10 favorite fall events, though! Explore our Events Calendar to find your favorite ways to celebrate autumn in Hendricks County!