Winter is finally over, and I can go outside in my flip flops! That is just one of the many reasons I love May. It is also a great time to get out and explore some of the great things Hendricks County, Indiana, has to offer. From outdoor dining to touring beautifully landscaped gardens. Here are my Top 10 ideas or May Must-Dos to enjoy in Hendricks County.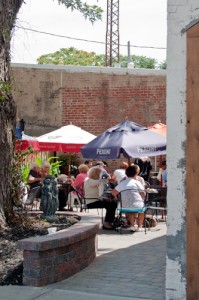 Dine Outside. Local restaurants can finally open up their patio areas. Several local restaurants have outdoor seating such as Perillo's Pizzeria in North Salem, Dawson's Too Sticks and Stones in Brownsburg and Three Pints Brewpub in Plainfield. For more ideas on outdoor seating, check our blog on outdoor dining options.
Visit Avon Gardens. Take a walk through 5 acres of display gardens at Avon Gardens for inspiration or just relaxation. Then shop the retail area to bring some of the beauty of their gardens home to yours. Avon Gardens was recently featured in Midwest Living Magazine. Insider Tip: Ladies, get your girlfriends together for Girls Night Out on May 24. You will have the opportunity to stroll through candlelit gardens while enjoying appetizers, wine and music.
Enjoy a Race. It wouldn't be May in Central Indiana without racing, and activities at Lucas Oil Raceway in Brownsburg really take off this month. Two big events that you won't want to miss are the Hall of Fame Classic on May 18 and the Visit Hendricks County Night Before the 500 on May 25. Insider Tip: We have a way for you to buy up to six Night Before the 500 tickets for $15, which is $5 off the gate price, by clicking here.
Work on that Green Thumb. Frazee Gardens has a number of interesting DIY activities coming in May including an Herb Colander class, Salsa Planter workshop, a Fairy Garden planter and more. Go to their website for more information.
Go for a Hike or a Bike Ride. Hendricks County is home to the B&O and Vandalia trails which are perfect for hiking and biking. The B&O Trail runs from Ind. 267 to County Road 300 North in Brownsburg and from Ronald Reagan Parkway to Raceway Road. The Vandalia Trail is 12 miles long, but I suggest the 3-mile section between Amo and Coatesville.
Pack a Picnic. My daughter loves to go on picnics at area parks. It's great to enjoy our lunch, go for a walk and let her play on the playground equipment. My two favorite parks are Hummel Park in Plainfield and the Avon-Washington Township Park, but there are many more in Hendricks County. For a list of more area parks, click here.
Hot Rods & Hot Tunes. Danville kicks off the First Friday Cruise-in on May 3. On the first Friday of each month between May and October enjoy free music and hot rods on the Courthouse Square between 5-9 p.m.
Find Fresh Fruits & Vegetables. Because I love to shop local, I get excited when it is time for farmer's markets to begin. Danville is the first community in Hendricks County to kick off its farmer's market on May 11 (Look for more information on it in an upcoming blog post). The market is open from 8 a.m.-noon every Saturday through the fall.
Golf. A great way to enjoy spring weather is by playing golf. Hendricks County is home to 10 golf courses. For a list of courses, click here.
Go for a Swim. Splash Island in Plainfield and Gill Aquatic Center in Danville both open for the season on May 25. Splash Island features a leisure river, three water slides, interactive play areas for all ages and much more.  The Gill Aquatic Center features two water slides, a splash pad, a zero-depth entry pool for small children and much more. Insider Tip: Read the post I wrote last summer about area water parks for helpful tips.
I hope you get out and enjoy Hendricks County this May.