On a perfect summer evening — not too hot, not too humid, at sunset with a pleasant breeze keeping the bugs at bay — outdoor tables at
area restaurants
become hot commodities. Keep this list of Hendricks County's Top 10 places to eat dinner outside handy for your next night out.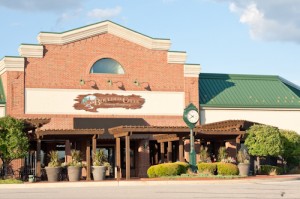 1.
Boulder Creek Dining Company
: The first of Cunningham Restaurant Group's eateries, Boulder Creek Dining Company opened in Brownsburg in 1997. Described as an "upscale, casual restaurant with mountain lodge décor," this restaurant is a great place for both a casual dinner or special night out. The intimate atmosphere flows out onto the patio, making this a great place to enjoy a warm summer evening outside. Find it at 1551 N. Green St., Brownsburg.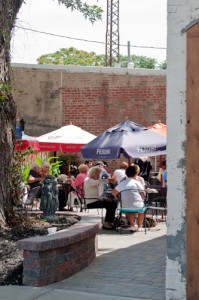 2.
Perillo's Pizzeria
: While it's only been open since December 2011, Perillo's Pizzeria has quickly made a name for itself in Hendricks County, and it's only picking up speed. This cozy restaurant seats fewer than 50 people indoors, but when the weather is nice, a seat on the beautiful patio is the place you want to be. If escaping the hustle and bustle sounds appealing, head to Perillo's in quaint North Salem for some outdoor dining. Find it at 5 S Broadway St, North Salem.
3.
Three Pints Brewpub
: If warm summer evenings make you want a cold beer, head to Three Pints Brewpub in Plainfield. Enjoy a beer sampler on a laid-back night with friends, or go on Thursdays and Saturdays and hear some great live music. Read more in
Eric's review
from earlier this summer. Find it at 5020 Cambridge Way, Plainfield.
4.
Cabana Room
: Nestled in downtown Brownsburg, the Cabana Room's outdoor dining isn't immediately visible from the road. Tucked behind the building, the patio is sheltered from the traffic of nearby Main and Green streets. As the name suggests, the Cabana Room offers a menu with a southwest/island slant. Find it at 36 E. Main St., Brownsburg.
5.
The Coachman Restaurant & Lounge
: Conveniently located near several hotels and I-70 in Plainfield, the Coachman is a great place to grab dinner after a day of shopping at Metropolis. The deck gets hopping on the weekend when live bands are featured almost every night. Find it at 6112 Cambridge Way, Plainfield.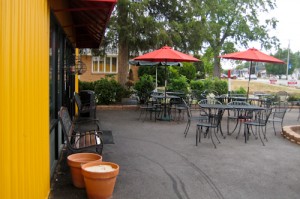 6.
So Italian
: This family-owned and operated restaurant on the east side of Brownsburg is a great place to have a casual, no-frills family meal. Before you stuff yourself with pizza and calzones, try starting with the So Healthy salad — you'll get your money's worth of fresh vegetables, because there's no filler iceberg lettuce in sight in this dish. Find it at 515 E. Main St., Brownsburg.
7.
Stone Creek Dining Company
: Want to get out for dinner and a movie? You won't find a much better location for this combo than at Stone Creek Dining Company. Grab an outdoor table at this restaurant in the heart of Metropolis mall — a great spot to do some people watching — then walk over to Rave Motion Pictures for an evening movie. Find it at Metropolis, 2498 Futura Park Way, Plainfield.
Honorable mention
: If Stone Creek is busy, Metropolis has some other outdoor dining options at 
Teddy's Burger Joint
and
Claddagh Irish Pub
.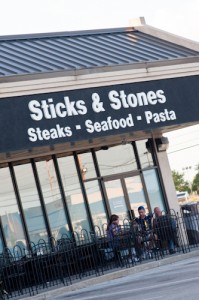 8. Dawson's Too – Sticks & Stones:
Fans of Speedway's Dawson's on Main rejoiced when Dawson's Too opened in Brownsburg on the last day of 2011 (
including our own Josh Duke
). You'll find something for everyone at this restaurant — steaks, seafood, pasta, salads — so it's a great choice for a group of people. Find it at 773 E Main St, Brownsburg.
Editor's Note: Unfortunately, the N'awlins Creole Cafe has closed since this story was published.
9.
Nawlins Creole Café
: Craving a taste of Louisiana? Head to Nawlins Creole Café in Avon for po' boys, jambalaya and etouffee. Owned and operated by a New Orleans native, you can be sure the food is authentic. Find it at 1118 N. Ind. 267, Avon.
10.
Black Swan Brewpub
: Continue your tour of local breweries with a stop at Black Swan Brewpub in Plainfield. With 16 taps, Black Swan Brewpub has a normal lineup of about six beers, then it rotates the rest of its taps through additional local and regional brews on a seasonal basis. Find it at 2067 E. Hadley Road, Plainfield.
Bonus 11.
The Porch
: This one requires a little planning ahead, because you'll only get a chance to have dinner at The Porch with a reservation on a Thursday, Friday or Saturday night. As
Jennifer recently found
, this local gem focuses its offering on lunch, specialty teas, and gifts. Find it at 2411 E. Main St., Danville.
You'll find many more great restaurants with outdoor seating all around Hendricks County. Which is your favorite?