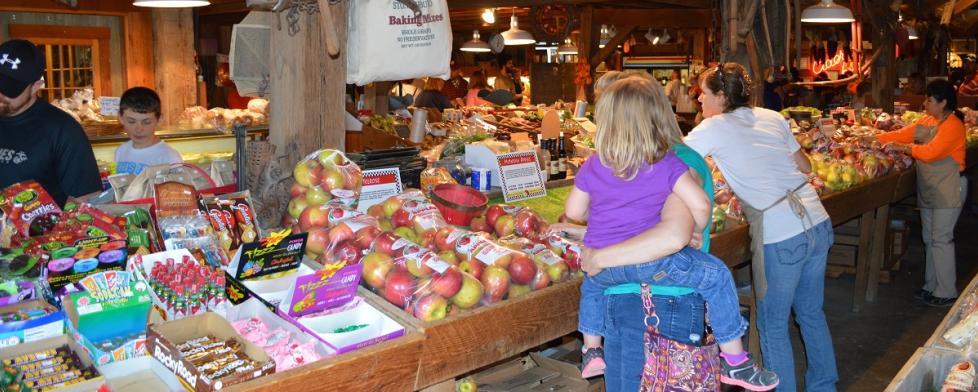 Located in the Danville countryside at 2304 E. Main St., Beasley's Orchard & Gardens is beautifully spread across 165 well-tended acres featuring everything from rows of luscious apple trees to fields filled with pumpkins and a wide variety of some of the freshest fruits and vegetables you'll find anywhere.
With the start of fall just a few good breezes away, the friendly folks at Beasley's are getting ready once again to welcome everyone to share in their bountiful harvest. And, I can tell you from visiting there over the years with my family, it's a can't-miss fall attraction in Hendricks County.
But, before you head for the farm, I have put together a list of 10 tips that will add to the fun of your experience, including a few that some folks who routinely visit Beasley's might not know. Many thanks to Debbie Beasley for taking time to help me with these insider tips.
Farm to Table - For more than 60 years, Beasley's has been welcoming visitors to their family-run farm and market. Over that time, they've done everything from raising livestock, looking after a small orchard and providing fresh flowers to florists to operating a business that now attracts thousands of visitors as a fall destination.
Farm Fresh Market - Housed in a quaint, rustic barn that was built not long after the Civil War, Beasley's Market is known for offering all kinds of vegetables, including fresh corn-on-the-cob, tomatoes, cucumbers, green beans, okra (and more) and fruits, such as peaches from South Carolina and home-grown watermelons and cantaloupe.
An Apple a Day - More than anything else, Beasley's is known for the delicious varieties of apples they offer including Gala, Honey Crisp and Ginger Gold. Mouthwatering doesn't even begin to describe how good these apples taste, and their apple cider is so good it's award-winning. Anytime my family and I are there, a few gallons of cider always wind up in our shopping cart.
Homemade Candy & Caramel Apples - Beasley's has long been known for the delightful caramel apples they make right before your very eyes in a kitchen located inside the market, but you might be surprised to know that Beasley's also makes a nice variety of homemade candies and fudge in the same kitchen.
More Than Just Produce - To say Beasley's market is just about fresh apples and other produce would be doing this wonderful shopping experience a disservice. Their market is also filled with jars of freshly-made jams and jellies, gluten-free black bean dip and salsa con queso, Amish-made popcorn, homemade honey and much more.
Amazing - Beasley's popular corn maze usually opens on weekends around mid-September through the end of October. The maze is, well, amazing...it's almost eight full acres and features more than four miles of trails. The detail of the maze changes every year with a different theme and truly is a work of art. It's always fun and something of a challenge.
Fall Fun - I can't believe it has taken me this long to mention what Beasley's Orchard is perhaps best know for: The Heartland Apple Festival. This annual fall tradition brings in visitors from across the region and is held over the first two weekends of October every year. It includes numerous kids activities, live music, food, corn maze, arts and crafts vendors, wine tastings and more.
Festival Tip: Save $ with Kids Pass - The Heartland Apple Festival is a child's dream with a giant hay "mountain", Kids Zone with all kinds of inflatables, face painting and more. But make sure to buy kids passes for all of the activities, and you'll save a few dollars compared to purchasing the activities separately.
Festival Tip 2: Climb on the Hayride - If you want to get some of the best pumpkins you'll find anywhere, it's worth the time to climb on one of the hayrides that Beasley's offers out to their fields during the Heartland Apple Festival. Once you're there, you'll have the opportunity to see - and pick - pumpkins that come in all sizes. They even offer a variety of pumpkins outside the market if you don't want to make the trip out to the patch.
Dog Lover, you say? - Be sure to bring your canine pal to the "Dog Daze at the Maze." This event usually held the last weekend of October helps support several local animal rescue charities and allows pet owners and their companions a chance to explore the corn maze. The event also usually includes some fun contests for the pets and some prizes, too!
Beasley's Orchard & Gardens
2304 E. Main St., Danville Hours: 9 a.m.-6 p.m., Monday through Saturday and from noon-6 p.m. on Sunday.
Website