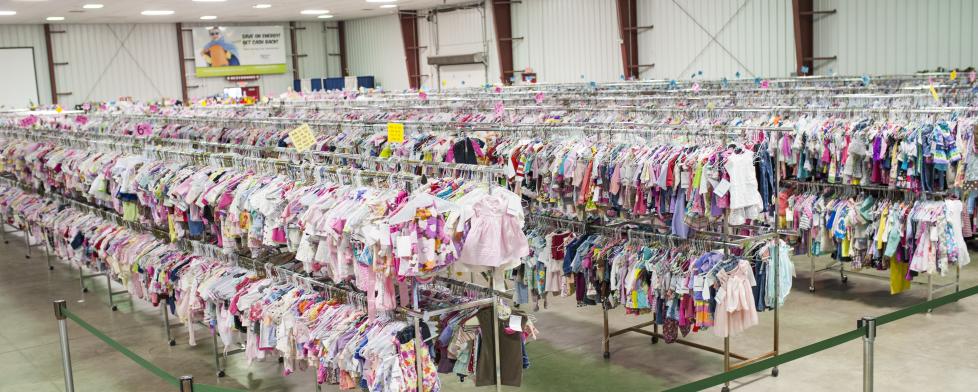 Before I had my daughter, I had many people warn me not to spend too much on clothes, because she would inevitably grow out of them, and grow out of them fast. 
Now that she is 18 months old, I've learned first hand how true this is. For the first several months especially, I found myself packing up a new tub of outgrown clothes and restocking her closet on a very regular basis, often getting a little teary eyed that my baby was growing up so quickly. So, as tempting as it is to buy brand new clothes for my daughter, I've done my best to rely on hand me downs, garage sales and consignment sales.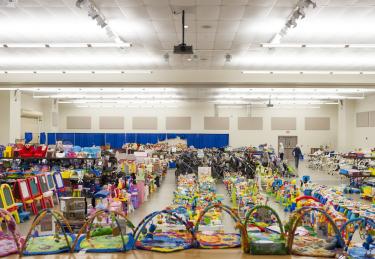 One of the best consignment sales in the area is the Here We Grow Again Kids Consignment Sale that is coming March 15-18 to the Hendricks County 4-H Fairgrounds & Conference Complex in Danville. At this sale, shoppers can find more than 100,000 second-hand items of children's clothing, toys, strollers and more at very reasonable prices. 
I was fortunate last spring to snag one of the New Mom presale passes. Only about 60 are offered, and you have to sign up for one within minutes of them becoming available online. These highly sought after presale passes allow a select group of parents to shop the consignment sale on March 14 before it opens to the general public on March 15.
Other than being a new mom, there are a few other ways to shop on the 14th. Sale volunteers are the first who get to shop starting at 2 p.m. Consignors then get to start at 3 p.m., followed by presale pass holders at 4 p.m. (Please note that presale pass holders are permitted to only bring one person along and that person must be a spouse or your child's grandparent). Military and teachers with a valid ID can start shopping the sale at 5 p.m.
Presale Pass Giveaway
If you don't fall into one of these categories, don't fret. Visit Hendricks County is giving away FOUR presale passes to our readers! To be entered into our drawing, just leave a comment below by noon, this Friday, March 10, about why you want to attend, and we will randomly select four lucky winners to shop the presale.
Here We Grow Again Insider Tips
Whether you're shopping the presale or not, there are several things to keep in mind before going to Here We Grow Again. I had an opportunity to talk with the Indy West sale organizer recently, and she gave me some great shopping advice to share with our readers. 
Have a budget: It's so easy to over spend when you see all of these great deals in one place, but be realistic and know what you can afford. And remember, there is a fall and spring sale every year, so you can always save up for the next sale! 
Bring cash (credit cards can be used in a pinch): It's easier to stay within budget if you use cash, but it's always a good idea to have a credit card on hand just in case your math was a little off. 
Know the brands you love: By becoming familiar with the prices of your favorite brands, you'll be able to know whether you are getting a good deal on an item. 
Bring a laundry basket: Mesh shopping bags are available for use at the sale, but sometimes they can be cumbersome as you're walking through the aisles of clothing. Laundry baskets can be set on the ground under the racks, and free up your arms as you sift through the racks.
Be comfortable: Be sure to wear comfortable clothes and shoes. With so many people, the room can get hot so keep that in mind when dressing for the sale. It's also a good idea to bring snacks with you because you may spend several hours shopping.
Make a list: Know what you need and try to stay focused. Take note of what your children already have. You can even take pictures on your phone of certain items of clothing at home you would like to try to match. 
Give yourself plenty of time: This sale is huge, so don't plan to shop on a lunch break. You'll want to give yourself plenty of time. 
Leave your kids at home: Kids are welcome at the sale, but it can be much easier to shop by yourself or with a spouse or parent. 
Items are discounted on the last days of the sale: You can get even better deals starting March 17 when many items are 25% off and March 18 when many items are 50% off. Military, teachers, consignors and volunteers can shop a 50% off presale from 6-8 p.m. on March 17.
Mix shopping with fun - attend Family Fun Night: Here We Grow Again Indy West will have a Family Fun Night from 6-8 p.m. on Thursday, March 16. This a great opportunity to bring the whole family along. Have one parent enjoy the games and activities with the kids while the other shops.
Here We Grow Again Indy West Spring 2017 Schedule
March 14: Pre-Sales. Volunteers (2-8 p.m.), Consignors (3-8 p.m.), Presale Pass Holders (4-8 p.m.), Military and Teachers (5-8 p.m.)
March 15: Public Sale (9 a.m.-8 p.m.)
March 16: Public Sale - Restocked Sales Floor (9 a.m.-8 p.m.) and Family Fun Night (6-8 p.m.)
March 17: 25% Off Public Sale (9 a.m.-8 p.m.) and 50% Off Presale for Volunteers, Consignors, and Military/Teachers with ID ( 6-8 p.m.)
March 18: 50% Off Public Sale (9 a.m.-4 p.m.)
For more information about Here We Grow Again Indy West, check the Here We Grow Again website or Facebook page.