The Oasis Diner in Plainfield is known for its tenderloin, 1950s vintage décor and the fact that it's graced the landscape of Hendricks County for 65 years.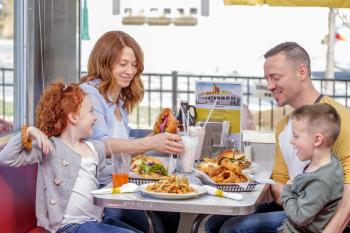 But it hasn't been all onion rings and milkshakes for this landmark. Its had its share of twists and turns, which leads me to our list of top insider tips you must know before visiting.
1. History
The Oasis Diner arrived in Plainfield, Indiana, by rail back in 1954. After feeding regular patrons and visitors for 50 years, it appeared it would become a distant memory. Abandoned and shut down in 2004, it landed on Indiana's Top Ten Most Endangered Buildings List in 2010.
Doug Huff, the diner's current owner and a contractor by trade, decided to take on the diner as a project working with the Town of Plainfield. In 2014, he moved it four miles east and restored it to its original glory.
2. Vintage Décor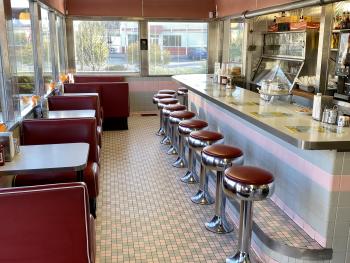 While it has undergone changes including a relocation, the Oasis remains original from 1954. The red plastic plush seats, the barstools, the tile floor…all of it looks like it's taken straight from the Hollywood set of a 1950s diner.
The diner sits on U.S. 40, which in its heyday extended from Atlantic City, N.J., to San Francisco. To honor the diner's place on the iconic highway, there are retro postcards featured from major cities on the National Road, such as Reno, Denver, Kansas City and more.
The menu even highlights some of these cities.
3. Breakfast
While the menu offers breakfast, lunch and dinner, breakfast is served all day.
The breakfast menu includes National Road Specials named after Atlantic City, Columbus, Indianapolis, St. Louis, Kansas City, Reno, Denver and San Francisco. And yes, the Indianapolis does feature their amazing tenderloin covered in gravy for breakfast!
4. Award-Winning Tenderloin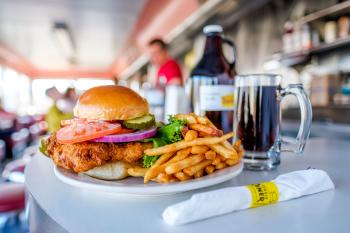 This famous tenderloin is so huge, it completely dwarfs the bun! Their tenderloins are hand-cut, tenderized, pressed by hand and even hand-breaded each time you order. They have been ranked one of the top ten tenderloins in the state of Indiana by USA Today, Visit Indiana and Livability.
Speaking of tenderloins, do you want to try it, but you're afraid to commit to one that's bigger than your head? Tenderloin sliders have recently been added to the menu. Share a plate of four small tenderloins, made the same as the gigantic ones, with your table to get a taste of fame without feeling stuffed.
I could go on and on about Indiana's unofficial state food and how the Oasis Diner has perfected it, but that isn't the only thing on the menu. The Oasis Diner is a scratch kitchen, meaning they make nearly everything in house from their sandwiches, appetizers, all-day breakfast options and soups to their breads, buns and even their hand-crafted sodas which are naturally sweetened and contain no high fructose corn syrup, including their famous butterscotch root beer.
5. Old & New Menu Options
Tator tots and boneless wings were recently added to the menu. Seriously, if this place wasn't already perfect, it is now. They clearly know what the people want.
Huff believes in paying tribute to the old diner fare by offering dishes such as reubens and beef manhattans, but he also likes adding some more modern items that people crave. Avocado toast, veggie burgers and chicken salad have been added for some lighter options. 
He does this to bring in the older generation who may remember the diner in its glory days but to also encourage the next generation to pay a visit as well.
6. Sweets and Treats
All the cakes and pies on the diner's menu are also made from scratch by a local baker at the Singing Crust out of Clayton, Ind.
If you want something a little cooler, you have to try their super creamy ice cream that comes from The Chocolate Shoppe in Wisconsin. This is pretty much the only place in Plainfield to get hand-dipped ice cream.
7. Lunch Boxes & License Plates
In the back of the diner, there is a charming collection of old tin lunchboxes! Anyone 30 or older can probably look at those and remember one or two from childhood highlighting their favorite toys or cartoons.
They also have a wall full of license plates from 1954 when the diner first opened to today's plates.
8. Music
An amazing detail that adds to the overwhelming nostalgia of this place is the restaurant's musical playlist. If the diner is busy you may not even realize music is playing, but if you listen closely, you are bound to hear a tune you like.
That's because Doug Huff handpicked the playlist himself to feature songs from each decade. A song from the fifties will play...then a song from the sixties…then a song from the seventies. It goes all the way up to present day and then works its way back down.
Huff's goal is to unite the older and newer generations to share stories and interests. Everyone can usually identify with several songs that play during their visit.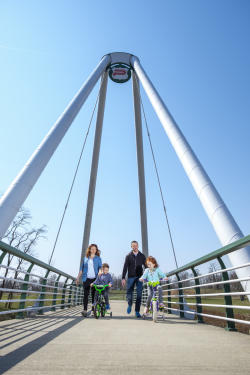 9. Trail Access
The Oasis Diner is located on a major trailhead just off of White Lick Creek Trail. The wonderful thing about Plainfield is all the trails are connected! Take a bike ride with friends and family to the diner, or enjoy a beautiful walk after a meal.
10. Dog-Friendly Outdoor Seating
Want to walk there but have a dog or you prefer to sit outside on a beautiful day? No problem. Oasis has an outdoor patio in front that is dog-friendly, complete with a water spicket, dog bowls and a waste station.
There's also a bike rack, so no excuses.
As you can see, the Oasis Diner is chock full of nostalgia, details and amazing menu options.
If you want to combine your visit with a special occasion, mark your calendar for Nov. 20! From 7 to 8:30 p.m., local author Luke Austin Daugherty will bring his collection of vintage typewriters to the Oasis Diner for a "type-in." He invites people to come in and type on them to experience how things used to be.
On Monday nights, kids eat free (with the purchase of an adult entrée), and on Tuesdays nights, seniors 60 and older get entrees 50% off from 4 to 8 p.m.
The Oasis Diner is located at 405 W. Main St. in Plainfield, and is open Monday through Thursday from 7 a.m. to 9 p.m., Friday and Saturday from 7 a.m. to 10 p.m. and Sundays from 7 a.m. to 3 p.m.
Click here for more information about other restaurants in Hendricks County.