Do you want to go on an enchanting adventure?
The Central Indiana Enchanted Fairy Trail is now open providing a fun way to explore Hendricks County this summer.
My husband and I decided to take our 2-year-old Tinkerbell fan to search for stops along the trail this week, and we had a wonderful time. The trail includes fairy stops at 25 locations in Avon, Brownsburg, Danville, Indianapolis, North Salem and Plainfield, and more stops will be added over time. 
We began our fairy journey at the Brownsburg Parks and Recreation building in Brownsburg. When we arrived, we searched around the building and found a ceramic fairy house in a planter outside of the parks office. We also made our way to find the fairy stops at Brownsburg Chiropractic and the Turning Clay Pottery Studio.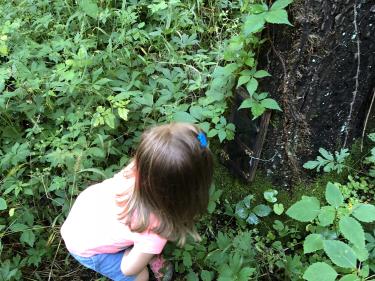 The next day, we found fairy stops at the Hendricks County Historical Museum, Danville-Center Township Public Library and Washington Township Park. I think our favorite stops were at the Danville-Center Township Public Library and Washington Township Park.
We had never been to the Danville library before, so we decided to go in and my kids had a blast reading, coloring and playing with toys at the library. The Washington Township Park stop was fun because it involved hiking, and we even had to go off the trail to search for the hidden fairy house. It took us a little time to find it, but we were so excited when we finally did! 
The trail was started by Brownsburg resident Rebecca Holloway, who owns Realm Events Management and also goes by the name Odonata the Drangonfly Fairy. Holloway is part of a performing group called the Fae of Norsey Woods. I had an opportunity to speak with Odonata recently and she gave me some great tips about the trail.
Top 10 Insider Tips About the Trail
There are 25 stops on the Central Indiana Trail and more will be added over time. If your business or organization would like to particpate, contact Holloway at enchantedfairytrail@gmail.com.
A list of all the stops can be found at the Central Indiana Enchanted Fairy Trail Facebook page. 
Some of the fairy houses and habitats were provided by Odonata, but others have been created by the businesses or organizations. The stops at the Turning Clay Pottery Studio and Washington Township Park were two of the most unique we found. 
At each stop, you can scan a QR code using your smart phone to watch a video from the fairies. 
Children can write letters to Odonata the Dragonfly Fairy af the Fairy Headquarters at Brownsburg Public Library and will receive a personalized email in return. 
One purpose of the Central Indiana Enchanted Fairy Trail is to help residents and visitors explore new businesses and organizations in the county. While you are at the stops, take time to explore the area. You might discover an activity you love.
The Fae of Norsey Woods is a performing group that travels to festivals, parties and more.
Several events are connected to the Central Indiana Enchanted Fairy Trail with more to come. One exciting event will be held at the Brownsburg Public Library from 1-4 p.m. this Saturday, June 16. The Fairy Day event will include stories, movies, crafts and more. 
A Fairy Festival is in the works for May 2019 at the Hendricks County 4-H Fairgrounds & Conference Complex and will include a family festival and an adults-only ethereal ball. A portion of the proceeds from these events will go to the Hendricks County Humane Society. 
Follow the Central Indiana Enchanted Fairy Trail Facebook page for information on new fairy stops, upcoming events and more.