About this time last year, one of our
All Access insiders
, Amanda Miller, put together a comprehensive list of some of Hendricks County's best options when it comes to outdoor dining. A year later, I felt it was time to see if her list needed a refresh, so we asked our Facebook followers to list their favorite outdoor dining options in Hendricks County.
More than 35 comments later
, I only had one addition to Amanda's list and some of my own comments that I wanted to share from my own experiences. I've also moved the most popular choices by our Facebook followers to the top of our list.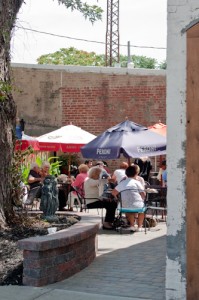 1. Perillo's Pizzeria
: Perillo's Pizzeria has quickly made a name for itself in Hendricks County, and it's beautiful side patio buffered by a canopy of mature trees only adds to its appeal. The most mentioned by our Facebook followers, I have personally eaten on their patio and can attest to the validity of this choice as one of the best outdoor seating options in the county especially if you want to get away from the hustle and bustle. But don't let the fact that it is in a small town fool you. This place provides some mouth-watering, authentic Italian dishes. Find it at 5 S Broadway St, North Salem.
2. The Coachman Restaurant & Lounge
: Conveniently located near several hotels and I-70 in Plainfield, the Coachman is a great place to grab dinner after a day of shopping at Metropolis. The deck, which overlooks a pond, gets hopping on the weekend when live bands are featured almost every night. This is one of my personal favorites and our Facebook commenters agreed. Find it at 6112 Cambridge Way, Plainfield.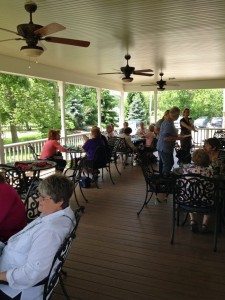 3. Savor Thyme Café
: My only addition to Amanda's original list is this new restaurant in Brownsburg. Located in front of Arbuckle Acres Park along North Green Street, Savor Thyme has a wonderful side porch that reminds me of what you might see down south. The great thing is their food complements their wonderful outdoor seating with salads and sandwiches for lunch and more hearty meals like meat, pasta and seafood dishes for dinner. Be sure to pay attention to their hours: 11 a.m.-2 p.m. Tuesday-Saturday for lunch; 5-9 p.m. Thursday-Saturday for dinner and 10 a.m.-2 p.m. for Sunday brunch. Find it at 224 N. Green St., Brownsburg.
4. Black Swan Brewpub
: Black Swan has everything you need especially if you like local brews. With 16 taps, Black Swan Brewpub has a normal lineup of about six beers, then it rotates the rest of its taps through additional local and regional brews on a seasonal basis. Find it at 2067 E. Hadley Road, Plainfield.
5. Boulder Creek Dining Company
: The first of Cunningham Restaurant Group's eateries, Boulder Creek Dining Company opened in Brownsburg in 1997. Described as an "upscale, casual restaurant with mountain lodge décor," this restaurant is a great place for both a casual dinner or special night out. The intimate atmosphere flows out onto the patio, making this a great place to enjoy a warm summer evening outside. Find it at 1551 N. Green St., Brownsburg.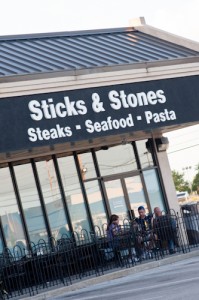 6. Dawson's Too – Sticks & Stones:
 I'm a personal fan of Dawson's Too where you'll find something for everyone including steaks, seafood, pasta and salads. Their outdoor seating isn't expansive, but on a nice summer or early fall evening, it is a great place for a date night. Find it at 773 E Main St, Brownsburg.
7. Three Pints Brewpub
: If warm summer evenings make you want a cold beer, head to Three Pints Brewpub in Plainfield. Enjoy a beer sampler on a laid-back night with friends, or go on Thursdays and Saturdays and hear some great live music. Read more in 
Eric's review
 from earlier this summer. Find it at 5020 Cambridge Way, Plainfield.
8. Stone Creek Dining Company
: Want to get out for dinner and a movie? You won't find a much better location for this combo than at Stone Creek Dining Company. Grab an outdoor table at this restaurant in the heart of Metropolis mall — a great spot to do some people watching — then walk over to Rave Motion Pictures for an evening movie. Find it at Metropolis, 2498 Futura Park Way, Plainfield. 
Honorable mention
: If Stone Creek is busy, Metropolis has another good outdoor dining option at
Claddagh Irish Pub
.
9. A Stone's Throw
: This restaurant has changed its name since Amanda's article last year, but its outdoor seating remains. Nestled in downtown Brownsburg, A Stone's Throw's outdoor dining isn't immediately visible from the road. Tucked behind the building, the patio is sheltered from the traffic of nearby Main and Green streets. Keep in mind that A Stone's Throw is a 21 and over establishment. Find it at 36 E. Main St., Brownsburg.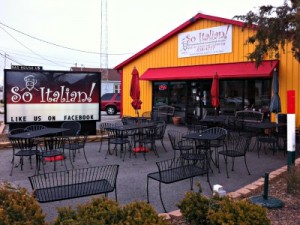 10. So Italian!
: This family-owned and operated restaurant on the east side of Brownsburg is a great place to have a casual, no-frills family meal. Before you stuff yourself with pizza and calzones, try starting with the So Healthy salad — you'll get your money's worth of fresh vegetables, because there's no filler iceberg lettuce in sight in this dish. Find it at 515 E. Main St., Brownsburg.