When I talk to friends who've lived in other regions of the country, such as California, they consistently say that one thing they missed about Indiana was witnessing the change of seasons in the fall. If you love the brilliant reds, oranges and yellows that grace our trees at this time of year, you're not alone. The Midwest is one of the best places to see this natural performance, and
Hendricks County
, in the heart of Indiana, is no exception.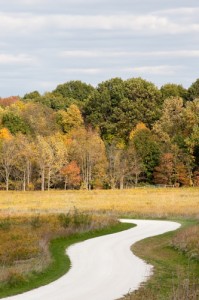 We asked
our Facebook fans
to name their favorite places to see the fall colors, and we've added a few places to their great list. Take a tour of Hendricks County this fall and witness the majesty at these key places:
McCloud Nature Park, North Salem:
Recently named by the Indiana Office of Tourism as one of the
Top 10 Places to See Fall Foliage in Indiana
, McCloud has more than 230 undisturbed acres in the county's northwest corner. The park offers native trees, the winding Big Walnut Creek, and 6.5 miles of both rugged and gentle trails through the woods.
Blanton Woods, Danville:
One of the county's most untouched green spaces, Jeannette Blanton donated the land to the town of Danville in 1993 with the request that no "active recreational" areas ever be built on the property. Be sure to make a stop here to experience this pristine environment.
Ellis Park, Danville:
Get two stops in one at Ellis Park in the heart of Danville. Within walking distance of Blanton Woods, the area near the football fields at the back of the park was mentioned specifically by one of our Facebook fans.
Railway Trails, Brownsburg and Amo: 
Both the B&O and Vandalia trails -- transformed railway corridors -- offer scenic fall views for bikers, hikers and even horseback riders. The Vandalia Trail is a little more rustic running from Amo to Coatesville in the western portion of the county and is a common spot for horseback riders. The B&O is paved and better for walkers and bikers, but it does have some gaps as only portions of trail, primarily between Ind. 267 and County Road 300 North, have been completed.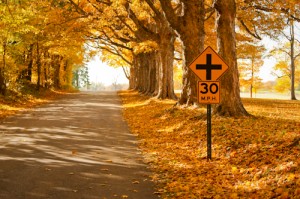 Scenic Drives:
There really are many mainly throughout the western portion of the county such as Ind. 39 from Danville south to I-70 and Hughes Road heading into McCloud Nature Park, but our personal favorite is taking Ind. 236 just outside of Danville and up through North Salem to the Putnam County Road, which winds around the backside of McCloud Nature Park.
Natural Valley Ranch, Brownsburg:
Looking for a little more adventure? Another one of our Facebook fans recommended that you see the fall foliage on horseback at Natural Valley Ranch. You can take a 30-, 60- or 90-minute guided trail ride over the ranch's 70 acres.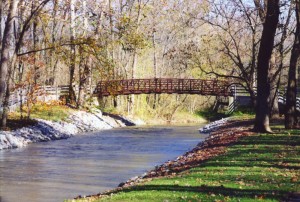 Brownsburg Parks
,
Brownsburg
: The best park in Brownsburg for fall foliage without a doubt is Arbuckle Acres Park just off Green Street. The wooded area in the back of the park, which includes trails, bridges and more, is a must see. Williams Park, 940 S. Locust Lane, is a close second as the wooded areas surrounding the park provide a perfect backdrop for Williams' numerous white gazebos.
Avon Town Hall Park, Avon:
This park, just west of Ind. 267 on U.S. 36, feels like an oasis as soon as you get out of the car. Stroll the paved trails around the lake behind Town Hall, or even play a little disc golf while you enjoy the fall beauty.
Plainfield's Trail System, Plainfield
: Grab your bike or some comfortable tennis shoes and take a stroll at just about any spot along the town's massive trail system, and you won't be disappointed. Fall color abounds and the best part is all the trails link to parks throughout town with panoramic autumn views that will blow your mind!
Sodalis Nature Park, Plainfield:
Hendricks County's newest park, Sodalis Nature Park — named after a native endangered bat (how appropriate for October!) — features 210 acres of woodlands, a 5.5-acre fishing pond, and 3.5 miles of hiking trails.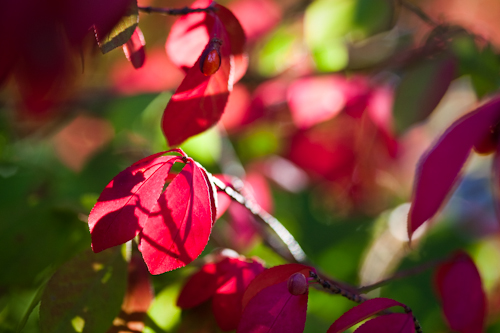 To get the most of your fall-color tour, keep these tips in mind:
Golden hours: The hour after sunrise and before sunset are referred to by photographers as the "golden hours" for a reason: the light is at its richest, making this an ideal time to witness the leaves.
Dress in layers: Sunshine makes all the difference in the temperatures at this time of year. You'll feel quite a chill as the sun sets.
Plan for dinner: All that touring is sure to make you hungry, so be sure to check out our dining reviews for great local restaurants along the way!
What is your favorite place in Hendricks County to see fall color?