If you mention
Hendricks County
and fall in the same sentence, there's a good chance you're talking about 
Beasley's Orchard
.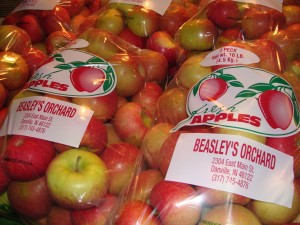 With that in mind, here are my top 10 reasons to visit this Danville, Ind., orchard that has even been featured in
Indianapolis Monthly
magazine as one of "50 Things Every Hoosier Must Do!"
Apples - Beasley's Orchard's large variety of apples are all picked by hand. For a list of varieties and descriptions, click here. My favorite is the Honeycrisp.
Apple Cider - Simply put, Beasley's Orchard has the best apple cider I have ever had. Beasley's presses their cider in small batches to ensure freshness. The cider is a multi-year winner of the Indiana State Cider Contest. Be sure to step up to the cider bar for a cup or take a jug home.
Heartland Apple Festival - This annual event on Oct. 6 & 7 and 13 & 14 this year has fun for the entire family including hayrides to the pumpkin patch, apple cider, crafts, live entertainment and an activity zone for kids.
Pumpkin Patch - Pick your own pumpkin. Prices range from $2-$30. Average-sized pumpkins are between $6-$10. If you don't want to go out to the pumpkin patch, there is a large selection of pumpkins available outside the barn.
 Hayrides - Take a hayride out to the Pumpkin Patch. Rides are every weekend in October from 10 a.m.-5 p.m. on Saturdays and noon-5 p.m. on Sundays. Rides are $3 per person and children under 3 are free with adults.
Corn Maze - Work your way through an 8-acre corn maze. The corn maze is open Fridays through Sundays begining in late September. Admission is $8 for ages 12 and up and $6 for ages 6-11. Kids under 5 are free when accompanied by an adult.
 Homegrown Produce - All produce that is available in the market is harvested by hand on the farm.
Freshly Baked Goods - You can always find something that is fresh baked. Including bread, apple dumplings and cookies.
Pictures - I take pictures of my daughter at Beasley's each fall. There are several decorated areas that make for great back drops.
 The Barn - The retail market is housed in a barn that was built shortly after the Civil War. Over the years it has been used for things such as hay storage and horses.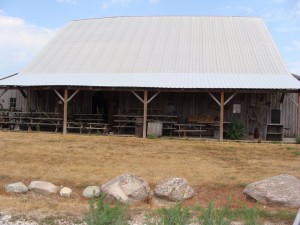 Beasley's Orchard
Location: 2304 E. Main St., Danville.
Hours: 9 a.m.-6 p.m. Monday-Saturday; noon-6 p.m. Sundays
Information: (317) 745-4876