I felt it was time to provide an insider perspective of how to get the most out of a visit to Hendricks County's most popular water oasis.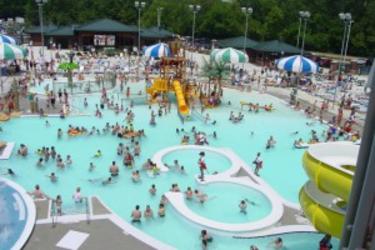 Below, you will find our Top 10 insider tips that will make a trip to Splash Island in Plainfield even more enjoyable. For more information about the park's amenities, click here. (A special thanks to the team at Splash Island for their help in compiling this list.)
Arrive early — Splash Island officials have a policy that they do not schedule large group outings any sooner than noon.  So, if you want to beat the crowds and lock down one of those prime, shady locations underneath one of their massive "funbrellas," arrive in the morning.
Come later — I know I just suggested getting there early. But if you just aren't a morning person, you may want to wait until after 3 p.m. when crowds begin to taper off. The only downside is you still have to pay the full-day price.
Carpool if possible — Parking is sometimes a challenge at this Hendricks County attraction, especially on those extremely hot days.  By carpooling with friends and family, you not only save valuable pool time by not looking for multiple places to park, but other visitors will appreciate it as well.
Make an entrance — You can enter the water park from the outdoor water park entrance or through the Richard A. Carlucci Recreation & Aquatic Center building.  If you park in front of the building, there is no need to walk all the way around. You can pay admission in that building, too.
More for your money — With that said, many visitors don't realize that a pass to Splash Island also gets them into the indoor Recreation Center, which has a number of additional amenities including a children's play area, an indoor water park, a running track, exercise equipment and more.
All you have to do is ask — Little known to those other than Splash Island regulars, the park offers free sunscreen wipes to all guests.
All you have to do is ask, Part II — For families with little ones who aren't yet potty trained, the facility provides free swim diapers. Simply ask at the entrance if you need one.
Bring it — As part of its family-friendly appeal, Splash Island allows visitors to bring their own chairs, coolers and food into the park. The food, however, must be from home. They do not allow restaurant food. They do have SnacKabana, which serves pizza, hot dogs and other snacks, but for the cost-conscious and health-conscious consumer, brown bags are welcome at Splash Island.
Forget it? — If you forget something, the facility has a small retail shop inside the adjoining Recreation Center. Items for sale include goggles, towels, T-shirts and much more.
Need a lifejacket — Splash Island has a limited supply of Coast Guard-approved lifejackets available to borrow for non-swimmers.  Visitors also can bring their own, but they must be a Coast Guard-approved life jacket.