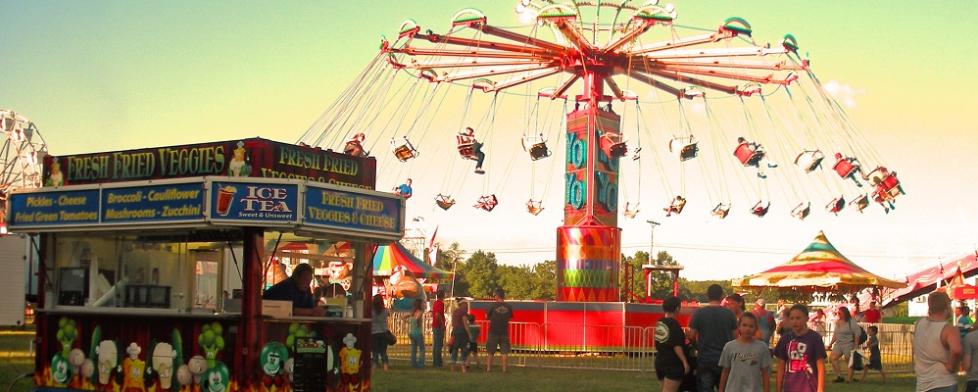 To quote rock legend Alice Cooper, school's out (or almost out) for summer! Now it's time to start planning summer activities with the family, and there's no better place to celebrate than right here in Hendricks County.
Here's my list of the Top 10 Hendricks County summer events:
Glass Artists in Action
Start your summer off right with an event that will dazzle you. On June 12-13, many of top hot, warm and cold glass artists from around the country will converge on Hendricks County to demonstrate their amazing craft.
Numerous demonstrations, hands-on experiences and even a fire-dancing performance will make this an event you won't want to miss at Hot Blown Glass, Ltd. in Clayton. Click here for more information or directions. 
Summer Sounds on the Square
The Summer Sounds on the Square series takes place on the third Saturday of the month from June 20 through Sept. 19 on the historic Hendricks County Courthouse Square in Danville.
At each outdoor concert, gates open at 6:30 p.m.; the show starts at 7:30 p.m.; and admission is just $5 per person for those 21 years of age or older. Bring your lawn chair and enjoy food and beverages sold by downtown Danville vendors while basking in live music on a beautiful summer night.
This summer's concert slate:
Hendricks County Rib-fest
On June 27 at Kingsway Christian Church in Avon, get ready to feast on the best barbecue around during the 2015 Hendricks County Rib-fest. Vendors and booths open at 4 p.m., and the event will feature live music, Colts in Motion, the Pacers Fan Van, a "Deep Fried Pickle Project," and fireworks at dark.
New for this year is a Hendricks County Rib Run 5K and Fun Run, and a quarter-mile Slab Rib Run for children. To learn more and to register for either or both runs, click here.
Symphony in Ellis Park
The Indianapolis Symphony Orchestra comes to Ellis Park in Danville for a Symphony in the Park on July 9. Gates open at 6 p.m., and the concert starts at 8:15 p.m.
Tickets are $18 a piece or $8 for children ages 3-12. Save money by purchasing a family pack (two adults and two children) for just $45!
Purchase your tickets online by clicking here, or get them at any North Salem State Bank location in Hendricks County. 
Hendricks County 4-H Fair
Animals, fair food, showmanship, carnival rides, truck pulls, tractor pulls, horse pulls, cheer competitions, a demolition derby, the Cartlidge Barn, antique tractors and family fun.
All of this and much more will be at the Hendricks County 4-H Fairgrounds and Conference Complex in Danville from July 19-25 when the 2015 Hendricks County 4-H Fair comes to town!
The Big Go! Block Party
If you're a race fan, you won't want to miss the Big Go! Block Party in Brownsburg on Aug. 25. Held at the Brownsburg Town Hall from 6 to 9 p.m., this family-friendly event will get fans fired up for U.S. Nationals by hosting an NHRA driver autograph session and the chance to meet drag racers such as Courtney Force, Antron Brown, Shawn Langdon and more.
Live music, a cruise-in hot rod show, celebrity dunk tank, kids zone with bounce houses, food and more will be part of the celebration.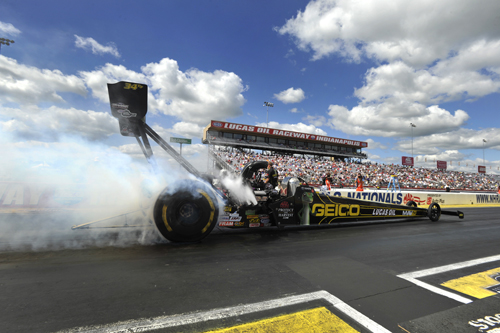 61st Annual Chevrolet Performance U.S. Nationals
After the Big Go! Block Party, you'll be ready to converge on Lucas Oil Raceway in Brownsburg for the the 61st Annual Chevrolet Performance U.S. Nationals from Sept. 2-7.
This is the Super Bowl of drag racing and the NHRA's crown jewel event. If you enjoy jaw-rattling thunder and mind-bending speed of top-shelf drag racing, this should be a bucket list item that you won't want to miss! 
40th Annual North Salem Old Fashion Days
One of the smallest towns in Hendricks County, North Salem puts on the county's largest parade along with a myriad of other fun activities every year for Old Fashion Days.
This year's 40th event will take place Sept. 5-7 in the northwest corner of the county and will feature live music, truck pulls, a car show, a fun run, horse pulls, vendors and craft booths and good "old fashion" family fun. 
Hendricks County Half Marathon/Fair on the Square 
Make your way to the historic Hendricks County Courthouse Square on Sept. 12 and 13 for the annual Fair on the Square, hosted by Danville Tri Kappa, and immerse yourself into all kinds of vendors and craft booths from all over the area. Enjoy live music and a wide assortment of food and beverages while you're there. Admission to this family-friendly fair is free.
Preceding the Fair on the Square is the Hendricks County Half Marathon, which takes runners and walkers of all skill levels through 13 miles of scenic Hendricks County countryside. For more information about the run, click here. 
Quaker Days
Celebrate Plainfield's heritage and history by attending the annual Quaker Day Festival on Sept. 19, just before we bid farewell to summer. Beginning with a parade through Plainfield at 10 a.m., Quaker Days will feature food, fun, crafts, a car show and more. For more information, click here.
Got all those dates on your calendar now? Great! We look forward to seeing you in Hendricks County this summer!