Next weekend, May 17 and 18, is the inaugural
Mayberry in the Midwest Festival
in
Danville, Ind.
-- right in the heart of
Hendricks County
 -- celebrating the fictional town of Mayberry, N.C., as well as what the term "Mayberry" has come to mean in American culture, thanks to
The Andy Griffith Show
.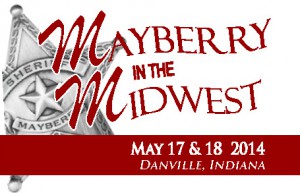 I've lived in Danville since 2001, and I'm a big fan of
The Andy Griffith Show
, so it wasn't difficult to come up with 10 ways that Danville resembles Mayberry:
Small Town Feel - We love the small town feel here in Danville, and we work hard to keep it a cozy, clean, friendly and a safe place to live and work. Kids can play outside without worry for their safety, friendly waves and smiles and handshakes are commonplace, we help each other out and the whole town exudes a slow, relaxed pace of life. Danville is the modern day Mayberry.
Hendricks County Courthouse - The centerpiece of Mayberry was its courthouse, and the historic Hendricks County Courthouse stands in the center of Danville, with the Courthouse Square serving as the location of many bustling community events.
Four Sisters Inn - Most visitors to Mayberry stayed at the Mayberry Hotel. In Danville, the Four Sisters Inn recently opened as a bed-and-breakfast inside a late 1800s home located just a few blocks north of the historic Courthouse Square.
Royal Theater - The Grand Theater was the place in Mayberry where Andy Taylor and Barney Fife often took their girlfriends for dates. Danville has its own Grand Theater in the form of the historic Royal Theater, which regularly hosts concerts and comedy events in addition to movies.
Music - Music was a large part of Mayberry life in "The Andy Griffith Show," and the people of Danville love their music, too. You can find music at the Royal Theater, at the Summer Sounds on the Square, Symphony in Ellis Park, Fair on the Square, the Scarecrow Festival and at nearly every other community event in town.
Blanton Woods - The iconic opening sequence featuring Andy and Opie Taylor walking down a dirt road in a forested area with a fishing pole could easily be reenacted in Danville's Blanton Woods Nature Park -- a beautiful 20-acre facility frequently used for wedding ceremonies and receptions and enjoyed by outdoors enthusiasts. Blanton Woods is to Danville what Myers Lake was to Mayberry.
Court House Grounds - In Mayberry, Floyd's Barber Shop was the place where the mayor, the sheriff and other important town officials often met. In Danville, that meeting place is Court House Grounds, where you can often find town council members, police officers, judges, prominent business owners and more enjoying a cup of coffee and some breakfast. You can also enjoy some afternoon English tea at Courthouse Grounds.
Dairy Queen - While the people of Mayberry frequented Walker's Drug Store for an ice cream float, the go-to spot in Danville for a frozen dairy treat is Dairy Queen. On any given warm evening in Danville, you'll find a large group of people standing outside the Dairy Queen, enjoying a cool treat and good company.
Corkey's Fabulous 50's - If you want an experience similar to what the folks of Mayberry would get at the Bluebird Diner, visit Corkey's Fabulous 50's in Danville for a trip several decades back in time. Corkey's is also a popular eating establishment for participants in and fans of the monthly First Friday Cruise-Ins in Danville.
Mayberry Cafe - Danville's Mayberry Cafe, of course, is the ultimate destination for fans of The Andy Griffith Show. You haven't experienced Danville until you've experienced the Mayberry Cafe.
Experience Danville for yourself during the Mayberry in the Midwest Festival, May 17 & 18 or really anytime and see how much Danville reminds
you
of Mayberry.