During these cold winter days, I love to warm up with a hot beverage. So, I went on a search to find the best hot drinks in Hendricks County. Thanks to the help of our
Facebook fans
, I found some great drinks that you can only get in
Hendricks County
at five locally-owned businesses.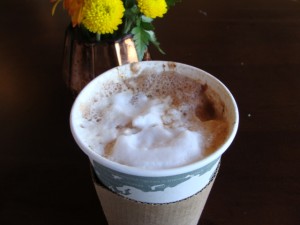 The Beehive
- 55 E. Main St., Danville - There's been a lot of buzz around the Beehive, a new market and cafe in Danville.  So, I had to try this one out for myself. I tried the Nutella Latte as recommended by my fellow blogger Ericka
here
, and I loved it. It was the perfect mix of hazelnut, chocolate and coffee. Another favorite at the Beehive is the Mocha. The Beehive is open 7 a.m.-9 p.m., Monday-Friday; 9 a.m.-9 p.m. Saturday and Sunday.
Court House Grounds
- 65 S. Washington St., Danville - Another favorite from our Facebook fans is Court House Grounds. This Cafe/Bistro on the east side of the Hendricks County Courthouse Square in Danville is a great spot for a latte, mocha, chai tea or espresso. Stop by for breakfast or lunch and enjoy a coffee or tea. Court House Grounds is open 7 a.m.-3 p.m., Monday-Saturday.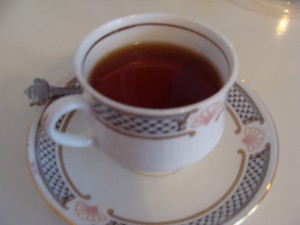 The Porch
- 2411 E. Main St., Danville - If you prefer tea over coffee, then you will want to visit The Porch. They have a vast selection of teas. You can enjoy a pot of tea there or purchase teas to take home with you. Each pot is brewed to order, so you are guaranteed a fresh pot every time. While there, enjoy lunch. The Porch is open 11 a.m.-2 p.m., Tuesday-Saturday.
Bread Basket Cafe & Bakery
- 46 S. Tennessee St., Danville - When you walk into the Bread Basket Cafe & Bakery, you immediately smell coffee brewing and desserts baking. This is a great spot to enjoy a cup of coffee, tea or hot chocolate while you enjoy one of their decadent desserts, breakfast or lunch. The Bread Basket Cafe & Bakery is open 7:30 a.m.-3 p.m., Tuesday-Saturday.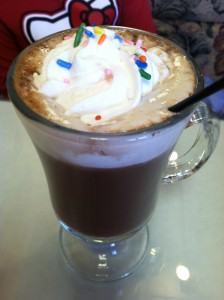 Cinnamon Rooster
- 8107 E. U.S. 36, Avon - If you are looking for hot chocolate, this is the place. My daughter ordered hot chocolate with her breakfast. When it arrived, her eyes opened wide seeing the whipped cream with sprinkles on top. The Cinnamon Rooster is open 7 a.m.-2:30 p.m., Tuesday-Saturday and 8:30 a.m.-2 p.m. Sunday If you know of another local spot that serves great hot beverages, we would love to hear from you by commenting below.