One of the best parts of summer is spending time outside enjoying a cool treat with friends or family. What's a cool treat? It could be any kind of ice cream dessert (cones, flurries, shakes, splits or sundaes) or shaved ice, or even Popsicles or cool drinks. The options are almost endless.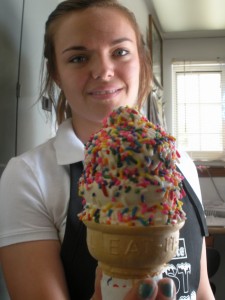 I'm a bit of an ice cream fan. My favorite flavor of ice cream is mint chocolate chip. I was born in Massachusetts where ice cream is big business and people stand in line waiting for their treat topped with jimmies or whatever they like. For me, enjoying a cool treat outside brings back good memories of summer. 
Hendricks County
has many locations to enjoy cool treats, so we asked our
Facebook fans
 to share their favorite spots. Here's five of the most popular places to get a cool treat in
Hendricks County
. 1.
The Frigid Frog
You'll find plenty of shaved ice fans waiting in line for tasty and fun flavors at this cute blue trailer located in Plainfield Plaza, just west of Firehouse Subs.
What's popular: Captain America (blue raspberry, cherry and a vanilla almond flavor called silver fox), Fuzzy Monkey (peach and banana mix), Incredible Hulk (green apple and grape) and Jolly Rancher (sour watermelon and sour cherry mixed).
Just the facts: The Frigid Frog, 1800 E. Main St., Plainfield. Open from 2-10 p.m. Monday-Saturday and 2-9 p.m. on Sundays. Check their Facebook page for more information.
2. Frost Bite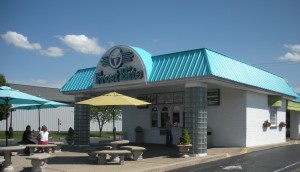 This charming locally-owned, walk-up eatery with patio seating (it also has a drive-through window) sells lots of food like their popular tenderloin sandwich. But don't forget we're talking about dessert here, and there's something for everyone. I love the cherry soda with vanilla ice cream. I can't wait to take my dog, Louis, because Frost Bite serves up ice cream for man's best friend.
What's popular: Chocolate malt, Cookie Dough and Oreo Frosts (like a Blizzard-style dessert), shakes and vanilla Cokes. Or try the cherry soda and tell me what you think!
Just the facts: Frost Bite, 7025 Galen Dr. West, Avon. Call (317) 272-2483 for hours and more information.
3.
The Ice Barn
Get a group of friends and family together and enjoy shaved ice treats at this crowd-pleasing shaved ice stand in Brownsburg. They even have party packs available so you can enjoy shaved ice at home!
What's popular: You'll find more than 25 flavors (some are sugar free), including: Bulldog Bite (super sour grape), Cookie Dough, Watermelon and Wedding Cake.
Just the facts: The Ice Barn, 1565 E. Main St., Brownsburg (located in the parking lot of Barker's Pool & Spa). Cash only. Call (317) 612-7671 or check their Facebook page for more information.
4. Lizton Dairy Bar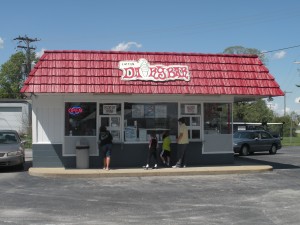 This Lizton favorite is known for walking tacos, but I know a few people who will stand in line as long as they have to for one of the Dairy Bar's homemade dessert creations.
What's popular: Right now, it's all about the Toll House Treasure (a cookie bar with ice cream, hot fudge, whipped cream and a cherry on top), but there's also the Cupcake Flurry (made with homemade cupcakes, and topped with icing), Key Lime Cooler (tastes like key lime pie with graham crackers and plenty of lime juice) and Strawberry soft serve.
Tip: Don't forget to visit in the fall for their Pumpkin Pie Flurry (with pumpkin pie mixed in) or their Caramel Apple Sundae.
Just the facts: Lizton Dairy Bar, 102 W. Main St., Lizton. Call (317) 994-5399 for hours and more information.
5.
Orange Leaf
FroYo is all the rage and you can have a blast at Orange Leaf where you pick out a frozen yogurt flavor, add toppings (so many to choose from), weigh your treat and pay for it.
What's popular: You can't go wrong with flavors like Birthday Cake, Chocolate Cake, Cotton Candy, Peanut Butter, and Red Velvet. Don't forget all the toppings, like, different kinds of fruit and nuts, Fruity Pebbles, Gummy Bears, M&M's, Reese's Cups, and sprinkles.
Just the facts: Orange Leaf, 7565 E. U.S. 36, Avon. Check their website for more information.
We heard from you about some other places including: The Beehive (Danville), Culver's (location in
Plainfield
), Dairy Queen (locations in
Avon
,
Brownsburg
,
Danville
,
Plainfield
) and Red Line Frozen Yogurt (
Plainfield
).
What's one of your favorite kind of cool treats? Ice cream sundae, shaved ice, or something else? Leave us a note in the comments section below.