As a parent, I am always looking for kid-friendly restaurants. Whether it's a free kids meal, the atmosphere or the food. Of course, we have the national chains that offer free kids meals or a kids nights such as Bob Evans, Fazoli's and Chick-fil-a, but I want to take a look at the locally owned Hendricks County restaurants that you can enjoy as a family. I asked for help from our Facebook fans and received some
great recommendations
. Here are my top three:
This was one of the favorites on Facebook, and my daughter will agree with those of you who picked this as the best restaurant to take the kids.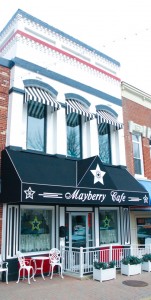 Every time we are in Danville, she asks if we can go to the Mayberry Cafe. Even if we are just passing through, she will ask that we stop. If you haven't been, Mayberry Cafe is a themed restaurant based on the
Andy Griffith Show
. I think her favorite thing about Mayberry Cafe is that the televisions are continuously airing episodes of the
Andy Griffith Show
. She usually orders the chicken rings and is always faced with the same dilemma at the end of her meal. Should she use her token for ice cream or a toy? She usually picks the toy because she loves to go up to the front of the restaurant and pick from one of the many toys on display. Mayberry Cafe is located at 78 W. Main St. on the square in downtown Danville.
Pizza King Station
Pizza King Station
is another favorite among our fans. This is a fun place to go with the kids and keep them entertained. My daughter doesn't even like pizza, but she is always asking to go to Pizza King Station.
If you haven't been, Pizza King Station has a train theme and model trains that deliver your drinks to your table. My daughter loves to watch the train and retrieve the drinks when it stops at our table.
But another reason she likes to eat there, is the television. Each booth has its own TV. If you go, be prepared with quarters. You have to put quarters in the television in order to watch.
Pizza King Station is located at 8100 E. U.S. 36, Avon.
Corkey's Fabulous 50's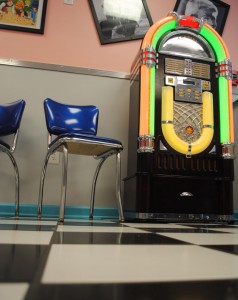 Another fun place to take the kids is
Corkey's Fabulous 50's
in Danville. This restaurant takes you back to a 1950's diner. There is even a jukebox playing your favorites tunes from the 50's. Fellow blogger, Eric, says this a favorite for his daughters because they can order pancakes anytime and hula hoop after dinner. Another plus: Prices are reasonable. Kid's meals are just $3.99, and hand-dipped ice cream is 99 cents a scoop. The dessert menu also includes root beer floats, shakes and malts, banana splits and sundaes. Corkey's is located at 745 E. Main St., Danville. I hope you enjoy dining in Hendricks County with your family. If you have a family favorite, please share with us in the comment section.