Do you plan on doing some pumpkin picking for Halloween? The fall holiday is kind of a big deal at our house.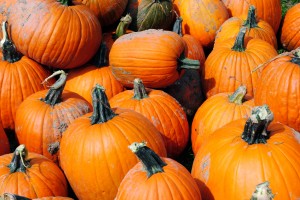 Our kids, of course, rank trick-or-treating and the ensuing motherload of sugar as their No. 1 favorite Halloween activity, but a close second is picking a pumpkin and using it to create a unique jack-o'-lantern. Whether you're looking for a jack-o'-lantern pumpkin, a pie pumpkin, a Cinderella pumpkin (a
what
?!), or pumpkins for fall decoration, look no further than
Hendricks County
. Here are three pumpkin picking options for the fall holiday.
Beasley's Orchard
Beasley's Orchard
 -- 2304 E. Main St., 
Danville, Ind.
-- is currently in the midst of its
26th Heartland Apple Festival
, which wraps up on Oct. 13 and 14. At the Apple Festival -- and every weekend in October thereafter -- guests can take a hayride out to the 14-acre U-Pick pumpkin patch from 10 a.m. to 5 p.m. on Saturdays and from noon to 5 p.m. on Sundays.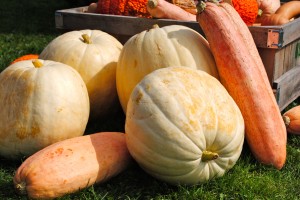 The cost for the hayride is $3 per person with kids under age 3 riding for free with an adult, and the pumpkins are priced based on size. Most of them are somewhere around $8 to $12. While you're at Beasley's, don't forget to check out the 
Korn Kingdom corn maze
! Given Beasley's proximity to our home, we checked the orchard out years ago and immediately fell in love with it, so it's our personal favorite. Our girls look forward to the hayride every year, which always involves them trying to reach from the side of the wagon to swipe an apple off one of the trees (not recommended). Apparently just buying an apple at the orchard store isn't an option for them. The apples must taste sweeter after narrowly avoiding death.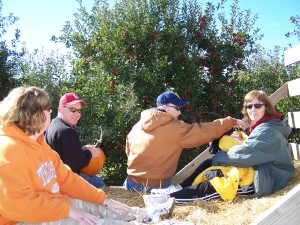 Beasley's Orchard also possesses more than one of my kids' shoes somewhere deep in its pumpkin patch -- a result of them thinking that sandals are great footwear for pumpkin-hunting in the mud. So learn from my mistakes and follow Debbie Beasley's advice: Dress yourself and your kids for the conditions.
Hogan Farm Market
While Beasley's Orchard is where our family likes to go, it's not the only pumpkin patch around. The P.C. Hogan Farm just north of
Brownsburg, Ind.
, at the intersection of County Road 1000 North (86th Street) and County Road 900 East, is open from 4 to 7 p.m. on Thursdays and Fridays and from 10 a.m. to 7 p.m. on Saturdays and Sundays. The farm offers a U-Pick pumpkin patch, hayrides, Indian corn, cider, already-picked pumpkins, pie pumpkins, mini pumpkins, white pumpkins, and Cinderella pumpkins. (Cinderella pumpkins are the flat, round ones that
look like this
. I had to look it up, too.) For more information about Hogan Farm Market, contact Zach at (317) 450-5248.
Nehemiah Ranch
Nehemiah Ranch
, located at 1420 N. County Road 600 East in
Avon, Ind.
, kicks off its
Fall Harvest Days
on Oct. 13. The event takes place on three consecutive Saturdays from 6 to 10 p.m. each evening, featuring free pumpkins for kids, hayrides, campfires, live music, s'mores and more. On Oct. 13, the three-man contemporary Christian band from Indiana,
Iron Mercy
, will perform, and on Oct. 20,
The Rapaputy Band
will bring its Christian musical talents to Nehemiah Ranch.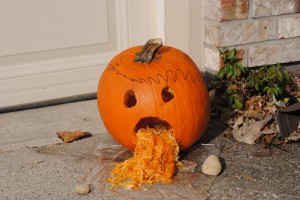 Fall Harvest Days are free to attend, although the Nehemiah Ranch does accept donations, as the 34-acre faith-based ranch runs entirely on donations and volunteers. I'm always looking for new carving ideas for Halloween, so take a picture of your jack-o'-lantern, post it to
our Facebook page
, and tell us where you picked your pumpkin in Hendricks County!