In college, I've been spoiled with a brand new and massive gym located just down the street from all of my classes.  So when I moved to
Avon
, Ind., I knew I had to find a place to get some exercising in (have you seen all the
food I've been eating
?)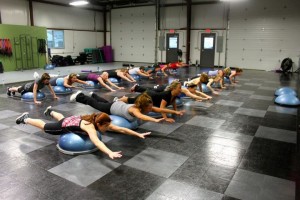 I began searching online for somewhere cheap within
Hendricks County
when I stumbled upon
Totally HIP Fitness
, a place that strictly hosts fitness classes in
Brownsburg
, Ind. While this might sound like a post catered to locals, I know plenty of visitors to Hendricks County are looking for a regular place to keep their workouts going while they're here for business or vacation. Personally, I've never been too great at fitness classes that involve rhythm – but when my co-worker Sarah pointed out a Groupon of 10 classes for $22, I figured it was the perfect time to try something new. This place is awesome and offers more than 40 group fitness classes a week, including the ones listed below:
Zumba: This class involves upbeat music (such as Latin, hip-hop or contemporary) and synchronized dancing.  "Dancing" probably sounds terrifying to most people but you will be having so much fun dancing and trying to keep up that no one will notice your moves, and YOU won't notice how much exercise you're getting until afterward!
Mat Pilates: If you want to be "long and lean," you need to try this Pilates class. Pilates is different than a lot of fitness classes because it focuses on core stabilization - which is more about strengthening abdominal and back muscles than sweating to achieve an intense workout.
Yoga: Yoga focuses on building strength, increasing flexibility and reducing stress.  It's not only a great workout - the class can also help you deal with the "daily grind" by teaching you proper breathing and concentration techniques.
Spin: Spinning will get your heart pumping in no time.  Although I have never done this class, many of my friends have and said that while it's a hard workout, the results are well worth it. During the 45-minute class, you will experience simulated climbs, hills and jumps. (24-hour sign-up is required for this class, and it's a $5 fee for no call or no show.)
Total Body Sculpt: This body-toning class features a variety of exercises and equipment that focus on abs, glutes and more. This class is for both advanced and beginners as all exercises include a modification.
Those are just a few of the classes offered – check out the rest
here
. The yoga class is by far my favorite because it helps relieve stress and doesn't feel like I am getting a workout - even though I am! I'm still working my way up to the more rigorous classes such as spinning and their "Total Body Sculpt" class.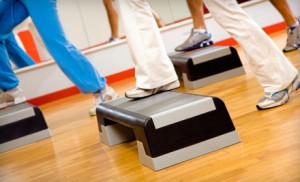 Another great thing about Totally HIP Fitness is that if a season's schedule doesn't work as well for you as you'd like - you only need to wait a few months before they change their schedule again. Because they change their
schedule
based on seasons, you can guarantee that there will be new classes available at different times so that you can try them all! And if you don't like the idea of being around others during a group class, private one-on-one personal training sessions are available as well.
I would definitely recommend giving Totally HIP Fitness a try - even without a Groupon, their prices are extremely reasonable.  It's just $8 for a single class, and punch cards are available for $50 (ten classes) or $85 (20 classes). They also offer unlimited monthly packages and your first class is FREE.
Check out Totally HIP Fitness at 1630 E. Northfield Drive, Suite 100, or on their
Facebook page
!
Have a favorite fitness class? Share by commenting below!