Last month, I had the opportunity to participate in a FAM Tour (
tourism lingo for Familiarization Tour) 
with
Visit Hendricks County
. I had never been on a FAM tour before. I didn't even know what a FAM Tour was. Over the course of two days, however, I discovered that even a local can learn a lot about their area by going on a tour like this one, and a visitor will be awestruck.
A FAM Tour is designed to FAMiliarize people with what Hendricks County has to offer. This tour featured portions of Visit Hendricks County's holiday-themed Ho Ho Holiday Tour, which the sales team offers to group tour operators. In addition to group tour operators, travel writers from Indianapolis, around Indiana, and as far away as Ohio, Illinois and even Iowa also attended. These are people who wanted to learn more about our great county and encourage visitors to come here or bring visitors back on a group tour.
Day 1: Morgan County?
We all met at
Cambria Suites
in
Plainfield, Ind.
, and boarded a charter bus to spend our first day on the Visit Hendricks County FAM Tour in ... um ...
Morgan
County? There is no Visit Morgan County, or any agency like it, so Visit Hendricks County includes our neighbors to the south on the
Rural Routes to Main Street Cultural Trail
. As we rode down to
Martinsville
, we played games, we ate snacks, we enjoyed giveaways, and we socialized with each other until we arrived at the
Martinsville Candy Kitchen
, where they are famous for their homemade candy canes.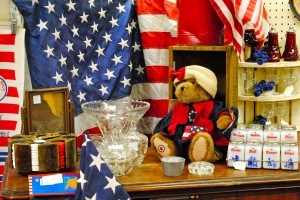 We enjoyed a tour of the historic candy shop, packed up some candy canes, and headed next door to
Berries & Ivy
-- a country store known for its painted gourds, antiques and huge selection of Vera Bradley merchandise. My wife would love this place, so I texted her that we need to come back down to Martinsville with the kids before Christmas (we did). Then it was up to
Mooresville
, where we checked out the
Mooresville Open Market Antiques
, followed by a delicious Cajun meal at
Zydeco's
, which included the owner and chef, Carter "Hutch" Hutchinson -- a New Orleans native -- coming out to each of our tables, visiting with us and answering all of our questions, including those about Zydeco's being featured on the Food Network's show "Diners, Drive-Ins and Dives" with Guy Fieri. [youtube]http://youtu.be/AScHpCF7HQA[/youtube] After stuffing ourselves full of Cajun cuisine, we waddled into
Monrovia Mudworks
 Pottery Studio and Gallery where we saw all sorts of local art and had the opportunity to make our own wind chimes. Keep Monrovia Mudworks in mind if you're looking for a fun activity with the kids over the winter!
Day 2: From Shopping to Sipping
Day Two of the FAM Tour was in my stomping grounds:  Hendricks County. We started with a visit to the Plainfield Tri Kappa's Gingerbread Christmas and then headed up to
Frazee Gardens
in
Brownsburg
-- a nursery, country store and activity center all rolled into one. Frazee Gardens is another place to check frequently for activities to beat those winter blues.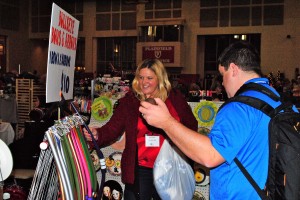 We dropped down into
Danville
for lunch at the Andy Griffith Show-themed
Mayberry Cafe
on the historic Hendricks County Courthouse Square, followed by a reading of "Clarence the Christmas Camel" by the wife of its author,
Philip Gulley
. The tour bus took us out to
Beasley's Orchard
next, where we learned all about apples, the history of the orchard and all of the community events that take place there. Then we scooted over to
Avon
for my favorite stop of the Visit Hendricks County FAM Tour: 
Cutters Brewing Company
. We got a tour from the head brewmaster and one of the co-owners, learned how Cutters beer is made, enjoyed free samples and took home a growler of fresh brew.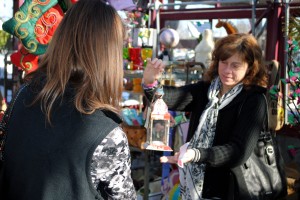 I was exhausted by the end of the tour, but I had a total blast, and I learned
a ton
about Hendricks and Morgan counties. I came home with all kinds of cool giveaways from Visit Hendricks County and a variety of businesses, and I have since returned on my own time to several of the places where we stopped. I also learned that Visit Hendricks County is happy to organize these tours for anyone who is interested. Want to discover more about our area?
Contact Visit Hendricks County
and see about taking a tour of your own. See why Hendricks County is the spot for group travel, family excursions, antique hunting, girlfriend getaways, weddings and more. I know I only briefly skimmed over these terrific stops in both counties, but if you'd like to learn more, we've blogged about many of them in the past: