Hendricks County can add another amenity to its ever-growing list with the opening of Trak 36 at Avon Town Hall Park. This outdoor, off-road RC track has already created quite the buzz and will most likely be a popular destination over the summer.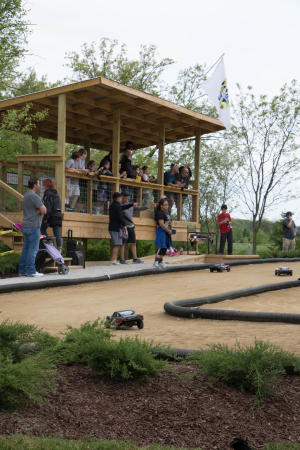 Trak 36 officially opened last month and held the 2nd Annual RC Spring Fling a few weeks ago. I stopped over to check it out and was instantly impressed with how professional and elaborate this new addition is.
It was gloomy and slightly rainy, but that didn't seem to dampen the crowd. I was also pleased to see that the track is definitely an addition, rather than an interruption to the existing park layout and atmosphere.
The Spring Fling was hosted by the Hoosier RC club that partnered with the Avon Parks Department to create Trak 36. I talked to some folks from the Hoosier RC club who believe this is a tremendous asset to the community, as its the first of its kind in the area. Plus, its FREE and open to the public. 
Racers can control their vehicles from the covered "drivers" platform - perfect for beating the summer heat - or walk the track if they lack a pit crew.
Although, during my visit there were plenty of little ones running around, getting overturned cars back on track and cheering on every vehicle. Drivers young and old were gathered around all sides of the track, enjoying this new addition.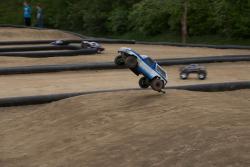 Trak 36 isn't the only amenity you'll find at the Avon Town Hall Park. It also boasts an 18-hole disc golf course, walking trails, a fishing lake, a playground and plenty of open space to picnic.
The Avon Town Hall Park and Trak 36 are open from dawn until dusk. If the track is too wet, it will be closed.
You'll want to add Trak 36 to your summer bucket list. Even if you come as a spectator, you'll be impressed.