When I decided weeks ago that I would blog about
zip lining over Capitol Avenue
in Downtown Indianapolis during Super Bowl week, I don't think I fully considered what I was getting myself into.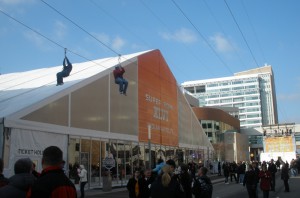 But as I stood on a step 96 feet in the air waiting to take off Monday, it hit me that the only thing keeping me from hitting the ground was a cable and some rigging strapped to my body. Before I get to that last fateful step, a little background is in order.
Hendricks County Convention and Visitors Bureau
Tourism Marketing Manager
Sarah McMillen
, her boyfriend, Richard Ferguson and I decided we would do this together weeks ago before all of the fast pass tickets sold out. The fast pass tickets were somewhat of a misnomer because it actually took us about an hour to get through the line. When we got to the equipment room, Sarah and I noticed that a volunteer helping with the rigging equipment didn't seem to know what she was doing as she got tips from one of the zip line employees. After that brief lesson, the volunteer declared she was ready for one of us. I looked at Sarah. Sarah looked at me. Then, with a wry smile, Sarah gave me a little shove toward the rookie volunteer. The volunteer told me to step in the straps, and then nonchalantly mentioned that I was the first person she had helped by herself. With a gulp, all I could say was, "That's not very comforting." She did have some problems, and another worker eventually stepped in. After getting through that first brief stomach-dropping moment, the three of us were on our way up several flights of stairs to the top of the launch tower. That climb, without a doubt, was the most difficult part of the entire experience. All three of us were huffing and puffing by the time we reached the top. But what a view!
About that time, Sarah asked us if we were nervous yet. Surprisingly, I really wasn't as I watched a fellow zipliner fly off the tower and soar over
Super Bowl Village
, which leads me back to where I started this blog, standing on the edge of a step ready to soar like a bird. A worker told me I could go anytime, and that I would fly 40 mph for about 15 seconds during an 800-foot descent. I looked over at Richard who was set to video our experience, (you can see that video below) leaned back and I was off. What a feeling! [youtube]http://www.youtube.com/watch?v=MrmAzV1COgA[/youtube] As the wind rushed by and I spun and plummeted, I began to watch Super Bowl Village visitors below cheering me on as I zipped by. In an instant, it was over but I loved it. It proved to be another awesome experience during what has quickly become a memorable 10 days leading up to Super Bowl XLVI. I can't wait to see what the rest of the week has in store, including Tuesday's Media Day and this weekend when I volunteer on our free shuttle buses from
Metropolis Shopping Center,
a service we will offer on Friday and Saturday. We also will have volunteers manning our Super Cars display at our
Super Celebration Site
in Plainfield and at a welcome center on I-74 in Lizton. This entire week continues to be so amazing as Central Indiana comes together to show off this region to the world. On behalf of everyone here at the Hendricks County Convention and Visitors Bureau, we are just so glad to be a part of it.