I'm always looking for some new and fun things to do with my little girl. When it involves something that is extra creative and maybe just a bit messy that isn't at my house, I'm all in!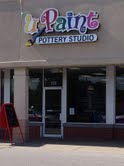 uPaint Pottery Studio
recently opened its doors in Plainfield giving the young, middle-aged and old alike a chance to be an artist for a day. uPaint Pottery Studio is located right off U.S. 40 in Plainfield in the same strip mall as Mitch's Incredible Ace Hardware. This fun and brightly decorated studio is enough to get anyone's creative juices flowing.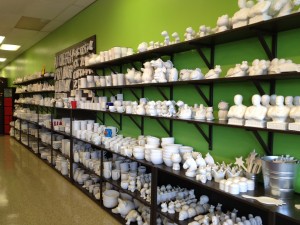 My daughter was instantly excited as she saw all the choices of things she could paint. We went to the desk and were helped by both of the owners, two Plainfield women who explained how the process worked. We headed over to the big wall of ceramics to chose the item we would paint for the day. The pieces are wonderfully priced offering tons of choices for your liking and your pocket book. My daughter chose a bird to go in her room...fair enough. We selected our paints (she chose about every one they had) and got started creating her masterpiece.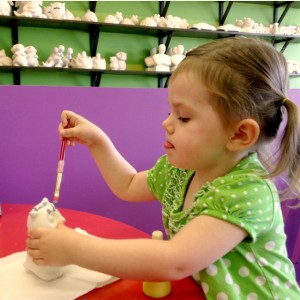 I've got to say I might have a little artist on my hands. I have never seen a 2-year-old so determined to make something as she would say, "so beautiful." She was beside herself with excitement as she painted her piece. I was even a little jealous that I wasn't getting to create my own. After you're done painting, you take your work to the main desk where they finalize the piece for you. You only need to leave your information, and they will glaze and fire the piece to perfection.
Note to parents of toddlers: Prepare them that they will not be taking their piece home that day. My little one was very upset that she could not take her new found friend home immediately.
The uPaint staff then cleans up the whole mess, which for me was worth every penny.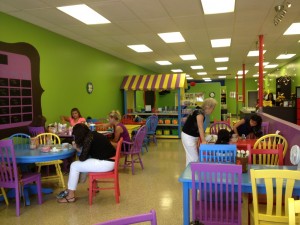 The great thing about pottery painting is that it truly is something the whole family can enjoy. The day we went to paint, a mom and her teenage daughters were working, a young couple on a date and an elderly couple. In addition to the cute, novelty items for painting such as the little figurines like my daughter picked, they offer great dishes and houseware items as well. The owners of uPaint have put a lot of energy into creating some unique experiences for different ages and demographics. Their website provides an updated 
events calendar
with all the fun happenings! A few of the fun, upcoming events I noticed included:
uPaint a Story -- For toddlers and preschoolers and includes a story, painting a piece of pottery to go with the book and a snack for $12.
Up till You Faint -- Wear your pajamas and bring a friend for buy-one-get-one-free studio fees.
More fun events include: technique classes and holiday-themed events. So go ahead Picasso and create your next work of art. Whether it's something just for a you or a unique gift for someone else, you are sure to have a great time relaxing and creating something beautiful!