For me, playing golf is a lot of fun. I started playing as a kid with my dad, brother and grandfather. Trust me — I wasn't good, but I enjoyed spending time with my family. Playing golf must be in the genes. My uncle is a terrific player who's won awards and been playing since he was 8 or 9. I love that golf is a sport for all ages and can be inexpensive to play. You don't even have to own clubs to play. When I first started playing, I borrowed clubs from my brother and later bought my own clubs. Playing golf is both mental and physical exercise. So with that intro, I'm thrilled to begin a regular feature on this blog as I check out some of the terrific golf courses in
Hendricks County
.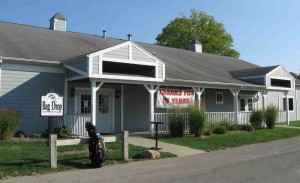 The first course I will profile is 
Twin Bridges Golf Club
.
Twin Bridges Golf Club
 is a lovely course located in
Danville
, Ind. It's been in Danville since 1997 (I can't believe I hadn't played there before!). It's an 18-hole course and was designed by Robert Lohmann (a prestigious golf course architect) and the course is a mega hit with golfers. Check this out: Twin Bridges Golf Club was awarded Hendricks County's Best Golf Course in 2011 and was rated 4 stars by Golf Digest magazine. It's a public golf course and is open year round.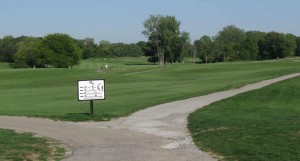 I recently visited Twin Bridges to take a look at the course and take a few photos. Inside the clubhouse, there's a pro shop and a concession stand. I had the opportunity to speak with the golf pro, who is super friendly and helpful. I even stopped a few people on their way to the first tee and they told me how much they enjoy playing at Twin Bridges. So, watch for my update on playing the course, more pictures and even a short video (I hope I don't hit too many balls in the bunkers!). If you've played Twin Bridges before, please tell me what you think of the course. I need some insider tips before my next visit. And, I invite readers to also share what their favorite
Hendricks County
 course is in the comment section below?
Twin Bridges Golf Club
1001 Cartersburg Road, Danville, IN
(317) 745-9098
info@twinbridgesgolfclub.com
What you need to know: Tee times can be booked online or by phone. Twin Bridges is a very popular golf course, so make sure you make a reservation.
Short on time: If you don't have time to play nine holes or 18 holes, stop by and spend some time at the driving range or the putting green. A small bucket of balls is $3 and a large bucket is $7.
Regular Rates: 18 holes with cart, $38 (Monday, Tuesday, Thursday, Friday); 9 holes with cart, $21 (Monday, Tuesday, Thursday, Friday). Rates are less if you walk the course with your bag. Saturday, Sunday and holiday rates are a bit higher.
Save up with some special rates/deals: Twin Bridges' offers some awesome deals so be sure to check their website or call for the latest specials.
Work on that swing: Golf lessons (taught by a professional golfer!): $25 for a 30-minute lesson (Call to make a reservation). A great deal for lessons!