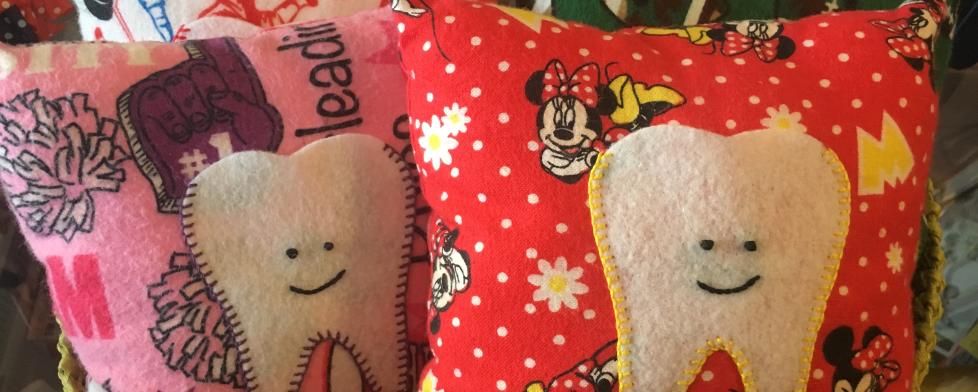 The Visit Hendricks County staff recently scoured our local shops looking to fill our 2017 edition of one-of-a-kind finds you can only get in Hendricks County or on the Rural Routes to Main Street Cultural Trail. In many cases, that means these gifts are handmade by local artists or simply are items you will only find locally.
If you want to view our weekly Facebook live videos highlighting all of our gifts, click here.
This installment focuses on gift ideas for kids and includes various items for many ages. But even if the particular item we feature may not be exactly what you're looking for, we suggest visiting each of these small businesses as they just might have that gift idea you thought you would never find.
You can find our complete One-of-a-Kind Finds Holiday Gift Guide by clicking here.
Tooth Fairy Pillow
We found these handmade pillows in a variety of colors, patterns and fabrics, featuring Disney, sports and other themes, that were so cute we had to include them in this year's gift guide. We loved the tooth-shaped pocket on the front of each pillow that the Tooth Fairy will also appreciate.
We discovered these pillows at the Watermelon Patch on the east side of the square in Danville for $7 each.
Coloring Book & Crayon Bag
Young kids will love these personalized bags to carry a variety of their items when traveling long distances or even when they are with their parents running errands around town. 
These hand-stitched bags include slots sewn on the outside that are perfect for individual crayons or markers and plenty of room inside for coloring books, pads of paper or even electronic devices. Like the Tooth Fairy pillows above, the bags come in a variety of colors, designs and themes including Disney, floral patterns and much more.
You can purchase the bags for $12 each at Kids Go Round along U.S. 40 near the Shops at Perry Crossing in Plainfield.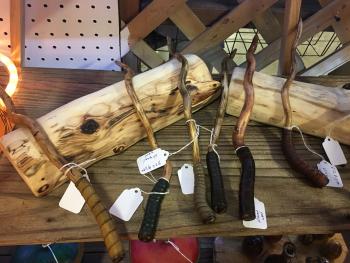 Wizard Wands
Harry Potter remains a phenomenon with kids right now, so imagine our delight when we found these really cool handmade wooden wizard wands at a booth at Gilley's Antique & Decorator Mall in Plainfield.
Created by WoodShed Designs, these wands ranged in price from $10-$15.
On a side note, we also loved WoodShed Designs hand-painted ghords, especially the one in which they created a nativity scene inside.
Elephant Pillows
Another great find inside Gilley's Antique & Decorator Mall, we could envision a child loving these handmade pillows shaped like elephants that are both functional and affordable. 
Featuring a variety of colors and designs each pillow sells for $7.99. We found them in the Fat Quarter Annie's booth, which also offered some great handmade aprons for both kids and adults.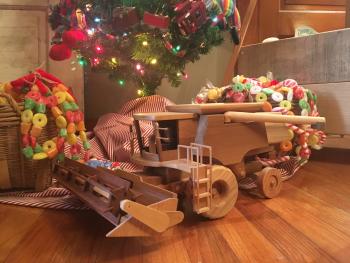 Handmade Wooden Toys
We absolutely marveled at the handmade wooden toys we found at the new Forget Me Nots store just off the southeast side of the square in Danville. Made from old barn wood, the detail and pain-staking time that went to each piece really makes each one seem priceless.
When we were there, they had a combine harvester for $300, a beautiful train for $100 and a fire truck for $60. The local artist also makes semi trucks and little cars that also can be ordered by request.
Tie Dye Experience
We at Visit Hendricks County firmly believe that a gift doesn't necessarily have to be a tangible item, but can also be an experience. You will see a few experiences including this one at The Tie Dye Lab in Avon sprinkled throughout our Holiday Gift Guide.
I can speak from my own experience on this one as our entire staff participated in this fun activity earlier this summer creating tie dye T-shirts and hats. We had so much fun, and you will, too, if you purchase an experience at this locally owned store.
Believe me, no prior experience is necessary as the experts there help you every step of the way and even clean up your mess for you.
You can color shirts, hats, socks, bags, towels and more. Prices range from $8 for a bandana up to $45 for a hoodie.
Yardzee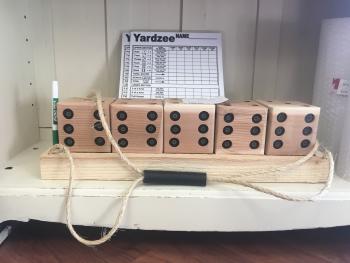 So, probably one of the last places we expected to highlight on this year's Holiday Gift Guide would be Pakmail in Danville. Yes, the place you go to pack and ship an item.
Well, to our surprise the store actually carries some local, handmade items including a Yardzee set, which basically amounts to a giant Yahtzee game that you can play outdoors. Made by a local wood craftsmen, the set of giant wooden dice, two laminated large playing cards and a dry erase maker sells for $30.
Some of the other handcrafted items they had on hand in the store included a unique billiards rack, handmade signs and more.
Painting Experience
As I said above, Hendricks County is teeming with great experiences, so one more we would recommend for a child, teen or really the entire family can be found at the Bisque Barn in Avon or uPaint Pottery Studio in Plainfield.
Both locations feature shelf after shelf of ready-to-paint pottery creations from plates and cups to figurines and so much more. Prices vary depending on which item or items you choose, but the entire experience will be something your family won't soon forget.
Again, they clean up the mess after you, but you will not be able to take your piece home with you the same day as they need a few days to finish in the kiln.
Both locations also offer other options besides pottery painting. Go to the links above for more information on each.